Who hasn't heard of the email marketing software Mailchimp? It's probably one of the most well-known email marketing tools, thanks to the company's massive advertising efforts and investments. However, there are plenty of other solutions on the market that may better suit your needs.
Cyberimpact is a 100% Canadian solution specially designed for SMEs and organizations that allows you to create professional emails in just a few clicks. From the segmentation of your contact lists to the automation of your mailings, you will find all the features you need to achieve great success with your email marketing campaigns.
Here are 9 reasons why our customers switched from Mailchimp to Cyberimpact:
Comparison chart for the free plan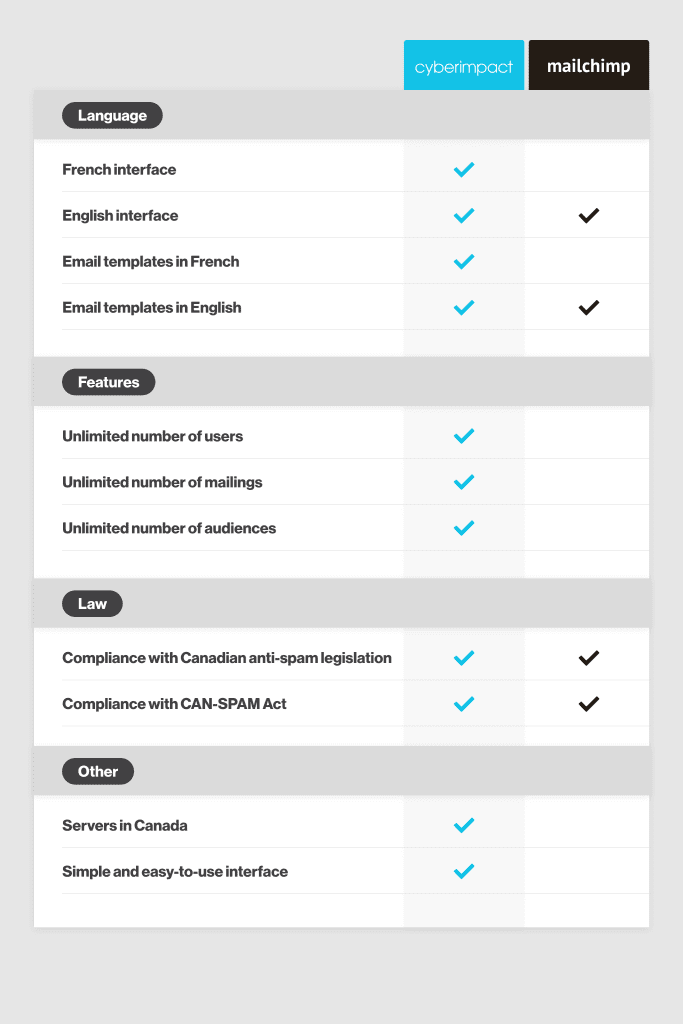 1) Bilingual platform and email templates
Unlike Mailchimp, Cyberimpact's email marketing solution is fully bilingual in French and English, including the email templates. In fact, most of our competitors' templates are only available in English and it is up to you to translate everything into French.
If a portion of your customers and prospects are French-speaking, it goes without saying that you will want to send them communications in their respective language. Even if Mailchimp claims to be a multilingual tool, including French, there will always be traces of English in your communications. For example, in the unsubscribe link, when your subscribers receive a confirmation message or in the footer of your emails.
With Cyberimpact, once you have translated the text of your emails, the default processes such as subscription, unsubscription, consent, etc. will be done automatically according to the language defined for each of your contacts or your mailings. Finally, no more confusion for your customers when they receive a communication in French with English words. After all, receiving an email in a language you don't necessarily speak can quickly become frustrating.
2) Exceptional customer service
Have you ever managed to get a quick answer with Mailchimp customer service?
According to the following table, you will be in good hands with our customer service:

Many companies claim to offer exceptional customer service, however, at Cyberimpact, it is truly a differentiating factor. You only have to read the numerous Google reviews left by our customers to quickly see that you will be well served.
3) Comply with Canadian Anti-Spam Legislation
Canada's Anti-Spam Legislation (CASL) has been in effect since 2014 and is designed to reduce the volume of unwanted commercial emails Canadians receive. It transforms the way you use email and as a Canadian business or organization, you are required to comply.
Mailchimp's customer base is very diverse and comes from all over the world. Thus, the management process put in place regarding anti-spam laws remains general since each country may have different rules.
Cyberimpact is a Canadian company and was designed for the Quebec and Canadian market. It offers many tools to help you comply with the Canadian Anti-Spam Law and thus, avoid many problems.. For example, you can easily organize your contacts according to their consent type (tacit or express). You can also subscribe to receive a monthly automated report to follow up on consents that will soon expire and send re-engagement campaigns before it's too late.
Under CASL, implied consents have an expiration date of 24 months following the purchase or rental of a good or service by a customer.
With Cyberimpact, you can even include an intelligent consent block in your mailings so that your contacts can expressly give their consent to receive your communications, before their tacit consent expires.
To learn more about Canada's Anti-Spam Legislation, we invite you to read this article.
4) Locally hosted data
Your databases and emails are governed by the laws of the country where your hosting servers are located. In other words, even if you are a Canadian company, but your data is hosted in the United States, your data falls under the American justice system and vice versa.
Would you prefer that all your contact information (name, address, behavior, etc.) be hosted locally or abroad? Don't forget that in the United States, data is subject to the Patriot-Act, which allows the American government to consult all data hosted on its territory.
As mentioned before, Mailchimp is a US company, which means all member data is therefore collected on servers in the United States and it is up to you to know the impact this could have on your business. For government bodies or non-profit organizations, for example, we believe that they would be better off hosting their data locally, especially since we have the necessary resources in Canada.
5) No unexpected costs
With Mailchimp, you will be billed in American dollars whereas with Cyberimpact, you are billed in Canadian dollars, which makes our plans even more affordable!
Indeed, although Mailchimp's free account allows you to have more contacts, if you add the same email address in more than one list, it will be counted double or triple. Moreover, you will also be limited by the number of mailings per month unlike Cyberimpact which allows you to send an unlimited number of emails, even with the free plan.
6) Easy-to-use platform
Mailchimp is a marketing tool that offers a lot of advanced features that are not or hardly used by non-marketers. It becomes easy to get lost and to make mistakes that could compromise the performance of your emailing campaigns. Moreover, why pay for features that you may never use?
Cyberimpact is known as a simple, easy-to-use and intuitive platform. The vast majority of our clients are small and medium-sized businesses, entrepreneurs, self-employed workers and organizations that don't have a lot of time to devote to email marketing. With Cyberimpact's platform, you don't need any technical knowledge in programming or computer science to create stylish and professional emails.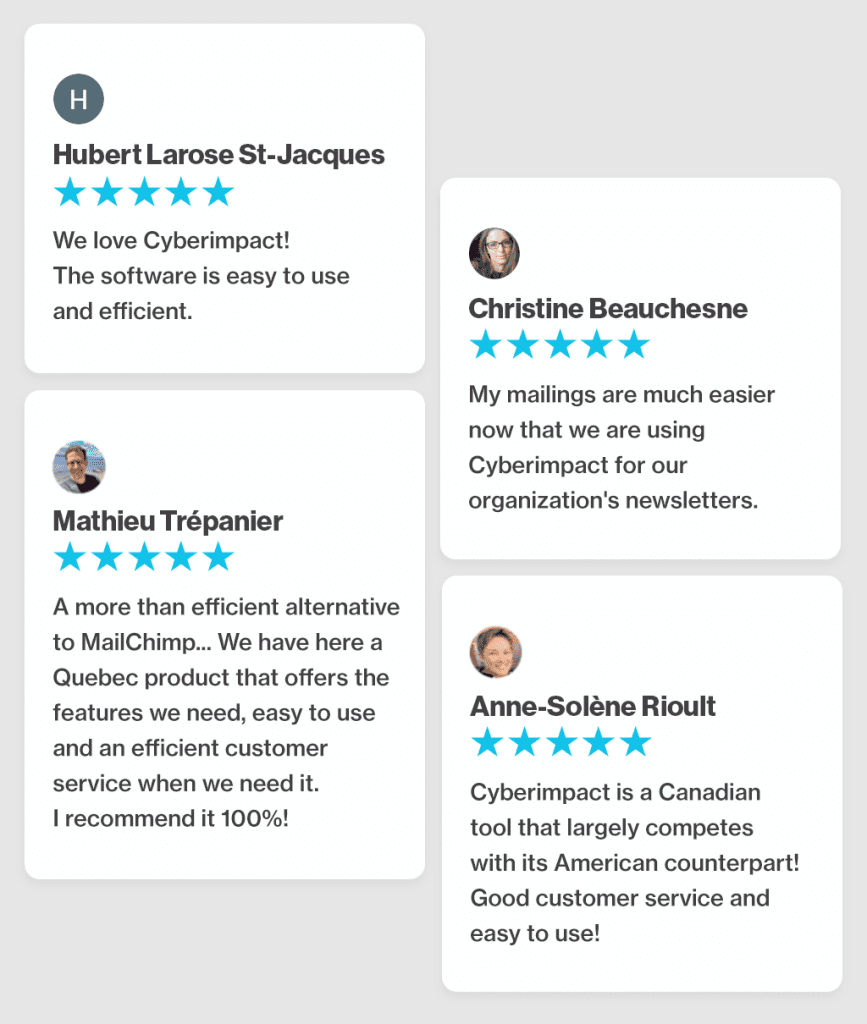 7) Unlimited number of users
In some companies, more than one person is involved in the process of creating email campaigns. One person may be responsible for managing the contact lists, another for writing, proofreading or designing the newsletters.
The free Mailchimp account only allows you to have one user and even if you opt for a paid plan, you will still be limited as we can see in the following table.
8) Unlimited automated marketing scenario
Creating automated scenarios can save a lot of time since they allow you to automatically send an email when an action you have chosen is triggered. For example, each time a prospect subscribes to your newsletter, you could decide to automatically send them a welcome email, or when it's their birthday, they could receive an email with a promotional code.
The different plans offered by Mailchimp are more limited in terms of automated marketing scenarios. First of all, this functionality is not offered in the free account and for the paid options, the number of triggers you can insert is limited.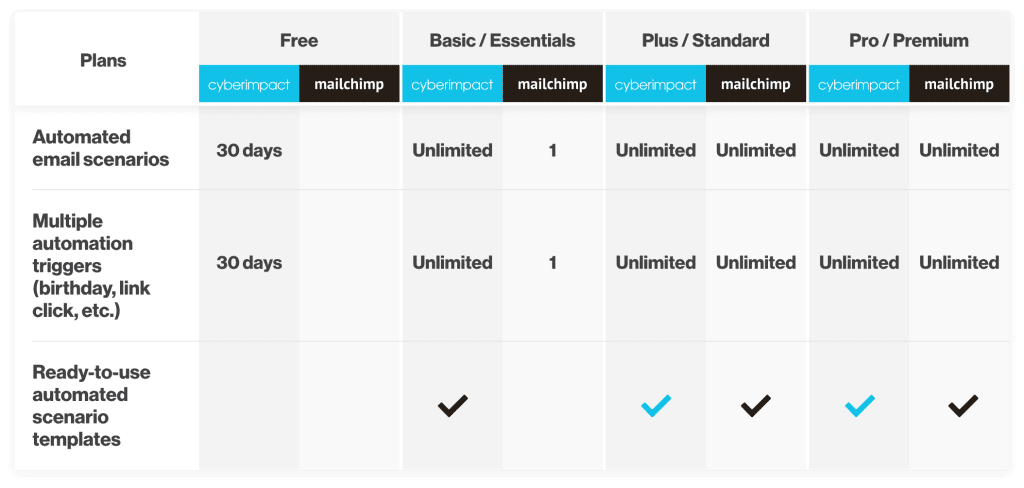 9) Unlimited number of audiences
Audiences (also called groups) allow you to target your contacts by categorizing them (by language, by fields of interest or by origin, etc.). It is therefore not possible to send an email to a contact without him being in a group. Targeting is one of the most important aspects that allows you to send personalized content according to your audience.
Although Mailchimp offers advanced features for contact segmentation, with the free account you can only have one audience. You'll have to choose the bigger plan to have an unlimited number of them.

Support a local business
Finally, Cyberimpact is an email marketing tool that was developed by a local team of passionate experts and has been around since 2006! You will certainly find your happiness and especially your answers with our exceptional customer service, our tutorials and our FAQ articles.
Get started now and create your free account!