Of all the tools and marketing strategies available in the market, email marketing remains the most effective method to generate leads. Studies show a return on investment of $36 for every dollar spent, making it one of the most cost-effective marketing channels. It's not surprising to see that 89% of marketers use email marketing as their primary channel for lead generation.
Looking to grow your contact list with qualified leads? Keep reading to discover 5 effective strategies.
What is email lead generation?
Email lead generation involves collecting information about prospects using a form. The information collected through the form may include the prospect's name and email address. In the vast majority of cases, the signup form is on your website or social media channels.
Then, the information is stored in an email marketing database. By using contact segmentation and personalization techniques, you can send targeted emails to prospects to help them move through the sales process.
In other words, email lead generation aims to build a trusting relationship with prospects to encourage them to become loyal customers.
What are the benefits of generating leads with email marketing?
Email marketing is a form of direct communication that allows for building a trusting relationship with prospects over an extended period. With a well-designed marketing strategy, it is possible to identify and target the most interested leads in your business. This can be done by analyzing the open and click-through rates of each email sent to each contact. Here are the benefits of lead generation through email marketing.
Increasing brand awareness
An enterprise that wants to become more widely known or increase its visibility could regularly send emails to a list of contacts who have shown a certain level of interest in the company or its products, but who may not yet be customers.
Building trusting relationships
By sending targeted and personalized communications to your potential customers, it allows for building a trusting relationship, especially as personalized emails increase conversion rates by 10%. For instance, you can provide answers or a guide on best practices to help them solve a problem.
Converting leads into loyal customers
Of course, the goal of email lead generation is to convert prospects into paying customers. The good news is that they have already shown an interest in your products or services. All that's left is to convince them with educational content and a series of automated emails.
A favorable return on investment (ROI)
Email marketing is relatively inexpensive compared to other forms of marketing as there are no distribution or printing costs. Additionally, this strategy allows for targeted communications to a wide audience based on specific criteria such as age, gender, geographic location, or online user behavior, all at a lower cost.
Easily measurable
Finally, email marketing allows for real-time data tracking, which means you can see the open and click-through rates of your prospects. This data helps to better understand the behavior and interest of your leads to optimize your campaigns and convert more potential customers.
5 effective strategies to generate leads with email marketing
1. Using a subscription forms
The first thing you should implement to generate leads by email is to integrate a subscription form for your newsletter on your website. This form will allow you to find prospects for your contact lists. You can also include the subscription form at the end of your blog posts, share it on your social media or include it in your paid advertising campaigns.
Make sure your form is simple and doesn't have too many fields to fill out. Otherwise, you risk discouraging visitors and losing potential leads. Here's a simple example where you simply ask for the user's name, email and company name.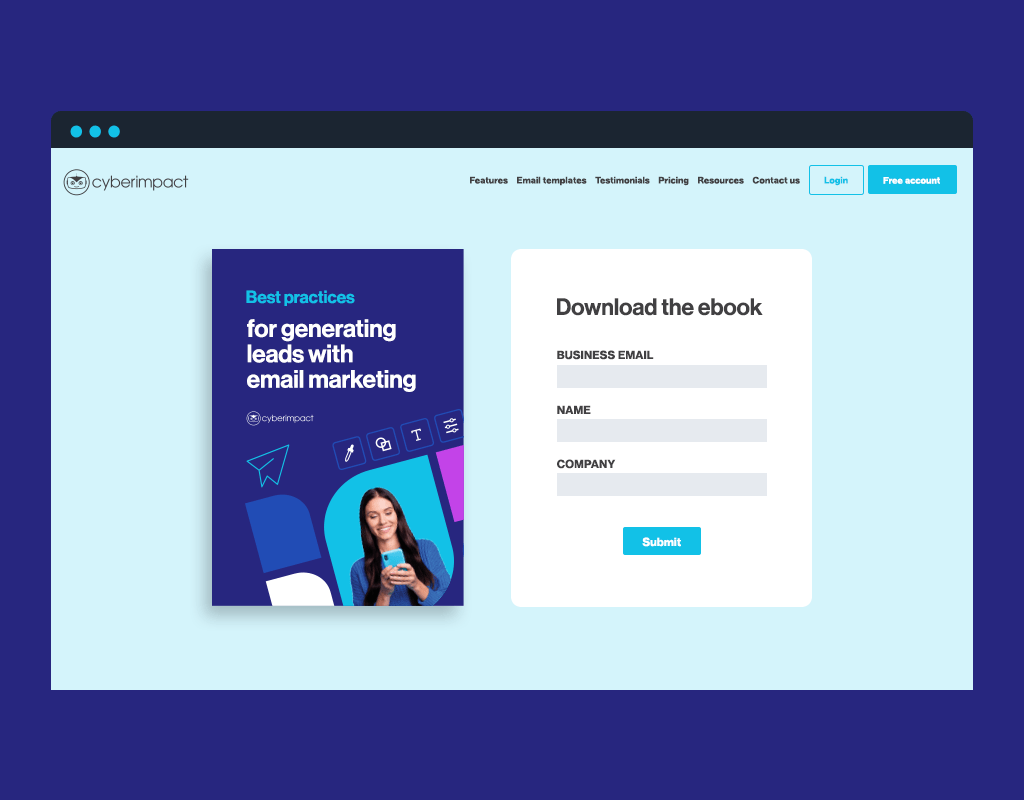 Interesting fact: Cyberimpact offers several subscription form templates. Moreover, you have the possibility to have a hosted, Iframe, or HTML code form.
2. Offering Free Content
Offering high-quality free content is a great way to capture the attention of prospects and pique their interest in your brand. Prospects are more likely to sign up for your contact list if you offer them something of value in exchange, such as a practical guide on a topic related to your business, in exchange for their contact information.
Furthermore, by offering high-quality free content, you demonstrate that you are an expert in your field and have knowledge to share. This enhances the credibility of your brand and encourages prospects to engage more with your company.
3. Organizing a contest
Organizing a contest is an excellent way to obtain email contacts. A contest encourages prospects to participate for a chance to win a prize. Additionally, contests can be easily shared on social media, increasing your brand's reach and potentially generating more leads.
When organizing a contest to generate email leads, it is important to ensure compliance with local contest laws and to offer a prize that aligns with your target audience's interests. For example, if you are a SaaS company, the prize offered could be a one-year subscription to your platform.
4. Taking advantage of social media
Social media allows you to reach a wider audience and interact with them in a more informal and personalized way. By regularly posting content, it creates more interest in your brand. Use your platforms to promote your content and redirect people to your website to sign up for your email list.
For example, an online store can display a pop-up offering a 10% discount on the first order for everyone who signs up for your email list.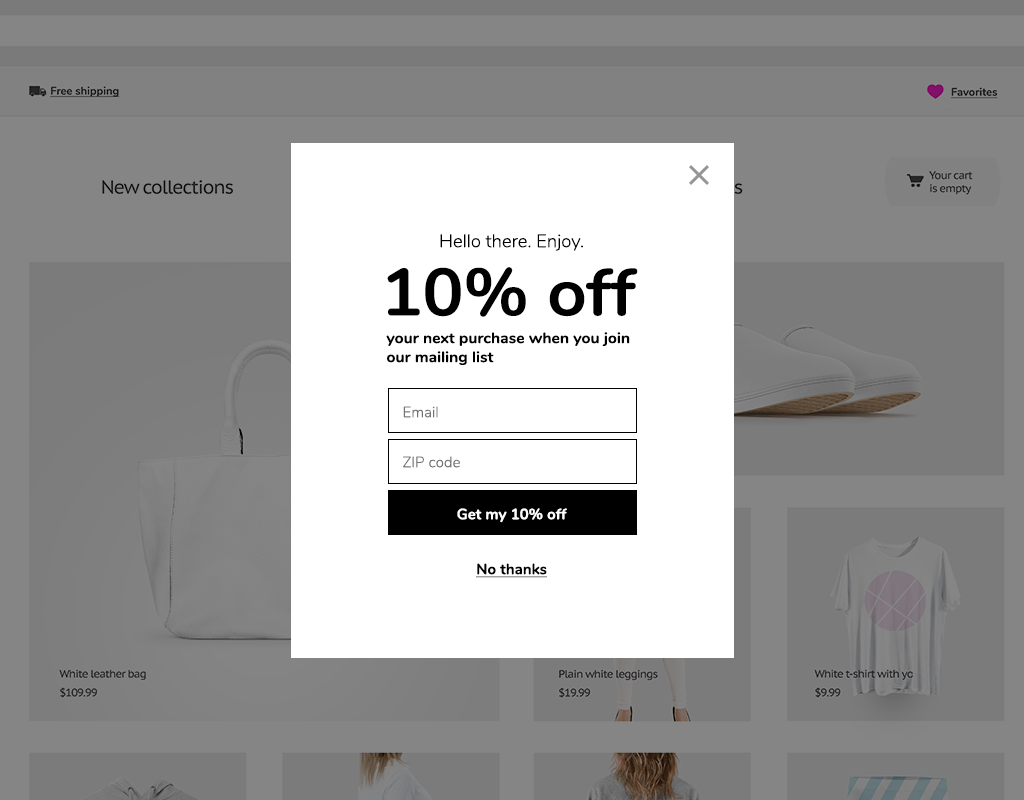 5. Proposing special offers
Offering exclusive deals creates a sense of urgency and helps generate qualified leads, as these are people who are likely interested in your products or services.
A restaurant looking to attract new customers and generate leads for its email list could offer a special promotion such as "Get a free dessert with every entree purchase". To take advantage of this offer, customers must sign up for the restaurant's newsletter. Afterwards, the restaurant can send a series of automated emails about various restaurant updates in hopes of converting the lead into a paying customer.
In conclusion
In conclusion, email marketing is one of the best channels to move a prospect through their customer journey. However, it is important to continue nurturing a relationship with a prospect once they are added to your contact list. For this, I strongly recommend setting up automated marketing scenarios.
Finally, don't forget the best practices to implement when creating an email. For example, think about having a subject line that grabs attention, clear text, and incorporating a CTA button based on the desired action for your users.
By applying these email marketing strategies, it will only be a matter of time before your business starts generating leads.