Personalizing your emails helps increase subscriber engagement. In Cyberimpact, it is now easier to produce individualized mailings to your contacts thanks to our different display formats.
We often talk about the importance of personalizing our mailings, but what does that mean? Well, it's about using what you know about your subscribers to offer them tailored content. There are many ways to do this. For example, it can be to target the right audience by making a very precise segmentation, or to use the preferences (language, interests, gender, profession, age, geography…) of contacts in order to send them useful and relevant information or to highlight events specific to each subscriber such as their birthday, their subscription or personal achievements.
In this article, we will focus on how you can use your contacts' data to add personalized content directly into your emails. Learn how to make each of your emails unique, and without much effort. The most common example would be to insert the name of your subscribers in your messages, but you'll see, there are an infinite number of possibilities.
Why personalize your mailings
Personalizing your emails with dynamic content allows you to :
1. Humanize your communications.
No one likes to feel like a number. Just because you're doing mass mailings doesn't mean it has to show up in your communications. For example, personalizing your emails by greeting your recipients by their first name will make them feel like you're speaking directly to them from the start.
2. Generate results.
3. Save time and energy.
4. Insert a different piece of information for each recipient, while scheduling only one mailing.
5. Stand out from the crowd.
Stand out by creating emails specific to each individual. Between a general information message and one that is relevant to you and that you recognize yourself in, which one will you focus on?
---
Collect data
To personalize your mailings with dynamic content, you need to have some data at hand. What do you know about your contacts? Think about the information already available in your database or CRM. For example, the name of the last item sold, their preferred language, their customer number, the total of donations made to date, the date of their next appointment, their preferred point of sale…
To find out more about your subscribers, there are different strategies:
Putting a subscription form on your website or sharing one on your social media is a great opportunity to grow your list while gathering some information. Check out our easily customizable forms!

Offering a webinar or e-book? In exchange for registration or access to the document, ask them for some information like their company name and profession.
When shopping in store, in addition to collecting their email address, record their name as well.

Invite your contacts to take a survey by offering a small gift, such as a discount on their next purchase, in return for their participation. Be careful not to be too intrusive in your questions!
Once the data is collected, it's time to integrate it into your emails.
---
How it works
Sometimes called "merge tags", "variables" or "merge fields" (for Word users), adding dynamic content is done by inserting the placeholder related to the information you wish to personalize directly into your text. When the email is sent, it will automatically be replaced by the value that is recorded in the data of each recipient. Note that it is also possible to use the personalization placeholders in the links, images, subject and preview text of your emails.
INSERT PLACEHOLDERS
See how easy it is to add placeholders to your templates and customize their display format in Cyberimpact.
For more details, check out our full tutorial.
---
Some examples of personalization
Greet your contact with their name (the classic)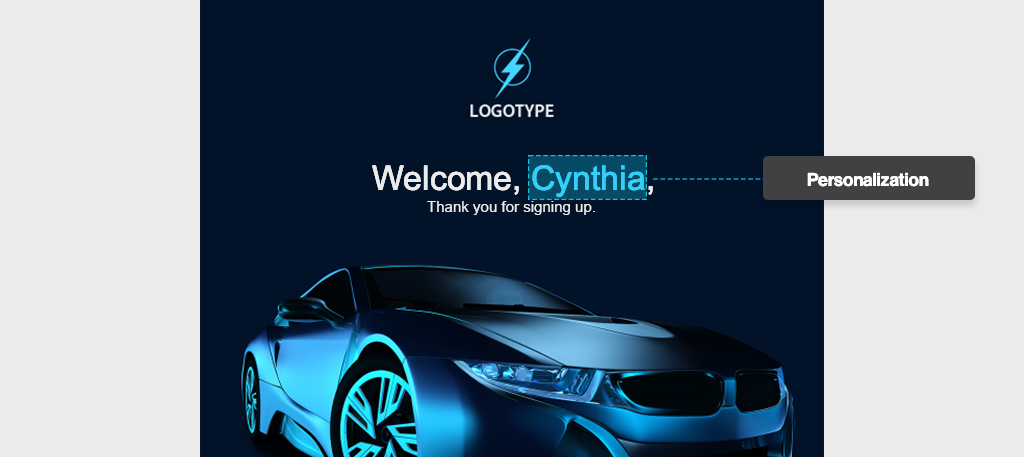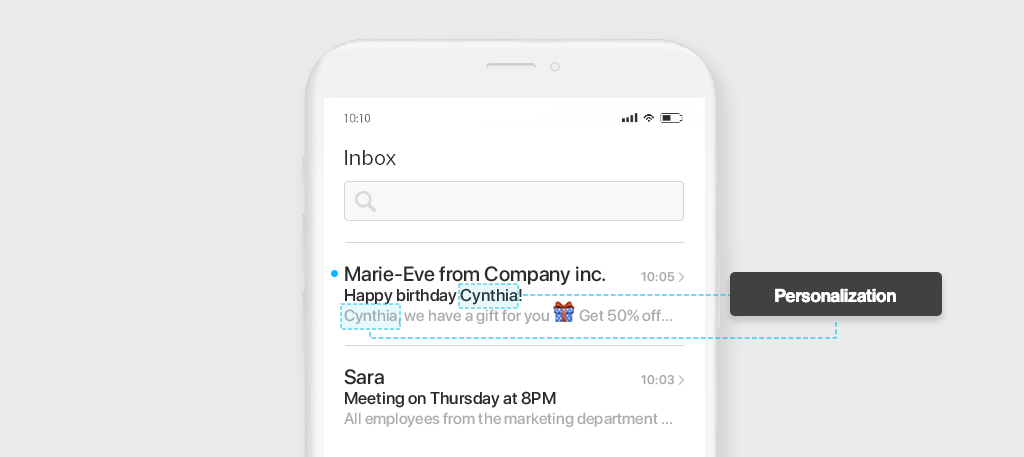 Variation: call out to your contact directly in the subject line or preview text of your email to grab their attention before they've even opened the email. According to Litmus, emails with personalized subject lines are 50% more likely to be opened.
Tip: Create the effect of a conversation between you and your recipient by personalizing the email sender as well. For example, send the email in the name of an employee rather than just the company name. (e.g.: Marie-Ève from XYZ Company rather than just XYZ Company)
Track your sales by sharing unique code coupons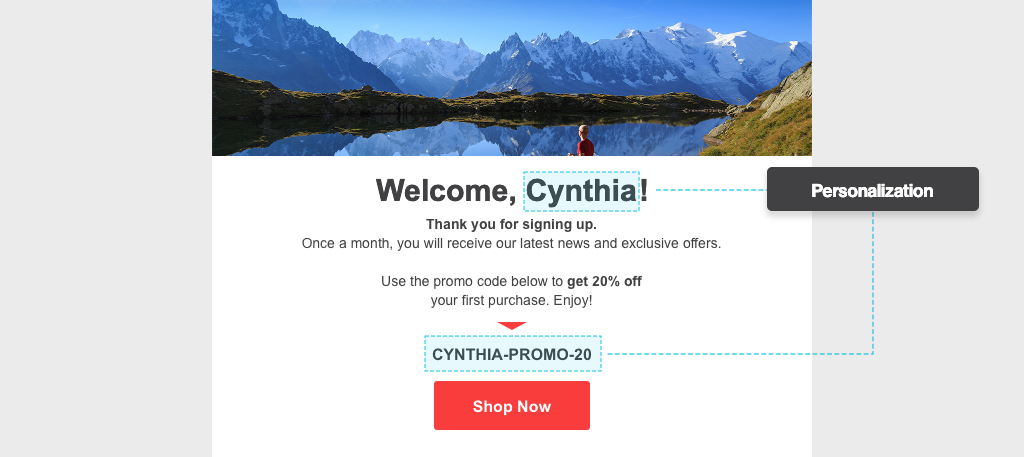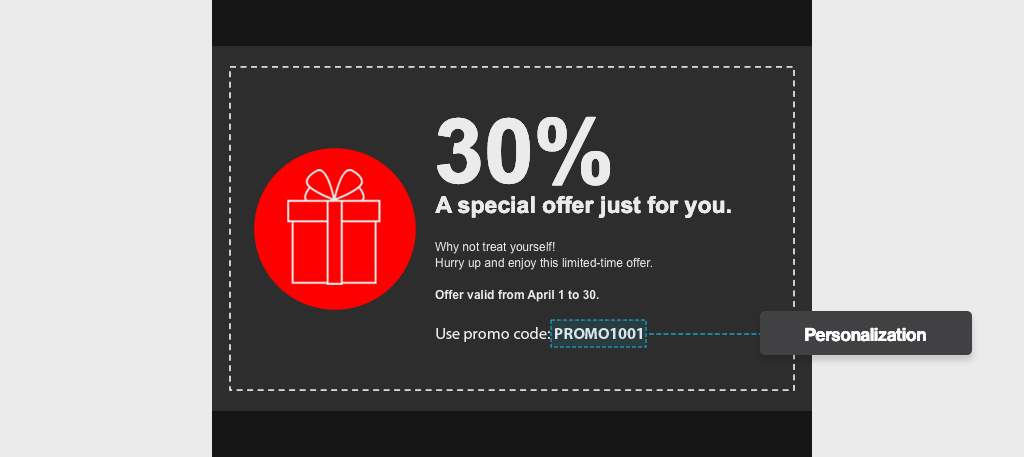 Remind the date of an upcoming appointment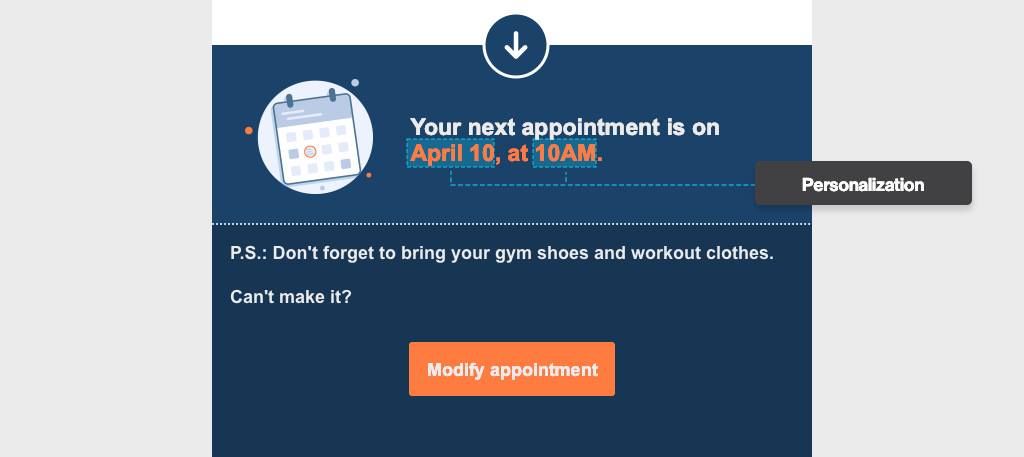 Sign an email with the right contact information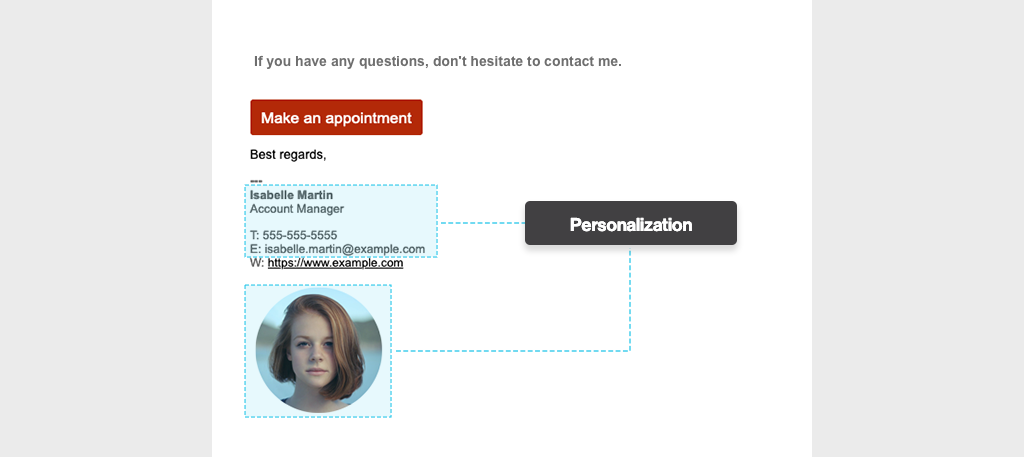 Tip: It is possible to add a custom image to your emails using custom field placeholders.
Insert unique links to download a custom promotion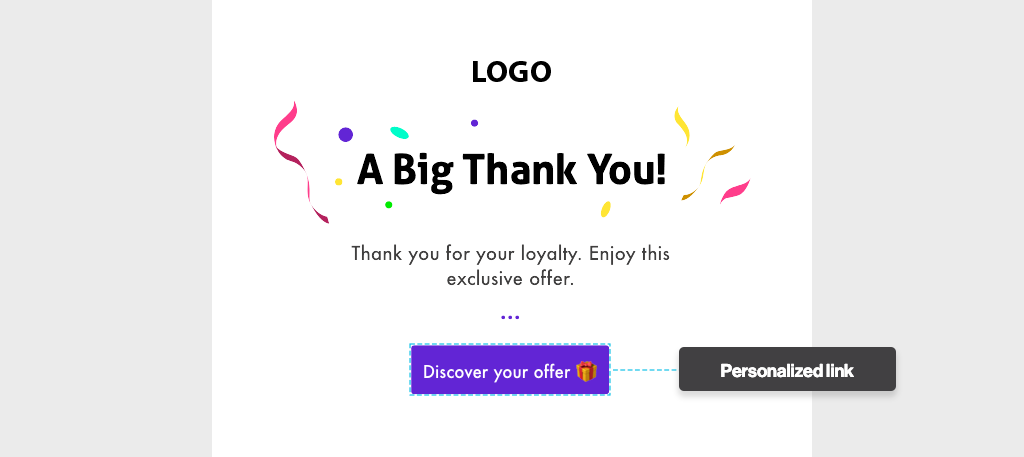 Highlight an accomplishment
---
Before you hit send
Don't forget to test your emails! Also, review your data to make sure it's up to date. Broken or incorrect personalization is one of the more common mistakes. This can be quite embarrassing and completely ruins the magic, as it becomes obvious that the email was not sent individually. With Cyberimpact and its tools, it's easy to personalize your mailings without a hitch.
In conclusion
Personalization with dynamic content is like having a human behind each of your emails. No one will suspect that you have taken advantage of a little automated and discreet help. Be aware of the data around you that could be useful to improve your mailings. Use them creatively to attract the attention of your readers. And finally, don't forget to test thoroughly!
Now it's your turn to create your own personalized emails!
If you aren't already using Cyberimpact for your email marketing, create your free account now!