Since July 2014 a total of $1,558,000 in fines has been issued to corporations in Canada for CASL infringement. And let's not forget the recent events of Mr William Rapanos. He was the first small business owner to receive a fine.
Compufinder – $1,100,000

Rogers – $200,000

Porter Airlines – $150,000

Kellogg – $60,000

Plentyoffish – $48,000

Mr William repanos – $15,000
I decided to play detective and see where they went wrong, and what they could have done differently to avoid making these costly mistakes. It's important to note that some of these non-compliant emails were sent by the companies themselves, and some were sent by third parties on behalf of the companies. Which is why it's extremely important to make sure your third party email solution is legit. The responsibility is yours, and the blame will fall on you as a business. If you take a look at the infographic below you will notice that there is one common denominator in all of this…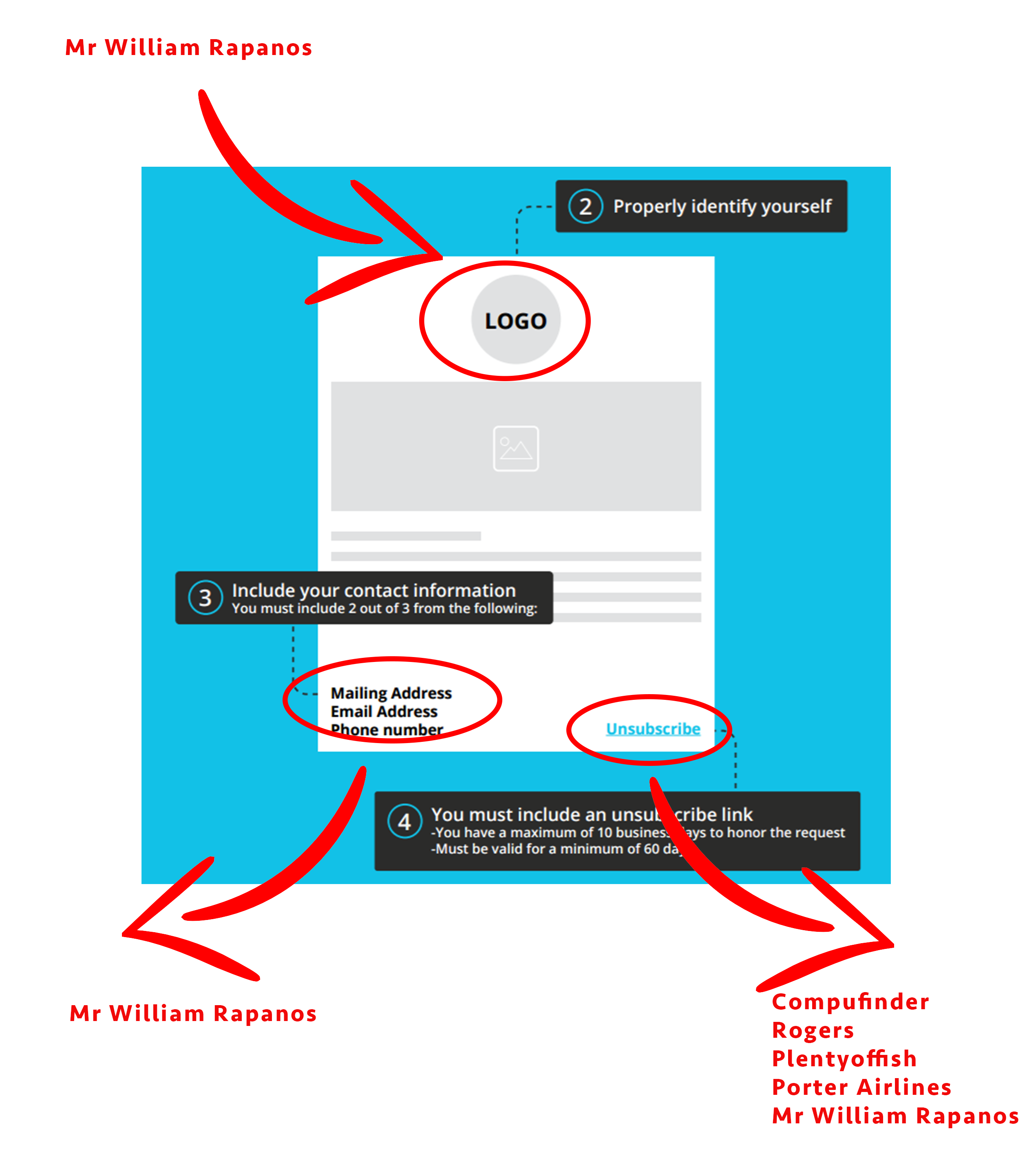 The unsubscribe link…That's where almost every company went wrong.
Every case except for Kellogg had an issue with the unsubscribe link. Either it wasn't functioning properly, not properly identified, not valid for a minimum of 60 days, or they didn't act within 10 business days of someone unsubscribing.
But the unsubscribe link wasn't the only issue for some. Compufinder and Kellogg did not have recipient consent, and Porter Airlines couldn't provide a consent history. Mr. William Rapanos was responsible for more than a few infractions. He did not properly identify the sender, did not provide contact info, did not have consent, and in some cases he too was guilty of not including a valid unsubscribe link.
It's important to remember the consent rules, and the importance of keeping your a complete consent history for each contact.
Express consent
The express consent is when someone gave you their consent to send them promotional emails verbally, or in writing. If they agree verbally it's always recommended to follow-up with an email confirming the consent. The beauty of the express consent is that it doesn't expire, unless the recipient withdraws his or her consent.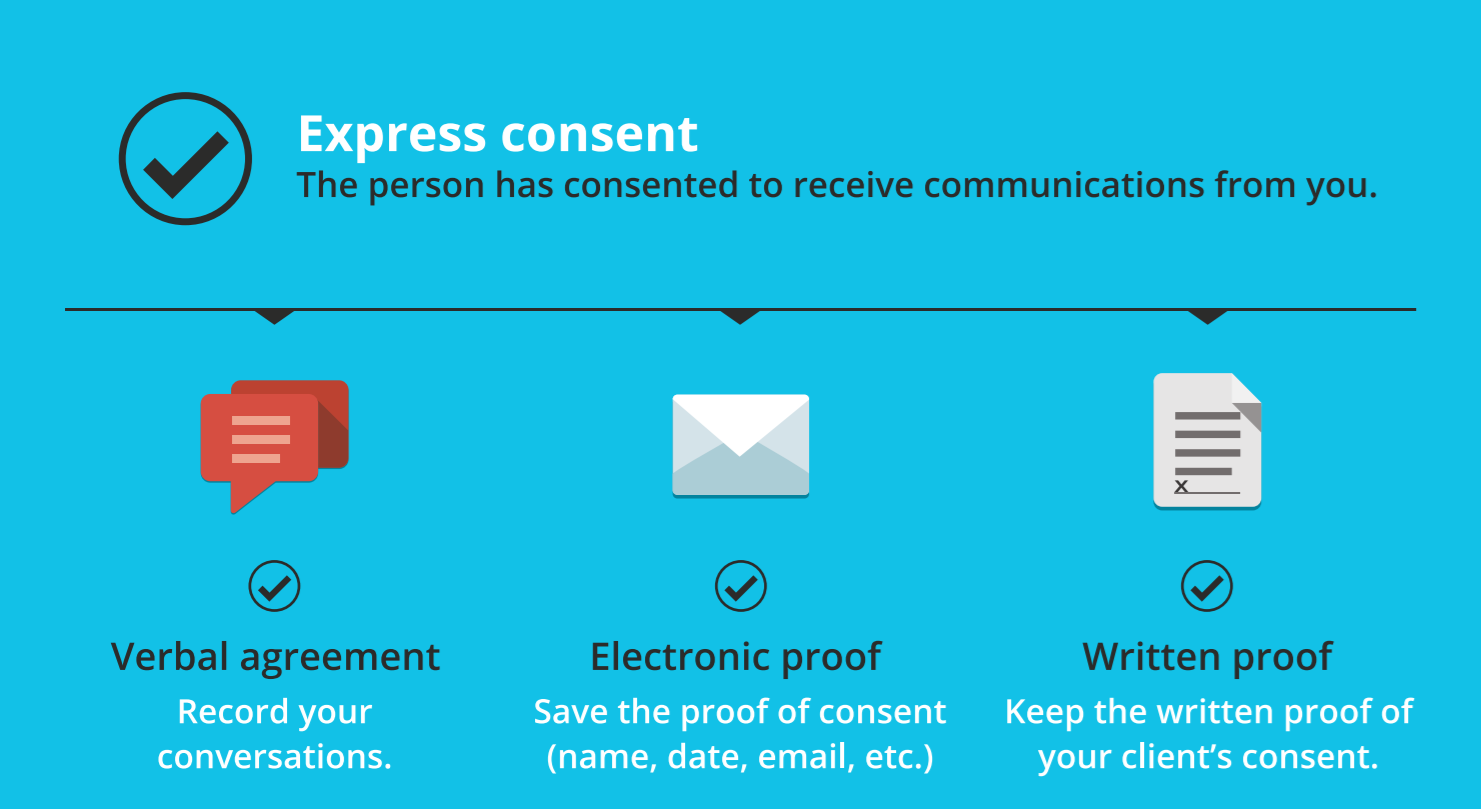 Implied Consent
Implied consent can come in many different shapes and sizes. The key thing to remember here is that implied consents have an expiration date. They could span from: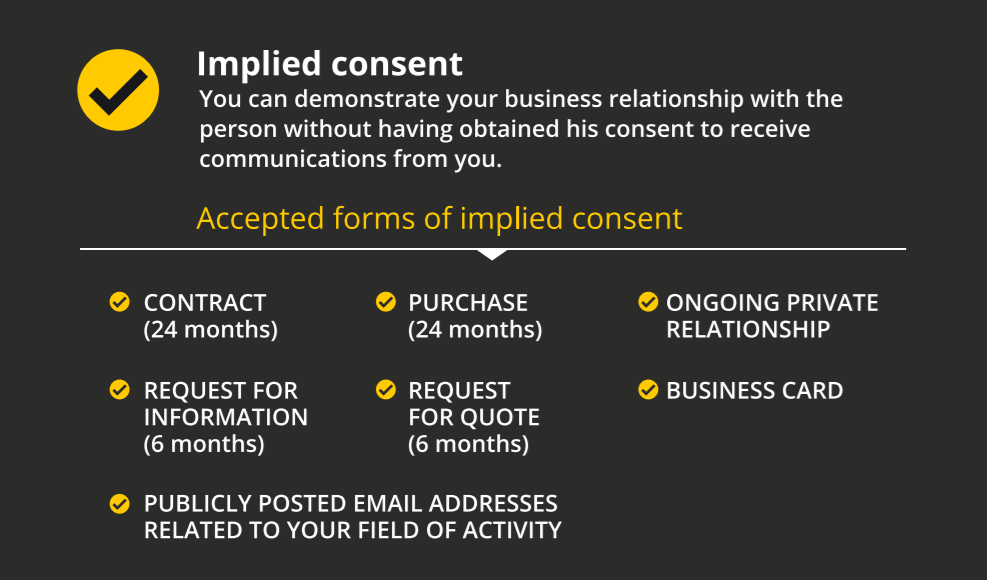 If Only they had heard about Cyberimpact…
Cyberimpact takes care of everything for you
Contact and consent management
Contrary to American-based email solutions, Cyberimpact applies the necessary information needed for CASL compliance, depending on the type of consent (express or implied). It also sends you an automated monthly report alerting you of consents that are about the expire. At that time you could easily send them a consent block to try to get them to subscribe, and become an express consent.
Complete consent history
CASL requires a complete consent history. That's why Cyberimpact was designed to keep a history of each consent. Even if the person unsubscribes, re-registers, passes from an implied consent to an express consent, etc. Everything will be accounted for in the contact's file.
Mandatory email components
Furthermore, Cyberimpact ensures that every email component required by CASL is present before sending it. Your contact information is easily entered into the system places it automatically in the right spots. There is a spot to add your business logo and last but not least it always included a valid unsubscribe link 😉