If you've never launched automated emails marketing campaigns, you're missing out on a chance to improve your company's customer experience. In fact, it's no surprise that an average of 56% of companies have embarked on email marketing automation.
Automated emailing allows you to communicate with your customers in a personalized way, inform them about the latest news and offer strategic promotions.
In this article, you will be presented with 9 examples of automated emails that you can easily apply and that will help you develop a trusting relationship between your brand and your customers.
Whether you are a small, medium or large business or an NPO, you can take advantage of these examples and optimize your email marketing strategy.
9 examples of automated emails:
What are automated emails?
Automated emailing refers to the use of email marketing software to automate the process of sending marketing emails in response to a specific action or event.
Companies can set up automated campaigns that send personalized and targeted emails to their potential customers at specific times, based on certain triggers or actions. For example, these triggers could be signing up for a newsletter, clicking on a link in an email or completing a satisfaction survey.
1) Welcome email
Welcome emails are automatically sent to people who sign up for your newsletter from a subscription form. You can introduce your company, share a special offer or a discount to encourage a purchase or simply thank them for signing up to your newsletter.
Welcome email example: Airtable, an online collaboration service, sends a welcome email every time a user creates an account. The content is kept very simple and includes a CTA to direct users to the platform.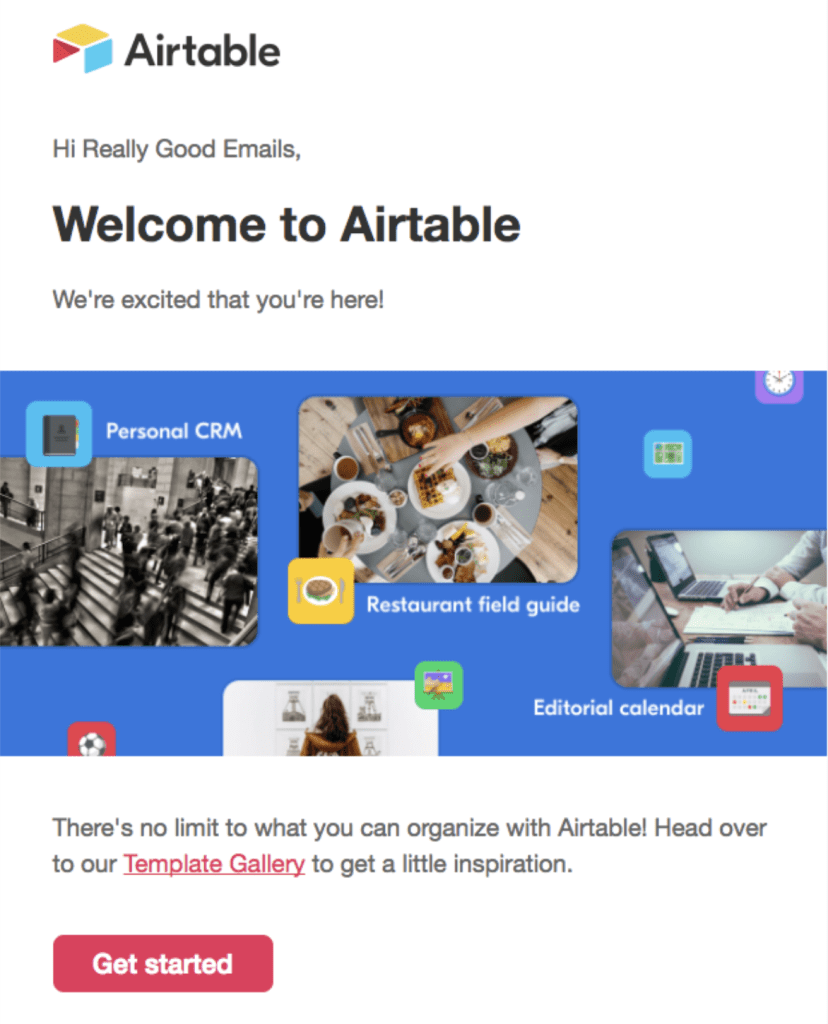 2) Birthday emails
These emails are sent to customers on their birthday or the anniversary of their first purchase. They are a way to show your appreciation and often include a special offer or discount.
Example of a birthday email: The sportswear brand Puma sends an email to wish its subscribers a happy birthday and offers them a 20% discount to celebrate the occasion.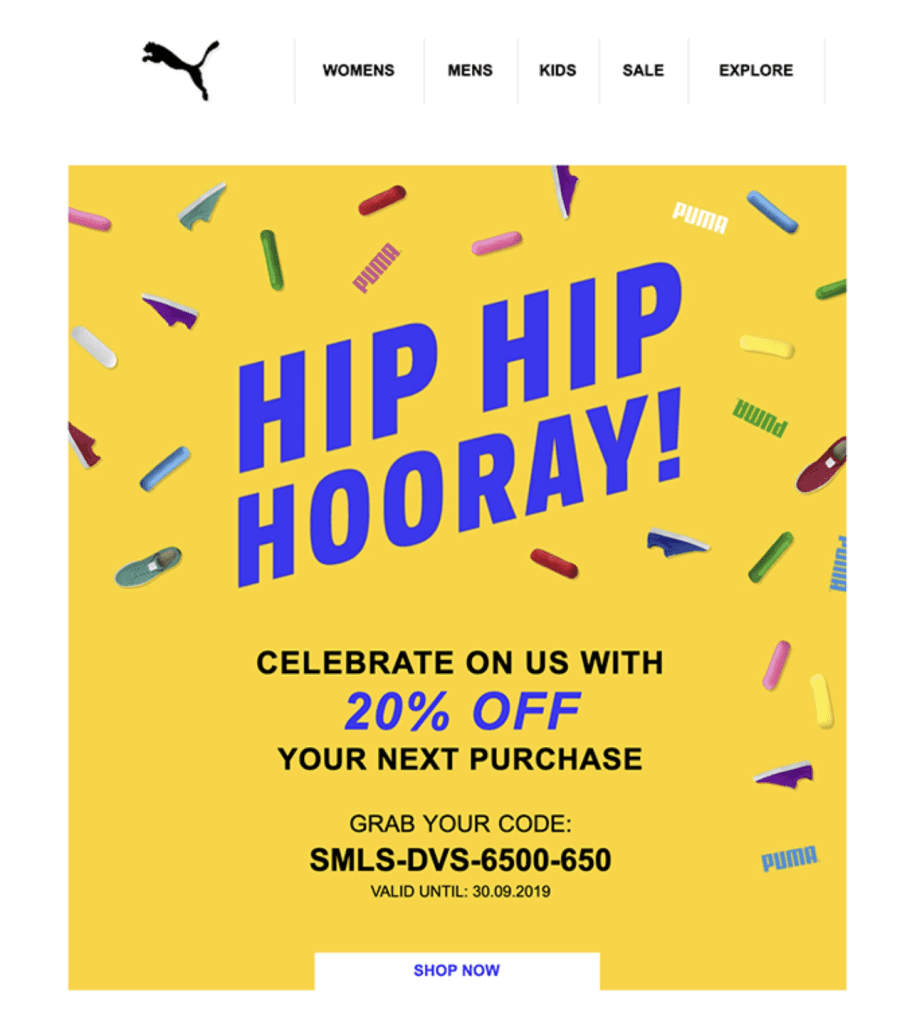 3) Email invitation to an event
Automatically invite your customers to participate in one of your recurring events, such as a webinar or workshop, through an email.
Example event invitation email: People Data Labs sends an email to its customers to share the next webinar date. In this case, it is the event registration confirmation email that will be sent automatically since it is not a recurring event.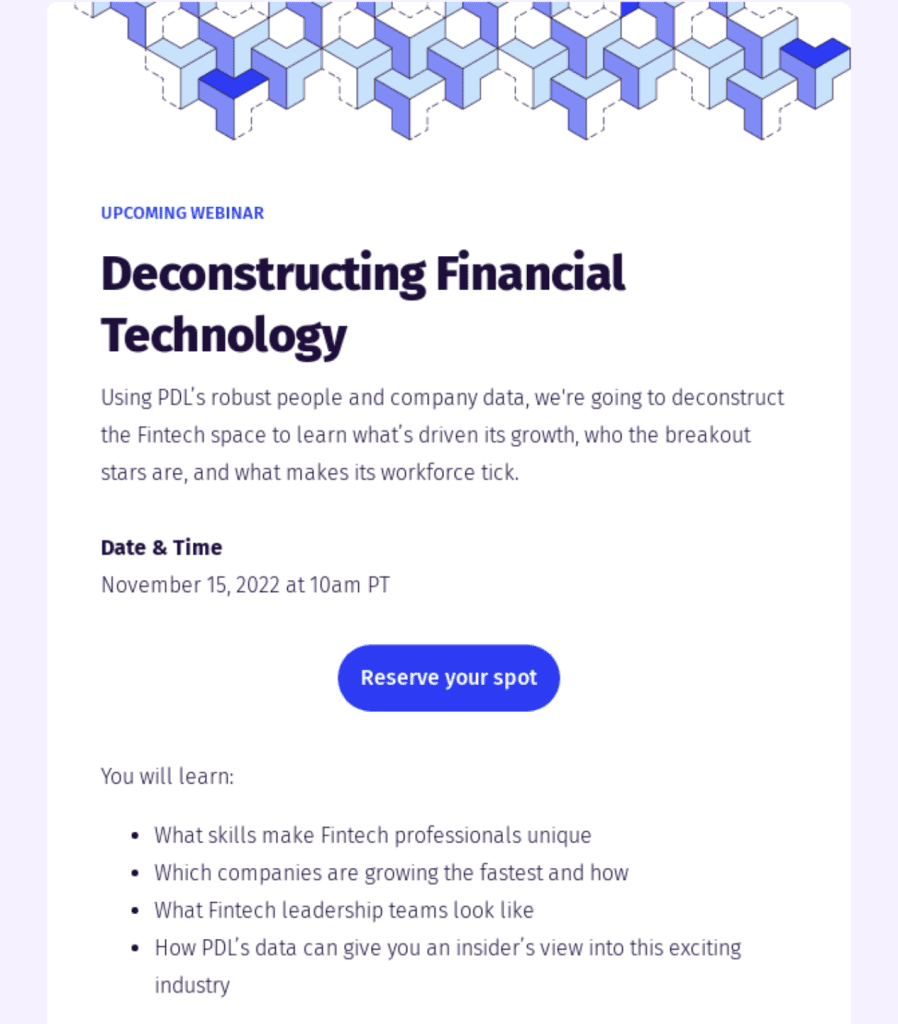 4) Reminder email
This is an email sent to customers to remind them of an upcoming appointment or deadline, such as an expiration or renewal date. They can be triggered by the approach of the appointment or deadline and are designed to ensure that the customer does not miss or forget the date.
Example of a reminder email: AppleMusic sends an automatic email when its users' subscription will soon expire.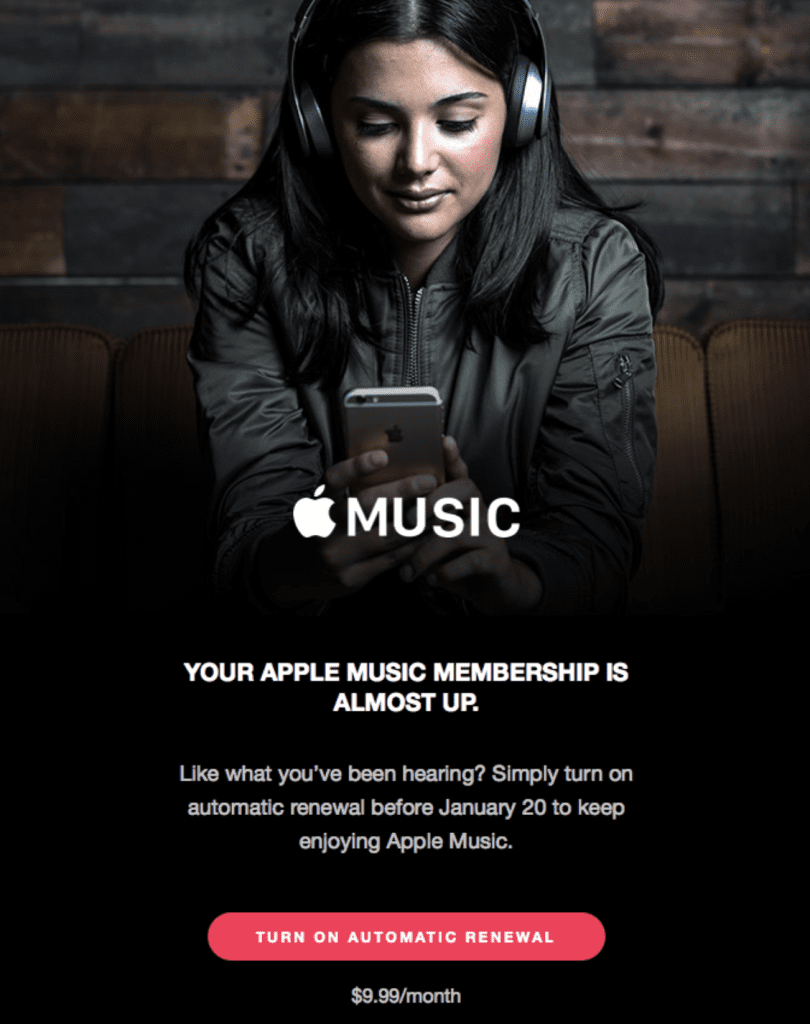 5) Promotional emails
Send an email to promote a specific product or service, which often includes a promotional code or discount coupon.
Sample promotional email: Friendly's restaurant chain is offering a 50% off coupon on their frozen desserts to celebrate the end of summer. This is an offer that could be scheduled to be repeated annually or for customers who made a purchase during the summer.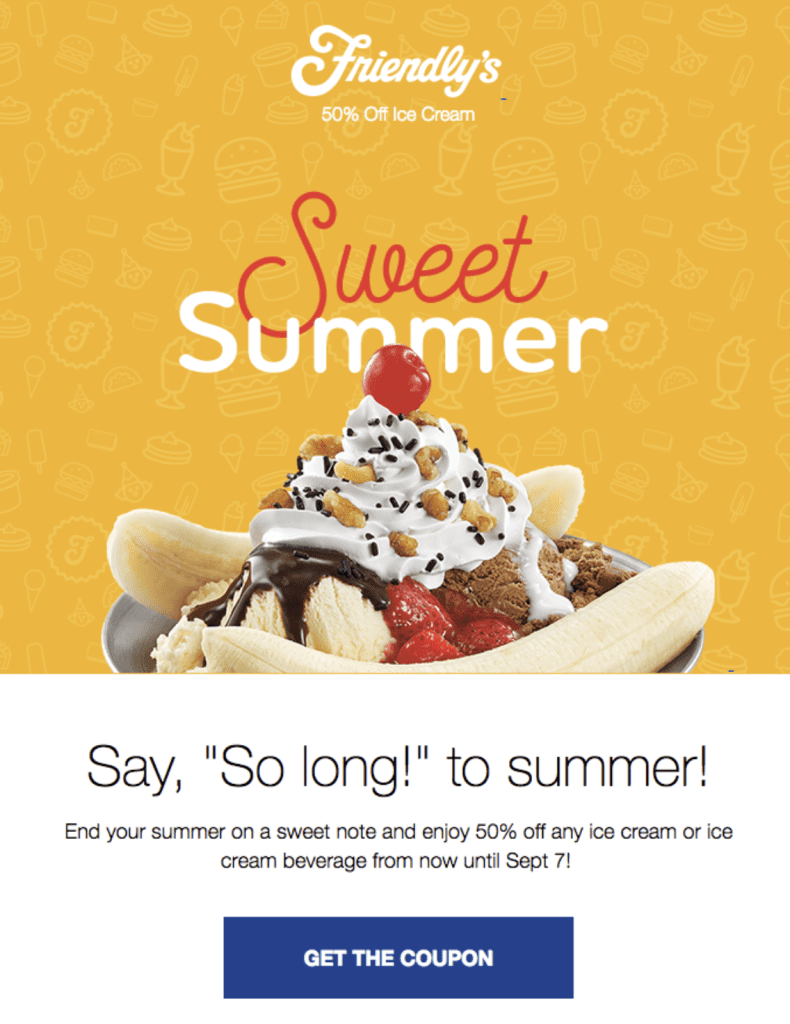 6) Thank you email
Right after a customer subscribes to your newsletter, or performs a specific action such as registering for one of your events, you can send them an automated thank you email. This is a simple way to let the customer know that they are important to you and that you have received their request.
Example Thank You Email: Airbnb automatically sends a thank you email to hosts after receiving a booking request.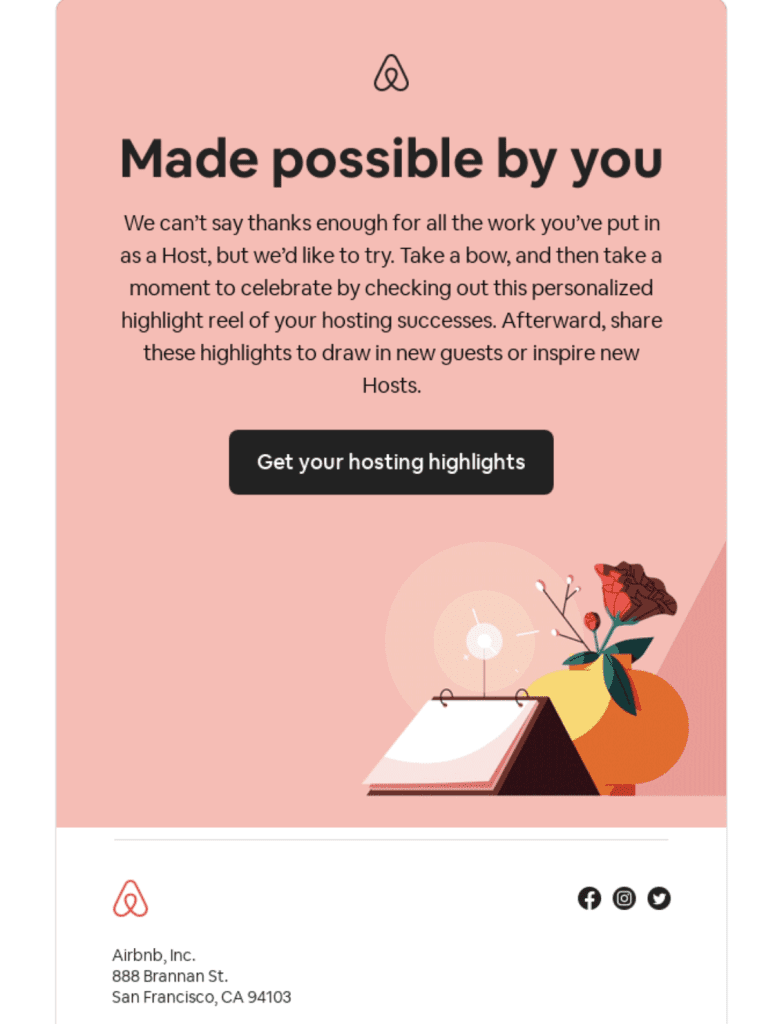 7) Satisfaction survey
After a customer has made a purchase, you can send them an email asking them to rate their experience and give feedback. This can help you improve your products and services and build customer loyalty.
Example of a satisfaction email: the Renaissance Hotel asks its customers to complete a satisfaction survey after their stay to find out their level of satisfaction.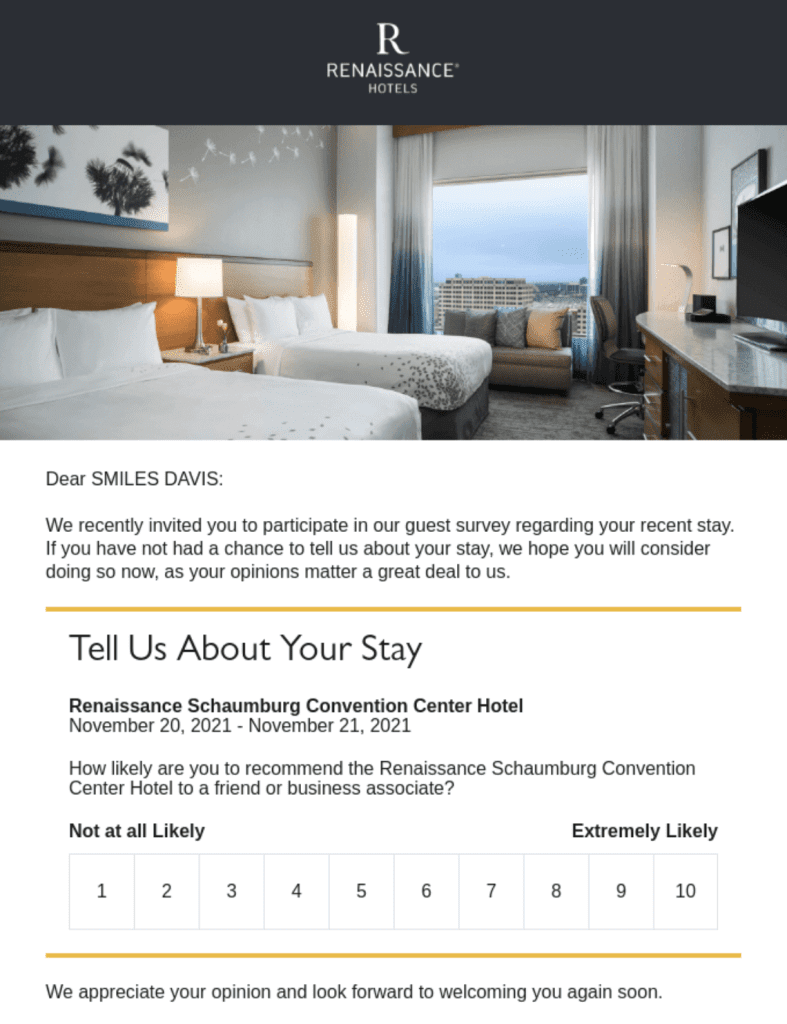 8) Re-engagement emails
Send automated emails to subscribers who haven't opened your emails in a while. Re-engagement emails are designed to re-engage your inactive customers and remind them why they signed up for your newsletter in the first place.
Example of re-engagement email: Harvest Software sends an invitation to its inactive members or those who have not converted to a paid account to invite them to extend their free trial.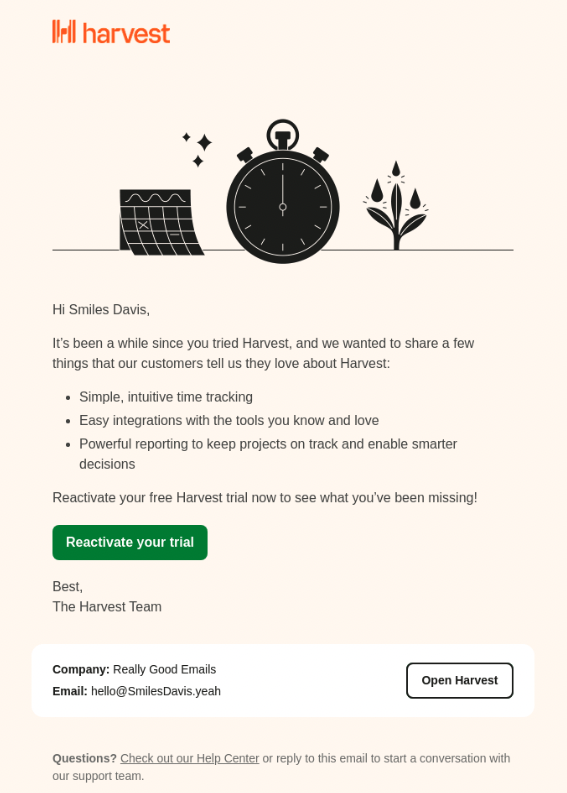 9) Cross-selling or up-selling emails
Emails are sent to customers who have purchased a particular product or service and recommend related products or services that may be of interest to them.
Example: Audible, an audiobook application makes personalized recommendations for each of their customers based on their purchase history or book style preferences.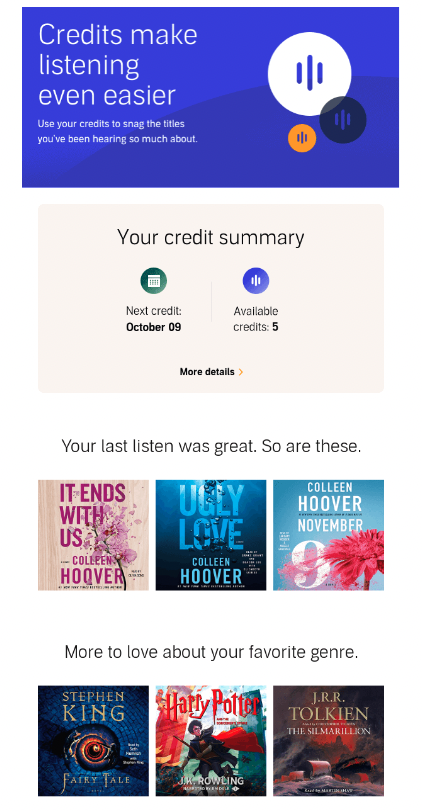 Conclusion
By creating automated emails, companies can ensure that they are consistently providing value to their customers and improving the overall customer experience; for example, by sending a message that respects the time zone of its subscribers.
In addition, automated emails can help companies stay in touch with their customers and build loyalty by sending timely and relevant messages based on customer behaviour or interactions.
Get started today with Cyberimpact and grow your business with prebuilt automation workflows or create your own automated email scenarios by targeting mailing lists.