When a prospect subscribes to your newsletter, it's at that moment they show interest in your company and express a desire to receive more information. Your role is to keep your subscribers engaged by providing them with content that is relevant to your business and likely to interest them. After all, if you leave your prospects hanging, you run the risk of losing them and generating fewer sales.
In this blog article, we will guide you through everything you need to know about a newsletter, the science behind open rates, and 30 newsletter ideas to engage your audience:
What is a newsletter?
A newsletter is a communication medium that promotes interaction with subscribers. Businesses use it to send emails to their customers to promote their products or services with the aim of engaging them and generating sales.
A newsletter is typically created using an email marketing platform, such as Cyberimpact. These platforms allow you to create newsletters that reflect your company's image, manage your contact lists, send emails, and track performance.
There are numerous email marketing software options to choose from. You simply need to identify the specific needs of your business and evaluate the different features offered by available email marketing tools.
Why are newsletters important?
Email marketing is the marketing strategy with the highest return on investment (ROI). On average, for every dollar spent by email marketers, they receive $36 in return. Sending a newsletter offers numerous advantages for a business:
Increased engagement: Your subscribers receive an email directly from your company in their inbox. This allows you to reach them at any time of the day, whether they are at work, at home, or with friends. It's an opportunity to establish a direct relationship with your subscribers, which promotes engagement and strengthens customer bonds.
However, it's important to ensure that you don't send too many communications, as this could annoy some subscribers and lead to unsubscribes. It's essential to find a balance in order to maintain the interest and satisfaction of your audience.
Creating personalized content: Newsletters enable segmentation and targeting of subscribers based on their interests and preferences, allowing you to send them relevant and personalized content.
Promoting your products and services: For online retailers or any business offering services, email marketing strategies are a highly effective way to inform your customers about promotions, seasonal updates, new service offerings, and more. You can easily send engaging campaigns with a promotional code as an incentive to encourage your subscribers to visit your website.
Growing your sales: By guiding your readers towards special offers, promotions, or product recommendations, newsletters contribute to boosting sales and conversions.
Increased traffic to your website: Newsletters can include direct links to blog articles, product pages, or other relevant content leading to your company's website, thereby increasing traffic and generating conversion opportunities.
Tracking and analysis: Email marketing platforms provide detailed statistics on campaign performance, including open rates, click-through rates, and conversion rates, allowing for the evaluation of strategy effectiveness and optimization for better results.
Affordable cost: Compared to other marketing strategies, email marketing is generally more affordable, making it a cost-effective solution for small and large businesses.
Understanding your customers' profiles: Newsletters will allow you to better understand your buyer personas. By sending surveys or analyzing the subscribers who are most engaged with your brand, you will be able to create content that is more likely to interest them and, therefore, increase your sales.
What elements should be included in a newsletter?
A well-designed newsletter should include several key elements to create a pleasant and effective reading experience for your subscribers.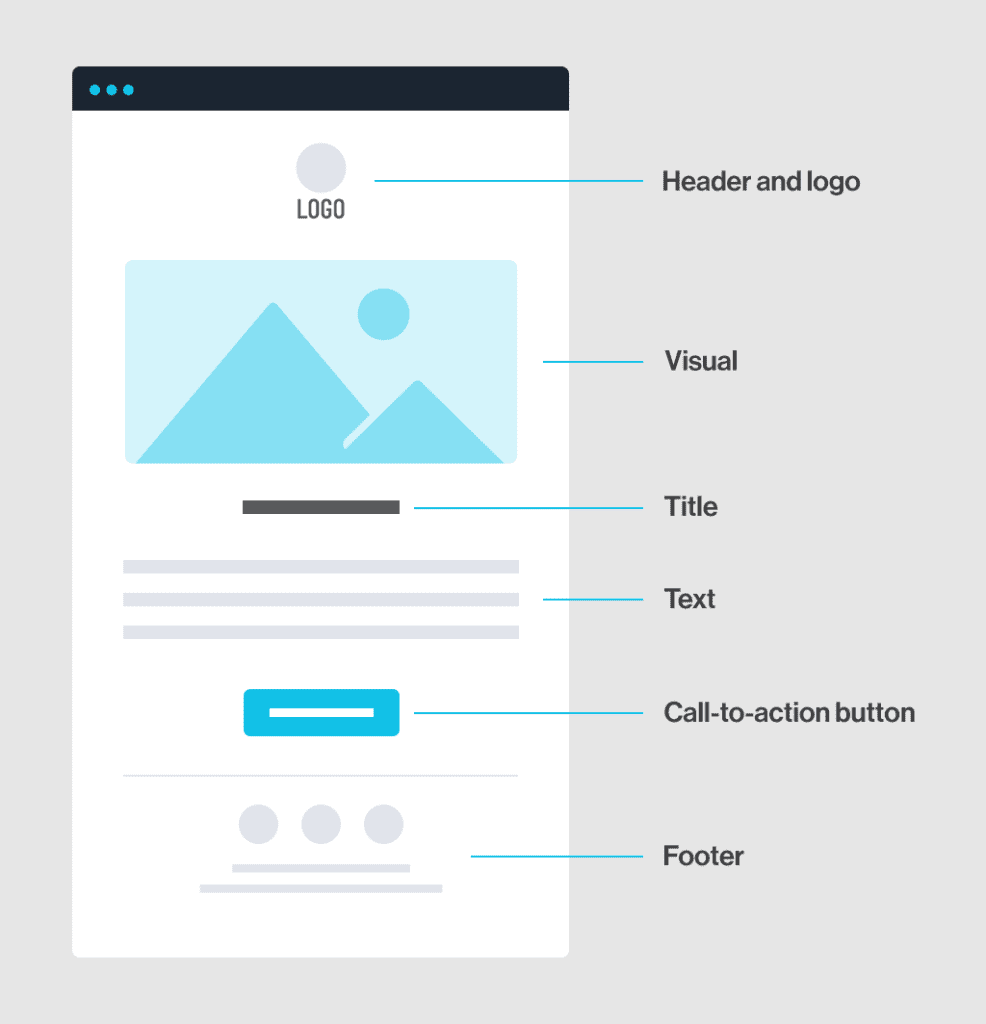 Header: In the header of your newsletter, your company logo should be prominently displayed so that readers can easily identify the source of the communication.
Image or visual: The use of images or visuals in your newsletter is essential, as people often tend to look at them first before reading the text. The images should be relevant to the content of your newsletter or have a direct connection to it. However, it's important to consider the size of the images to avoid increasing the newsletter's file size too much.
Title: The title of your newsletter should be clear, engaging, and convey the message covered in the newsletter. For example, a grocery market could share recipes and have a title like "Savor the Summer with Our Seasonal Cooking Recipes."
Body Text: The body of your text is where you insert the main content of your newsletter. For better readability, prioritize simplicity by avoiding overly long texts. It's advisable to add spacing between paragraphs to prevent your newsletter from appearing visually cluttered. By keeping the text clear, concise, and well-structured, you increase the chances of engaging your subscribers and effectively conveying your message.
Call-to-Action (CTA) Button: Include a CTA button to direct readers to your website. The CTA button should be prominent. Choose a vibrant color (while respecting your company's branding) and use an action verb like "Discover the Offer."
Footer: The footer of your newsletter is an essential final section. It's important to include your company's contact information, contact details, the mandatory unsubscribe link, and social media icons representing the platforms where your company is present.
How often should I send a newsletter?
The frequency of your newsletter sends is influenced by various factors, including available content, subscriber expectations, and available resources such as time and staff. You shouldn't send newsletters just for the sake of sending them. Make sure to provide valuable and interesting content to your readers.
Furthermore, it's important to be cautious about sending too many newsletters as it can risk annoying your audience and losing subscribers. On the other hand, if you send newsletters too infrequently, such as once per quarter, your subscribers may forget about you and not be sufficiently engaged with your brand.
To find the right balance, we recommend conducting tests by comparing different sending frequencies. For example, you can send your newsletter once a week for three months and then compare the results with sending a newsletter once a month for the following three months.
Analyze the performance of these sends to make informed decisions. If you find that you have lost more subscribers than you gained and your open rate has significantly decreased when sending a newsletter once a week, it may be wise to reduce the sending frequency.
Interesting fact: 23% of emails are opened within the first hour after being sent. After 24 hours, the probability of an email being opened drops to less than 1%! – Source
Which days of the week are best for sending a newsletter?
According to a recent study, it appears that the best day of the week to send a newsletter, regardless of the industry, is Tuesday. These weekdays tend to have slightly higher open rates. On the other hand, Saturday and Sunday seem to be the least favorable days for sending, with the lowest open rates.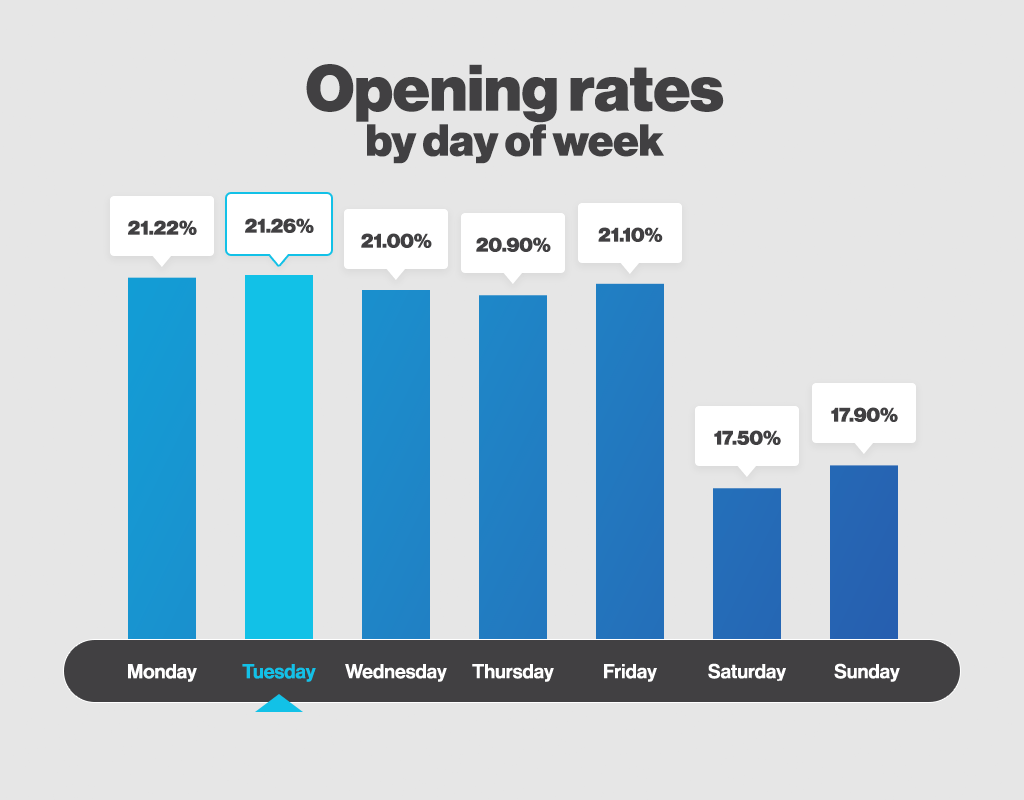 What is the ideal time to send a newsletter?
The ideal time to send a newsletter within a day is not an exact science. However, according to this study, it has been found that the time slot from noon to 3 p.m. would be the most favorable for sending a newsletter.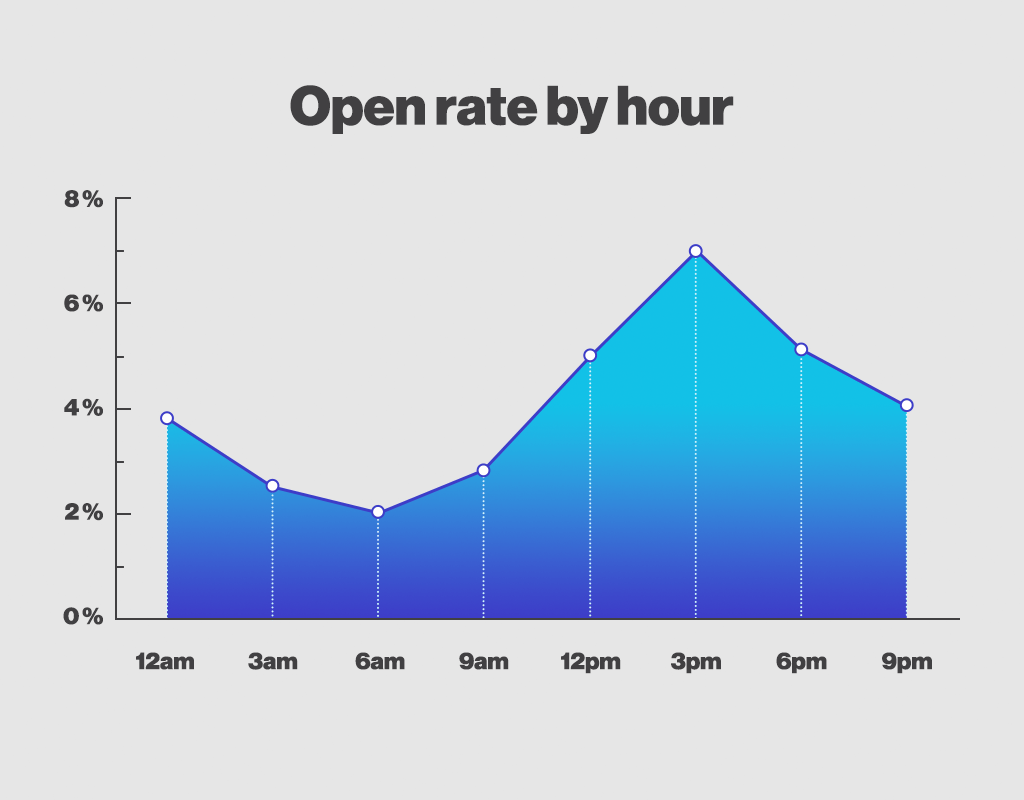 We strongly encourage you to conduct your own tests to determine the most opportune time for your subscribers to open your newsletter. It's possible that in your case, mornings work better. Therefore, we suggest testing the sending of your newsletter in the afternoon for a few weeks, and then repeating the experiment by sending it in the morning.
By analyzing the results and comparing the open rates, you can determine which time slot generates the most engagement from your audience. Each industry is unique, so it's important to conduct specific tests for your business to optimize your sends.
30 examples of newsletters to engage your readers:
Now that you know what a newsletter is, here are 30 newsletter ideas that you can draw inspiration from for your own sends:
1. Welcome email series
A welcome email is the first message you should send when a subscriber signs up for your newsletter. It helps engage your new subscribers right from the beginning of their relationship with your brand. It makes them feel valued and welcomed. It's also the perfect opportunity to share key information about your company, your values, and provide helpful tips or resources to your subscribers.
A welcome email series consists of multiple sends spread over a period of time, based on your subscribers' journey and actions.
In the example newsletter below, Frame.io warmly welcomes new customers, highlights the benefits of their company, and encourages them to get started using their application with a call-to-action (CTA) button.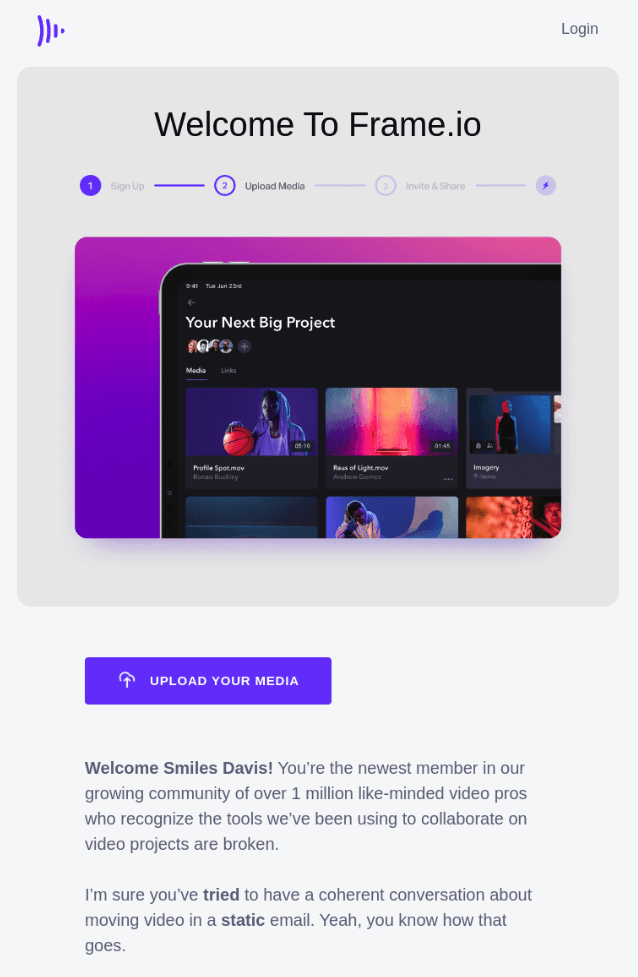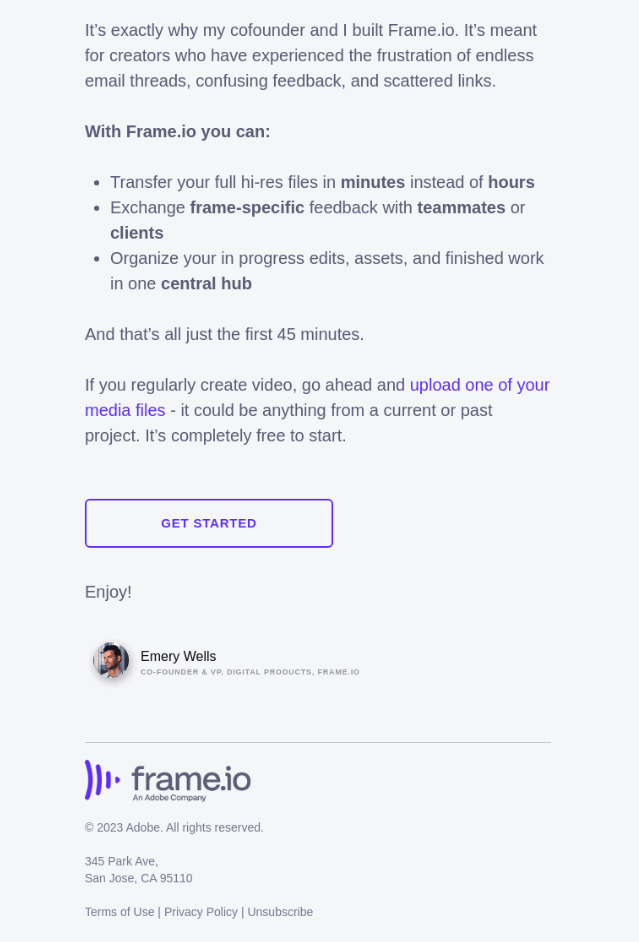 2. Product or service guides
Product or service guides provide an excellent opportunity to educate and inform your subscribers while addressing their needs. Moreover, these guides allow you to provide practical solutions to their problems, which can encourage them to become paying customers if they aren't already.
In their newsletter, Glassdoor shares multiple blog post and practical guides that bring real value to their subscribers.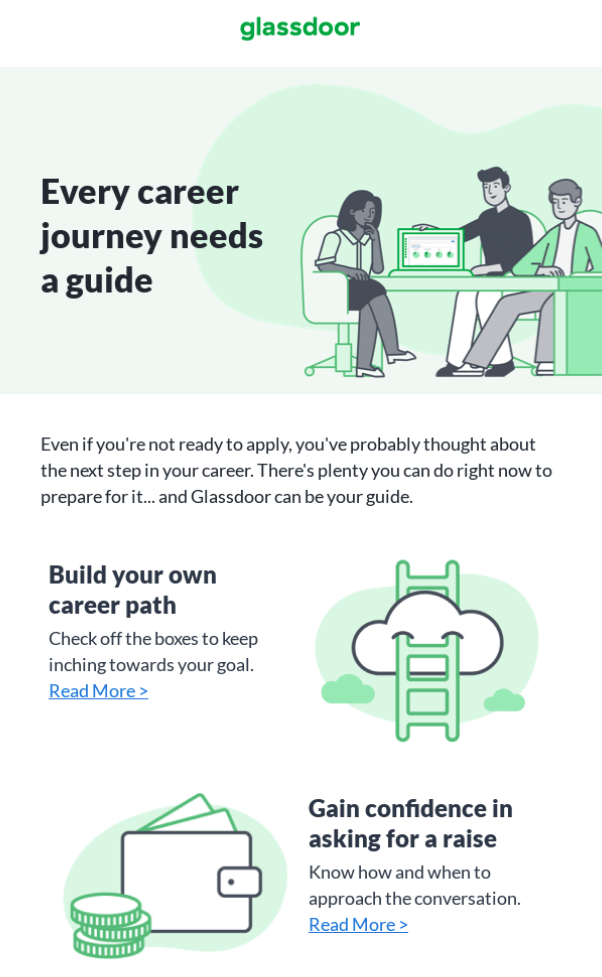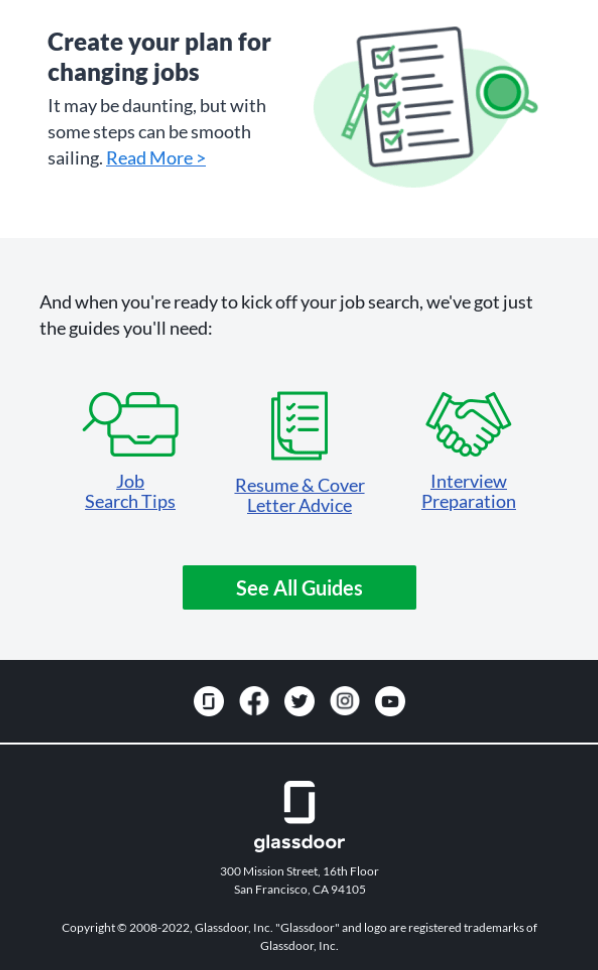 3. Special offers and discounts
By offering discounts on an occasional basis, you can re-engage subscribers who haven't visited your business in a while. This can encourage them to take action and make a purchase. On the other hand, you can also reward your top customers by offering them special promotions to thank them for their loyalty and exceptional customer status.
Design+Code has decided to offer a 50% discount on new online courses to celebrate their 4th year as a company.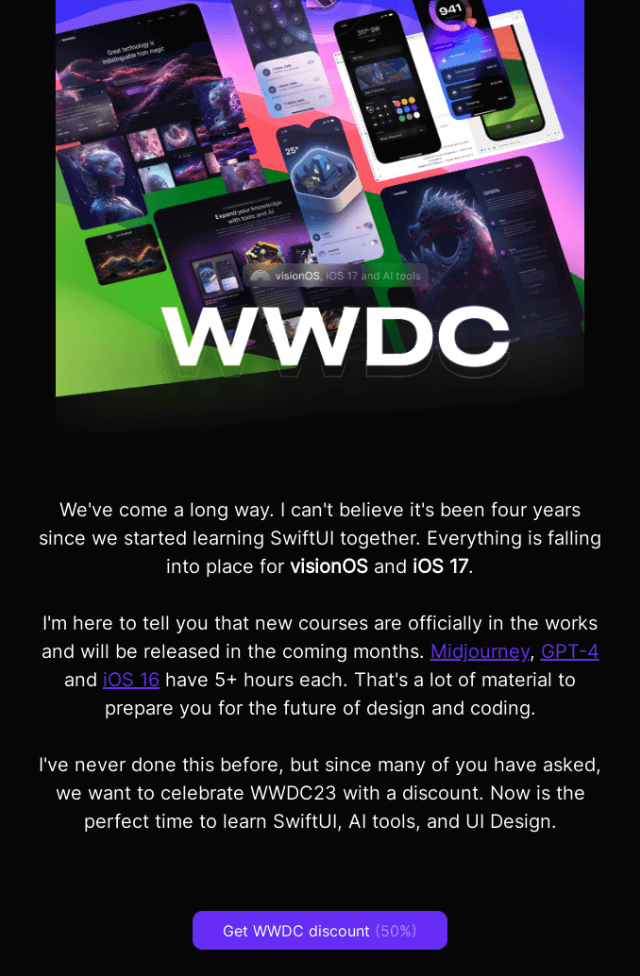 4. Customer reviews
First and foremost, customer reviews help strengthen the credibility of your business and showcase your expertise in your industry. Additionally, customer reviews can influence the decision-making process of prospects. When they see positive and authentic testimonials, readers are more likely to consider your business as a serious and reliable option.
In the example newsletter from Calibrate, several customer testimonials are featured to highlight how their application has contributed to the achievement of their health goals.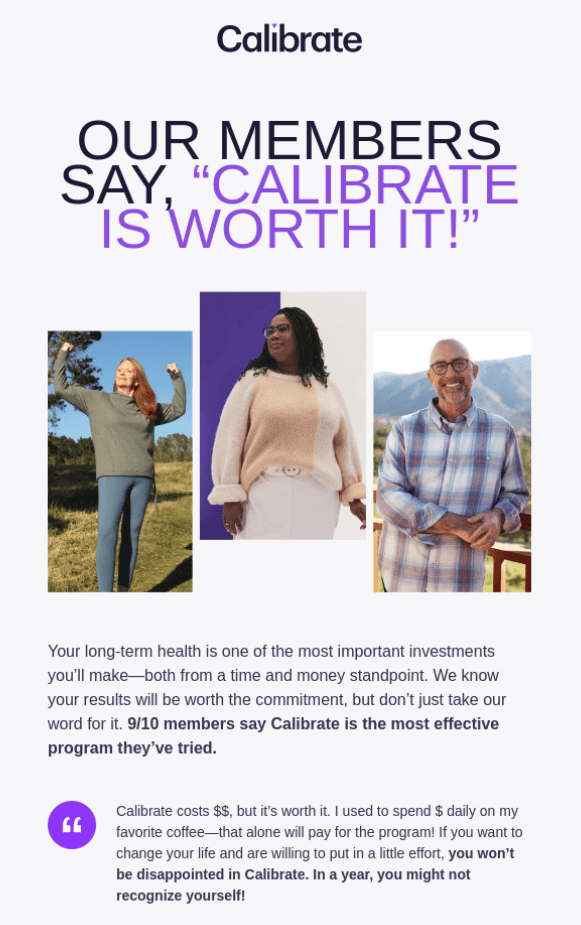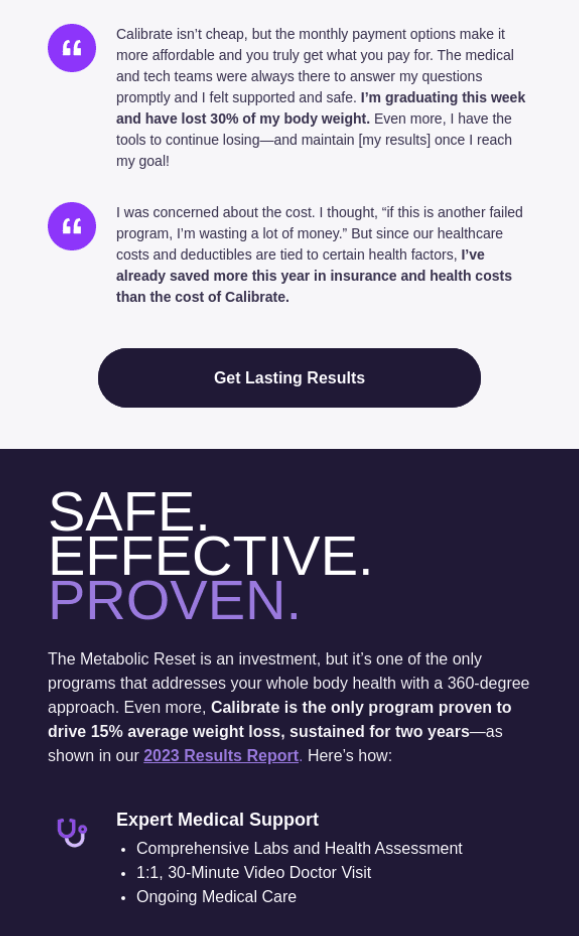 5. FAQ (frequently asked questions with answers)
Sharing an FAQ (Frequently Asked Questions) in a newsletter allows you to proactively address the most commonly asked questions by your subscribers. By anticipating their inquiries, you demonstrate your commitment to providing clear answers and resolving their issues.
It is also an excellent way to reduce the workload of your customer service by preventing repetitive questions. Subscribers can find immediate answers to their queries, which reduces the number of support requests and frees up time to address more complex issues.
Here's an example of a newsletter with an FAQ: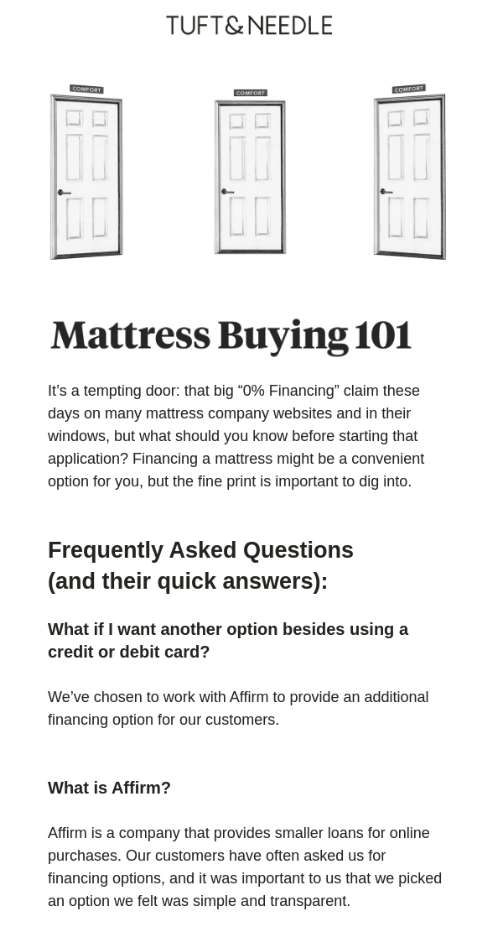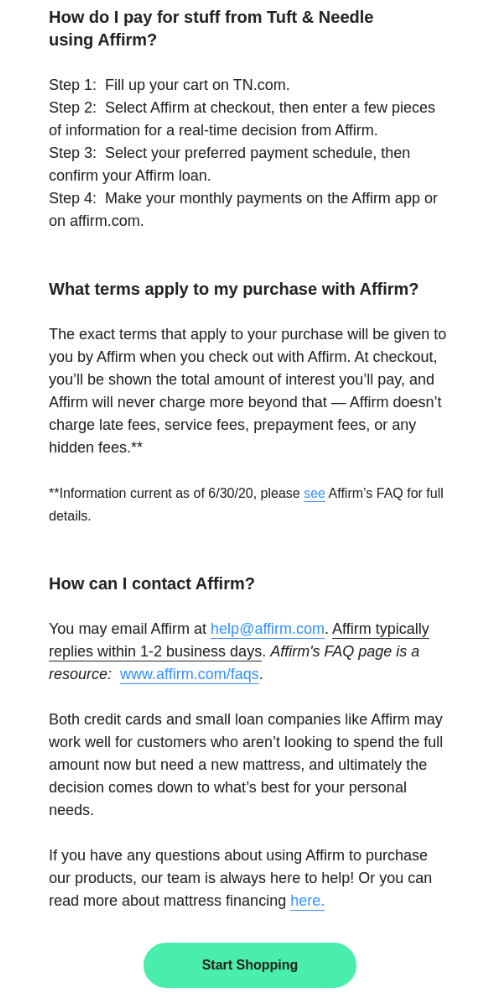 6. Customer satisfaction survey
Surveys allow you to gather information directly from your subscribers. You can ask specific questions about their preferences, needs, opinions, or experiences with your products or services. The feedback collected through the survey can help you identify strengths and weaknesses in your products or services. Use this information to enhance the user experience for your customers.
By valuing the opinions of your subscribers, you demonstrate the importance of their involvement in your business, which can strengthen their sense of belonging and loyalty to your brand.

7. Thank you email
Who doesn't love to be thanked? Sending a thank you email allows you to express gratitude to your customers for their support, participation, or purchase. A personalized thank you email strengthens the relationship with your subscribers and makes them feel valued.
HomeAlivePets sends a thank you email every time a customer makes an online purchase.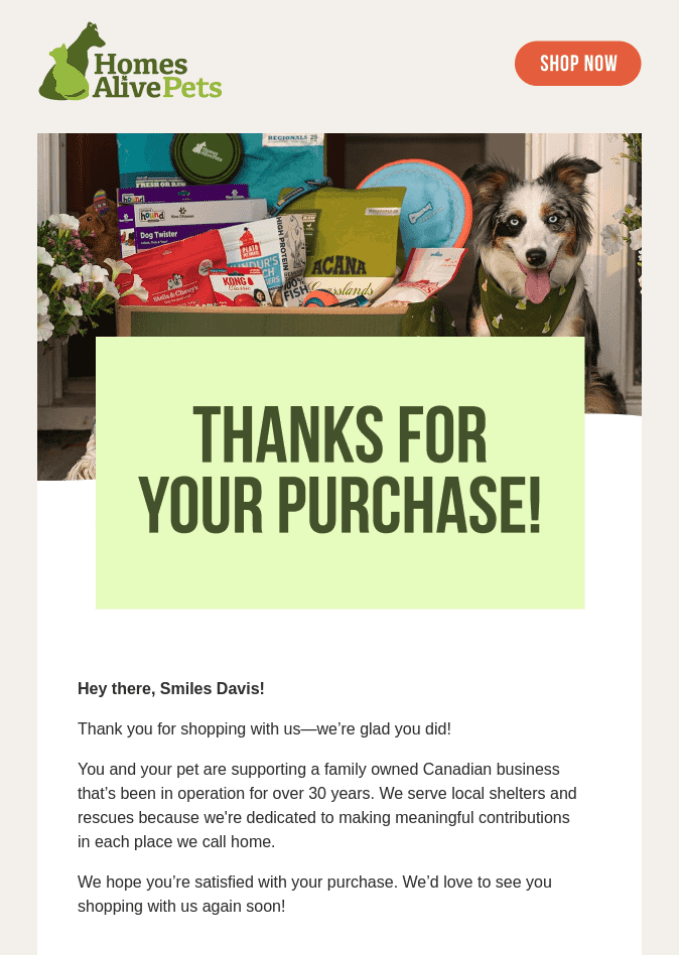 8. Wish a happy birthday
Wishing a happy birthday to your subscribers demonstrates your attention and interest in them by celebrating a special occasion in their lives. By offering exclusive promotions or birthday gifts, you can also encourage engagement and sales from your subscribers.
In this example newsletter, MacPaw celebrates the birthdays of its subscribers by wishing them a happy birthday and offering them a 30% discount. Don't forget to include the expiration date of the discount to create a sense of urgency and motivate subscribers to take advantage of the special offer.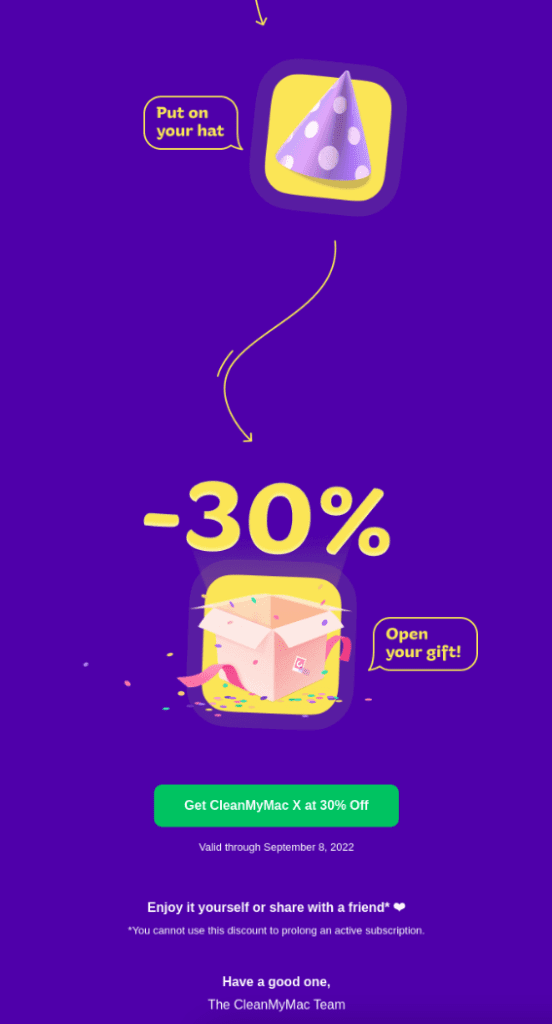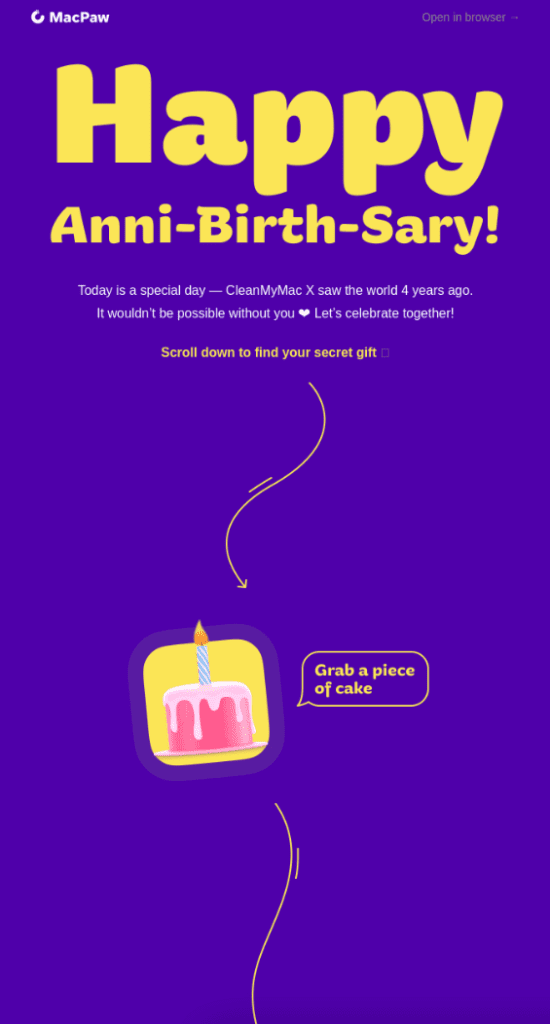 9. Share a blog article
Sharing your latest blog articles in your newsletter allows you to provide informative and relevant content to your subscribers, helping them learn more about topics that interest them. Once again, this positions you as experts in your industry.
It is also an effective strategy to promote your content and drive traffic to your website. By exposing your readers to your blog articles, you increase the chances of capturing their interest and converting them into potential customers.
In their newsletter, Rec Room shares several blog articles that are likely to interest their readers and are related to their product.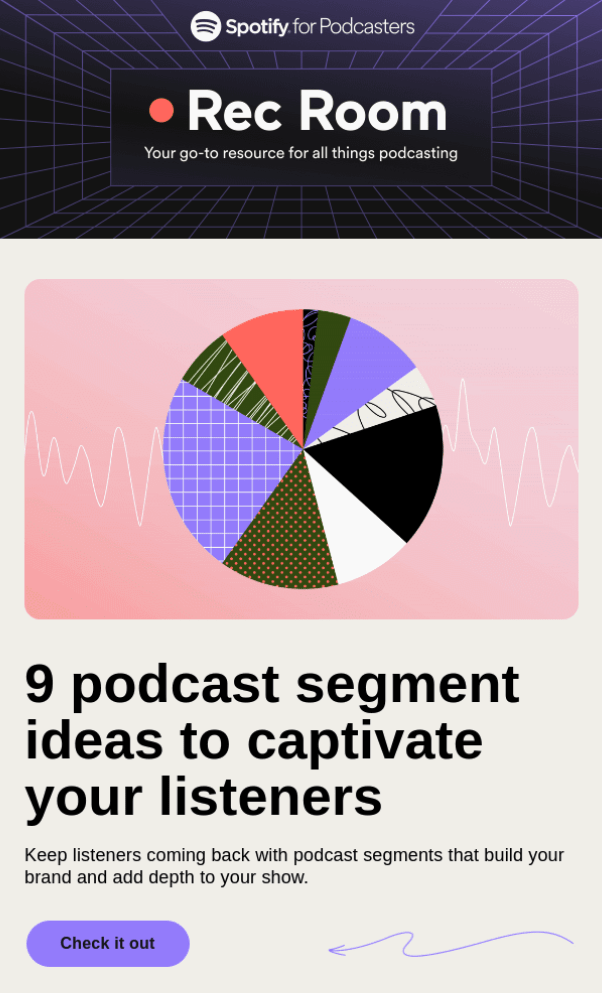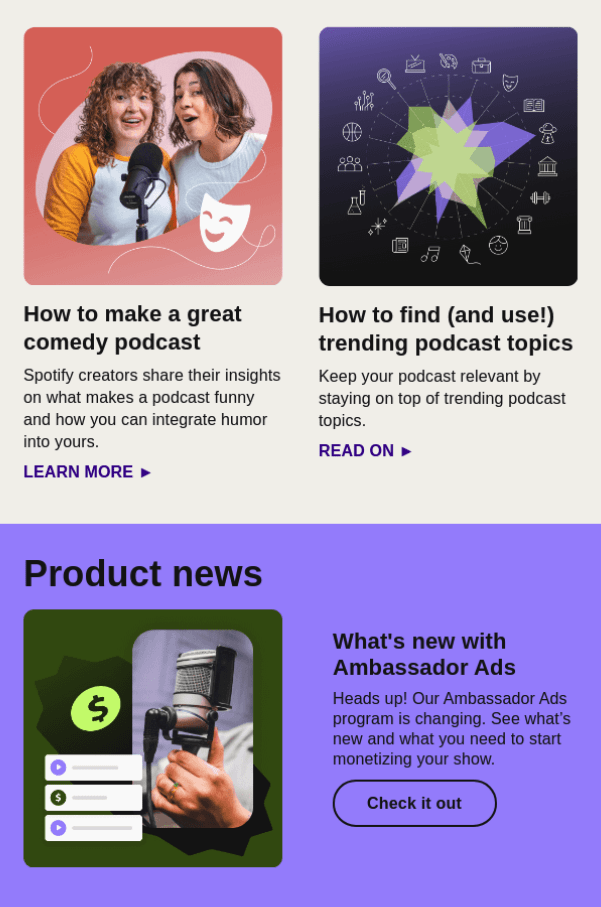 10. Team favorites
By sharing the favorites and preferences of your team, you showcase the human aspect of your company and create a more intimate connection with your audience. Sharing team favorites can also be an excellent way to highlight certain products, sometimes less popular ones, and introduce them to your subscribers.
In their newsletter, Lush shares the favorite products of their employees. The cosmetic company has even created a dedicated section on their website for this purpose.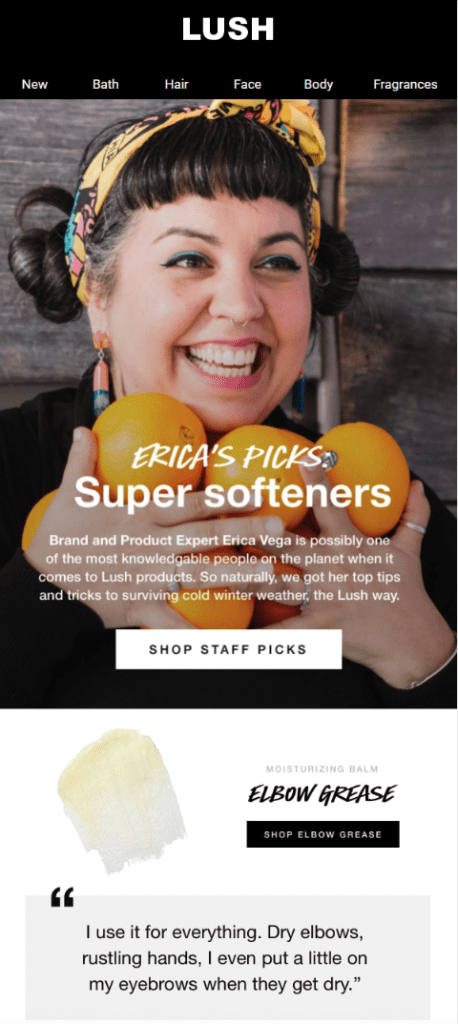 11. A message from the CEO, owner, or President
Sharing a message from the CEO or company leader allows for a more personal connection with subscribers. They can discuss the company's values and future developments. It is an opportunity to communicate directly with subscribers, inform them about important updates, and keep them informed about what is happening within the company.
In their newsletter, Tripadvisor shared a message from the CEO addressing the safety measures implemented during the pandemic to reassure travelers.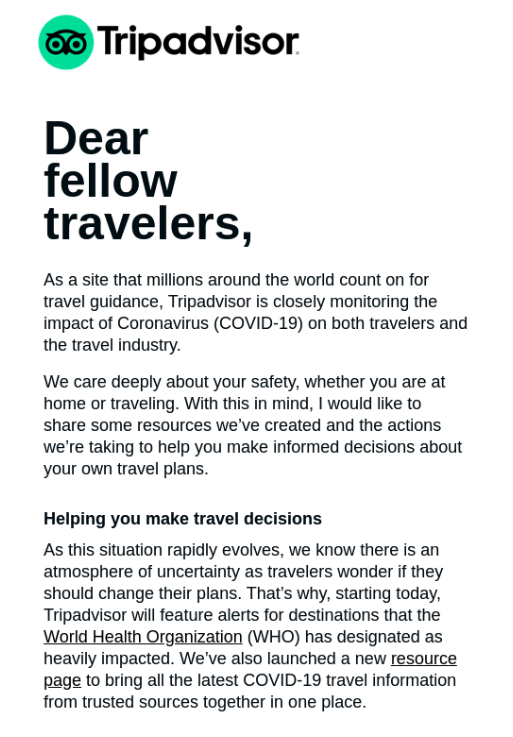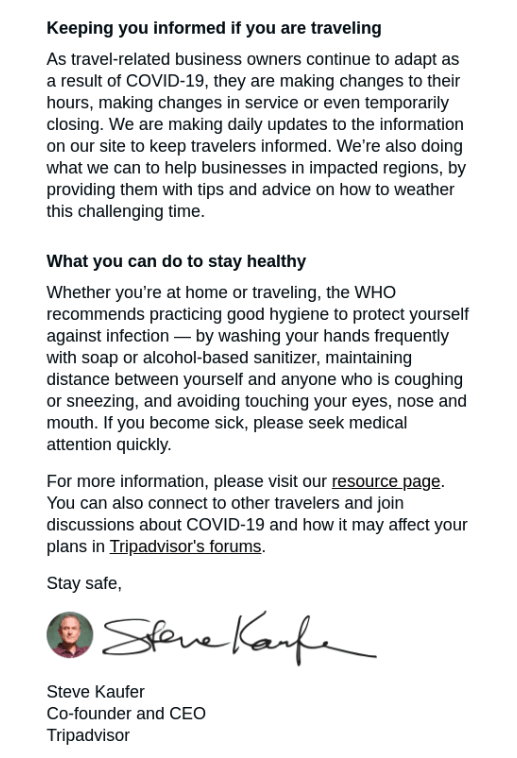 12. Case study
Case studies are a powerful tool to showcase your ability to solve problems and the successes achieved by your company. They provide concrete examples of how your products or services have been used, which can help persuade readers of their effectiveness and convert them into customers.
In this example newsletter, Typeform highlights several case studies that showcase successful and inspiring stories from clients in various industries.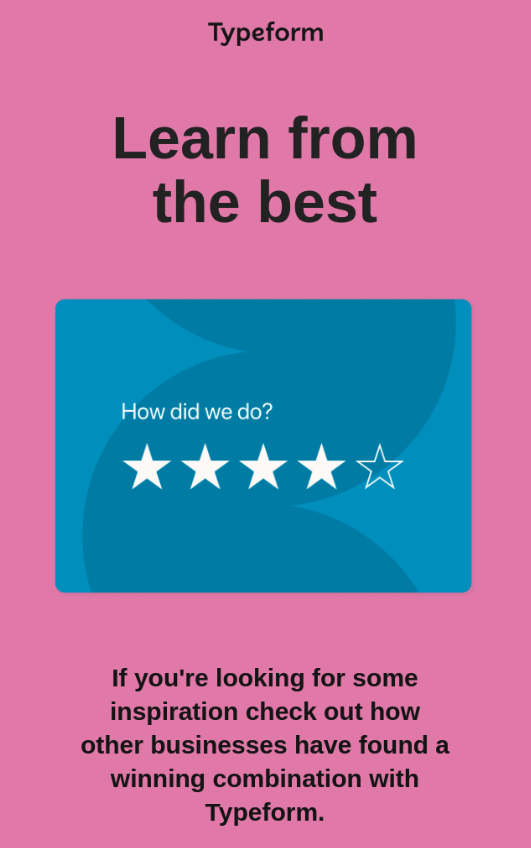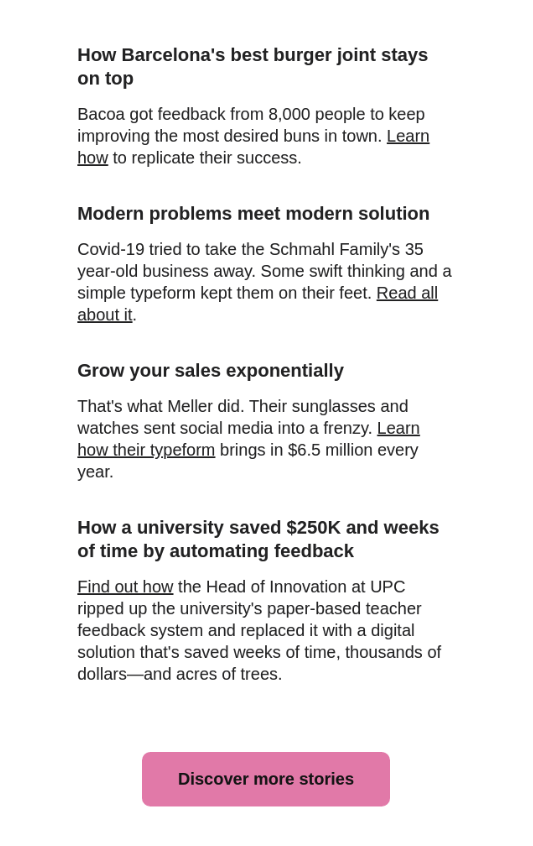 13. User-generated content
Sharing content from your users helps to create an engaged community around your brand. It also showcases what other users have been able to achieve with your products or services, which can serve as a great source of inspiration.
Furthermore, by sharing user-generated content, they are more likely to share it with their own network, increasing the visibility and reach of your business.
In their newsletter, Shutterstock presents a selection of popular images of the moment, grouped by styles and created by talented artists.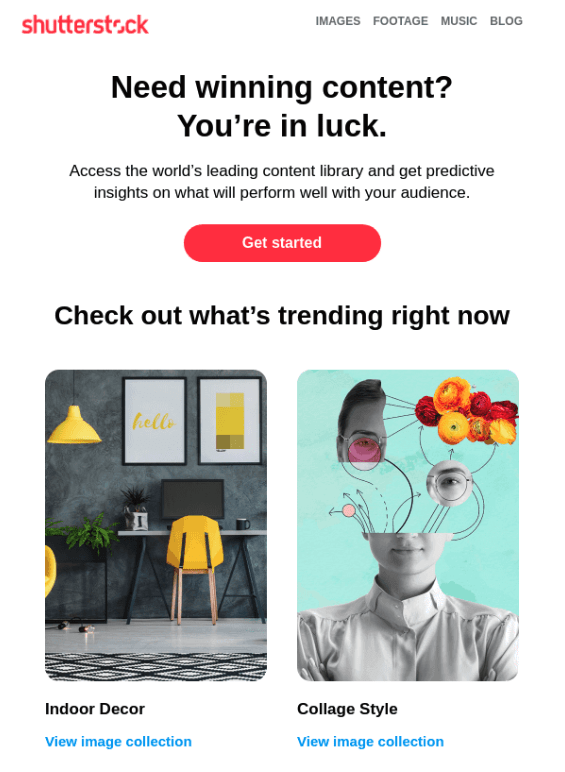 14. Launch of new products or services
By sending a newsletter about the launch of new products or services, you can reach an audience already interested in your brand. It is an effective way to generate excitement and anticipation for your new offerings. The goal is to maximize visibility and create engagement around your launch.
Soylent chose to build anticipation among its subscribers by sharing a mysterious image, hinting at their upcoming product. They revealed that the official launch would take place in 24 hours. This intriguing approach aims to generate excitement and pique the curiosity of subscribers, encouraging them to stay tuned to uncover the new release.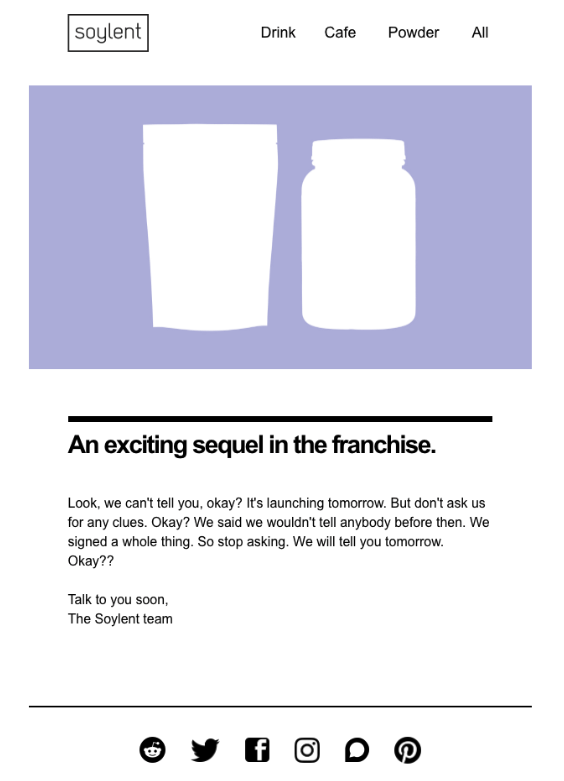 15. Sharing news updates and features
A newsletter that discusses the latest updates or new features of your product/service allows you to highlight the continuous improvements of your business and demonstrate that you value customer feedback and needs. Additionally, it offers your subscribers the opportunity to explore and fully utilize your offerings, which can enhance their user experience and satisfaction.
In the following example, Portfolio showcases a new feature, explains how to use it, and highlights its benefits.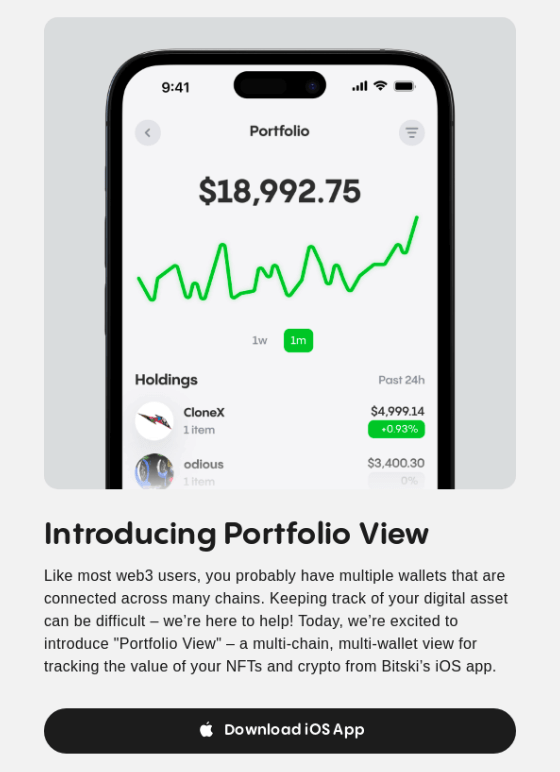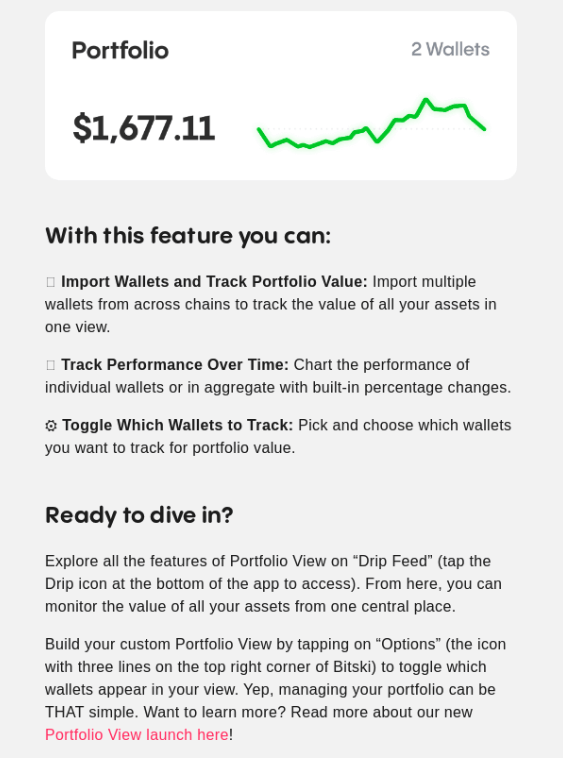 16. Wishing end-of-year greetings
Sending end-of-year greetings to your subscribers is a wonderful opportunity to convey feelings of gratitude, togetherness, and well wishes for the upcoming year. It also helps create a warm and festive atmosphere and can be seen as a thoughtful gesture from you to your subscribers.
In their newsletter, BetterBrand sends their best wishes for the new year to their readers and shares a brief retrospective of the achievements from the past year.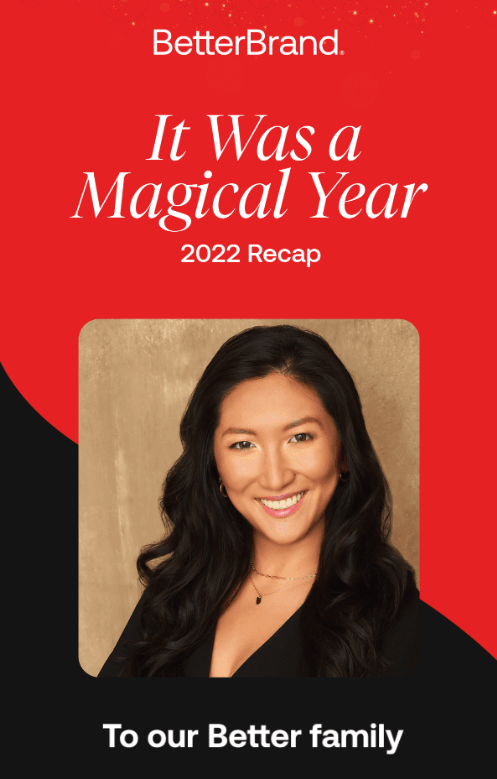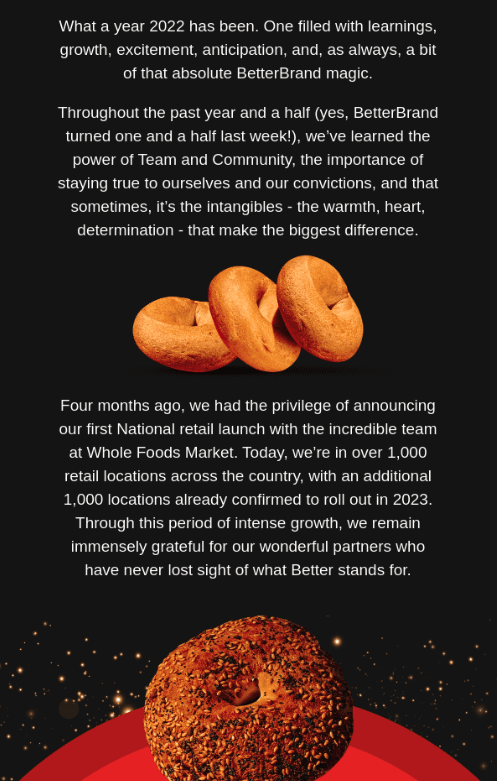 17. Celebrating holidays (Christmas, Valentine's Day, etc.)
Holidays such as Easter, Valentine's Day, or Black Friday provide an opportunity to share special offers, promotions, or gift ideas that are related to the festive season, which can generate engagement and additional sales.
Here is an example of an email newsletter from Apple for Valentine's Day. The company has opted for a themed design and headlines related to the celebration of love to immerse readers in the spirit of the holiday.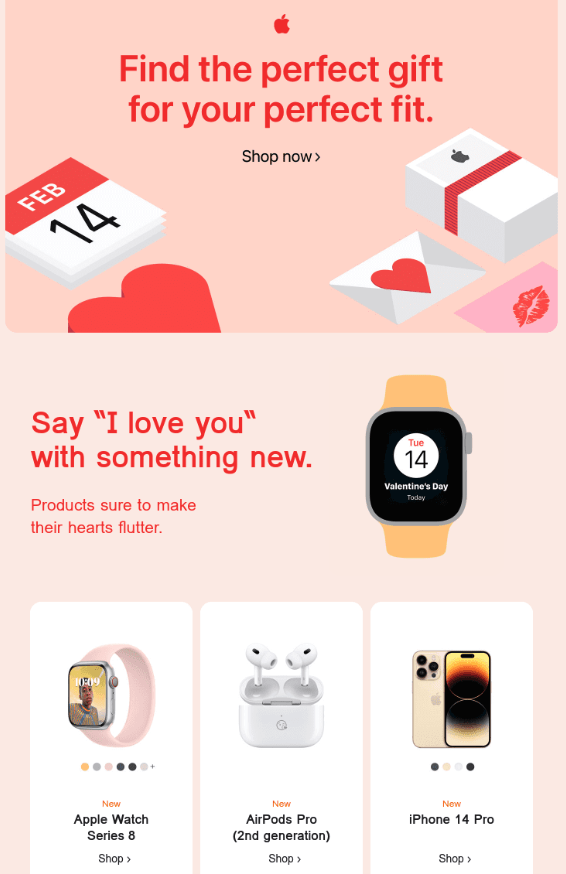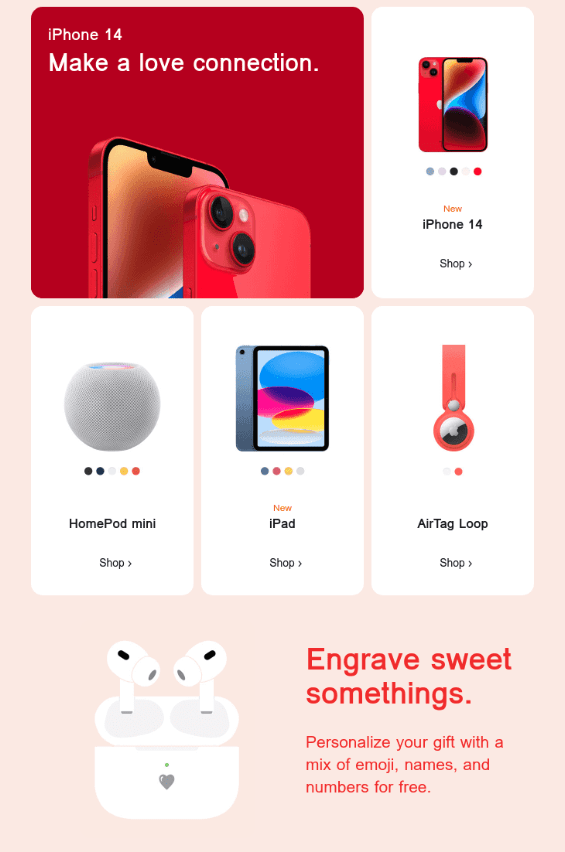 18. Reflecting on the year
Reflecting on the Year via an Email Newsletter allows you to showcase the successes and progress of your business. You can also express gratitude to your subscribers and customers for their support and loyalty throughout the year.
In the following example, Popsmart highlights multiple achievements and shares key statistics regarding the usage of their software. This highlights the company's successes and demonstrates the tangible impact of their product.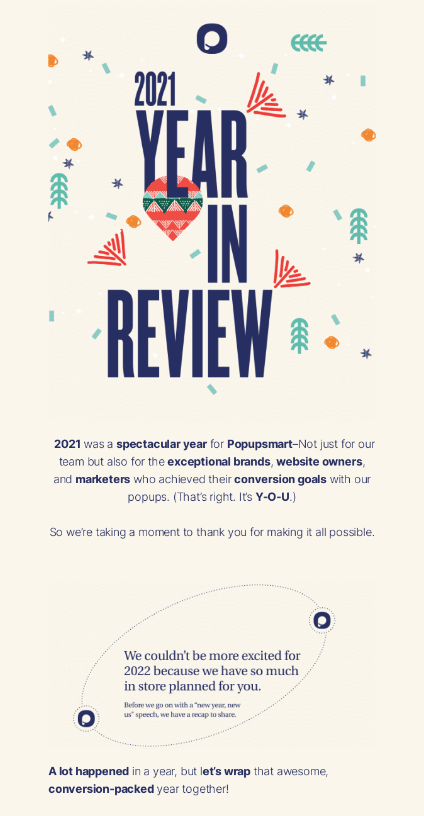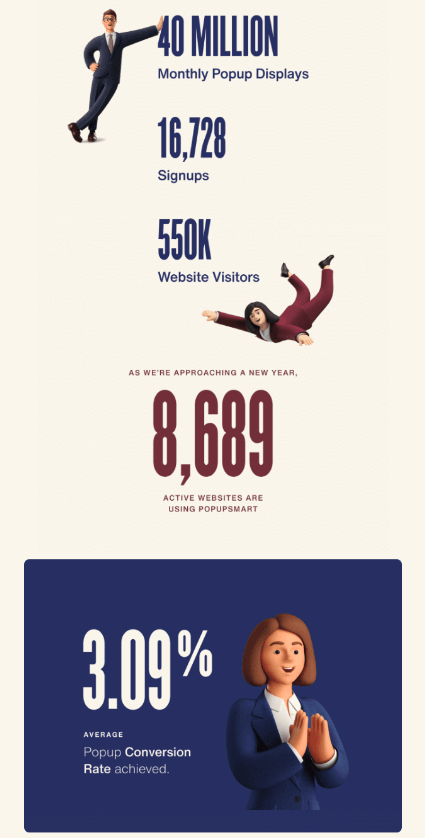 19. Content for each season of the year:
Sending seasonal newsletters provides an opportunity to promote products, services, or events specific to each time of the year. You can highlight exclusive promotional offers, seasonal releases, or tips and tricks tailored to the season. This creates a sense of urgency and exclusivity, motivating your subscribers to take action and make a purchase.
In their spring campaign, Frontman showcases a skincare routine specially designed for this time of the year.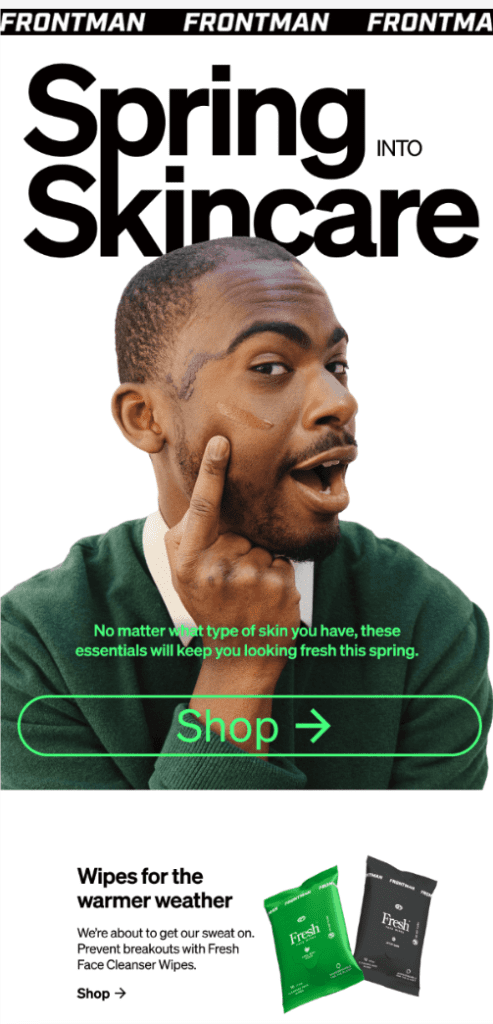 20. Sharing educational videos
Sharing videos in a newsletter allows you to present products, demonstrations, tutorials, or customer testimonials in a more dynamic and engaging way than text alone. It's a great way to share more complex or technical educational content in an interactive manner. Videos also make it easier to convey emotions.
In their newsletter, Canon shares an informative video showcasing a camera model.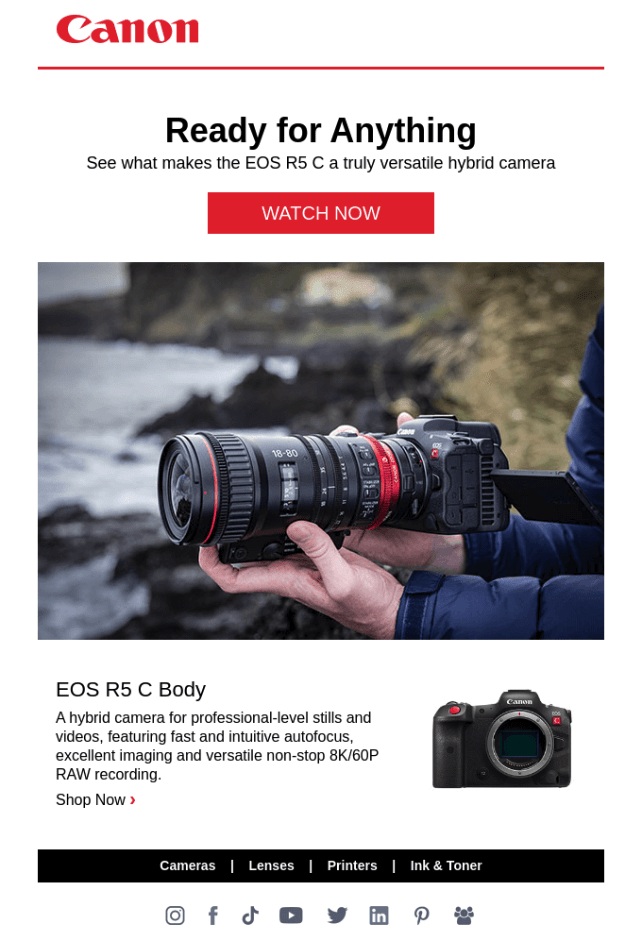 21. Gift guides
Do you ever find yourself lacking inspiration when it comes to gift-giving? Yes! Well, you're not alone. Gift guides are a great way to share suggestions and ideas with your subscribers.
It's a good way to make targeted product or service recommendations, including lesser-known items. In addition to saving time for your subscribers who are lacking inspiration, it helps boost sales for your business.
In the following newsletter example, National Geographic shares several gift ideas for adventurers of this world.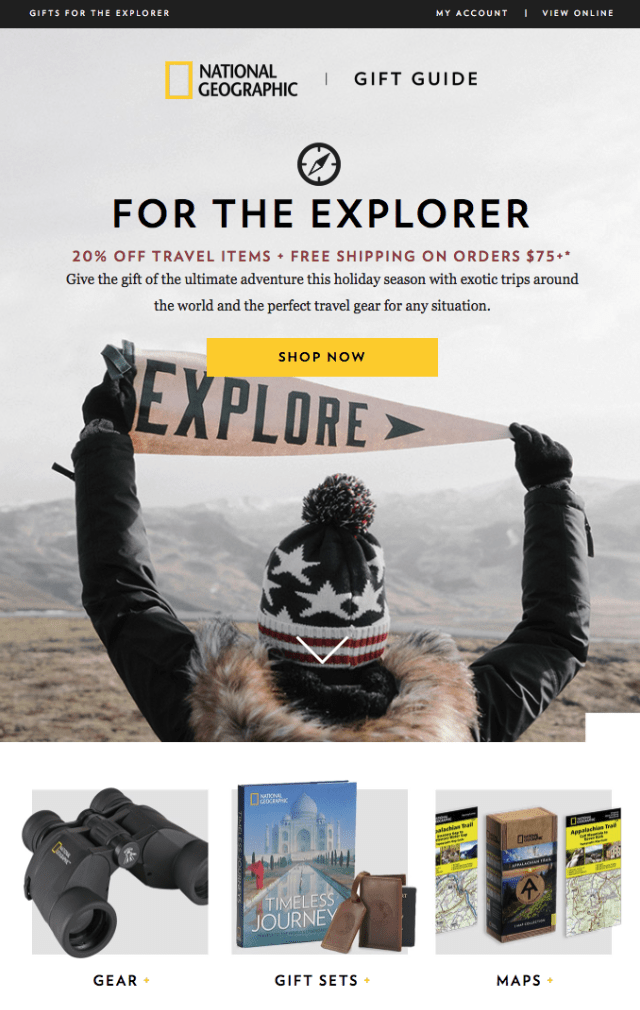 22. Invitation to events
When you invite your subscribers to events, you create an opportunity for engagement and interaction with them. It allows them to participate in exclusive experiences and feel involved in your community. Moreover, your subscribers already have an interest in your brand, increasing the likelihood of a high participation rate.
In their newsletter, Dreamforce invites their clients to attend a charity music concert that is close to their heart.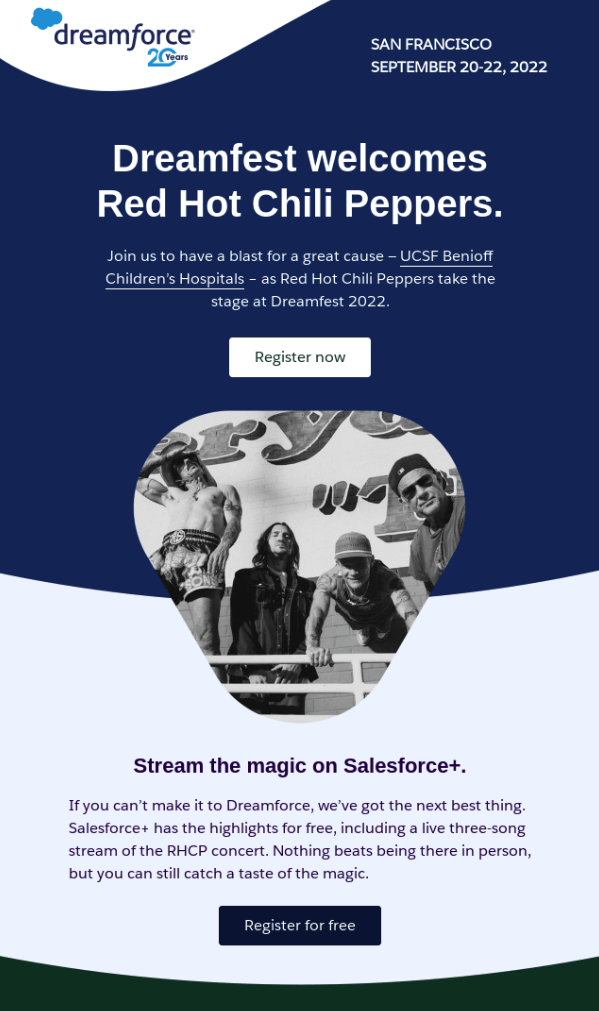 23. A look back at an event
Thanking your subscribers for participating in one of your events is a great way to show gratitude towards your engaged community. They will feel valued and more inclined to participate in your future events. It's also an opportunity to share upcoming events with them.
Invision shared photos and videos from the event and encouraged participants to share them on their social media platforms, tagging the company. This is a great way to organically promote your business and increase brand visibility.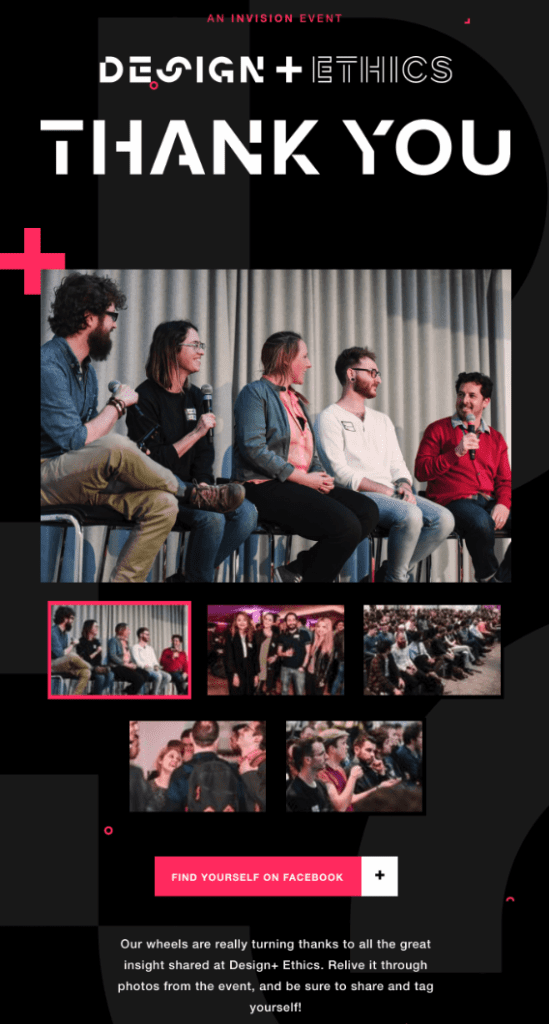 24. Invitation to a webinar
By sharing an invitation to a webinar with your subscribers, you provide them with valuable real-time content. The webinar itself allows you to share in-depth information, interact with your audience in real-time, and address their questions. This strengthens the trust relationship with your subscribers and can lead to conversions or future sales of your products or services.
Don't forget to include the date and time of your webinar, the topic, and the hosts. Finally, include a call-to-action (CTA) button, as shown in the following example, so that your subscribers can register for the webinar.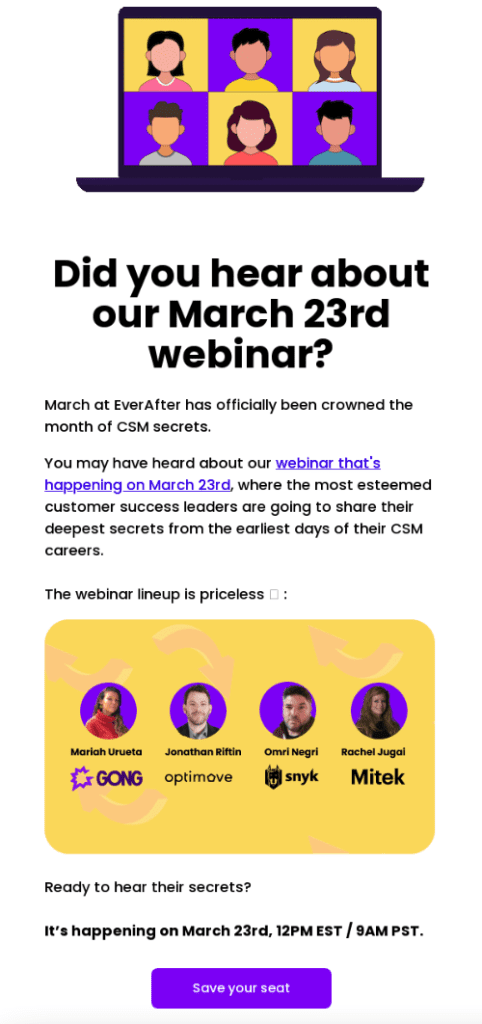 25. Share your company's story
When you share the story of your company and the values that underpin it, you allow your subscribers to get to know you better and emotionally connect with your brand. Perhaps your readers will see themselves reflected in your story or share the same values as your company, making them more likely to become customers. It is also a way to demonstrate transparency and authenticity, setting you apart from the competition.
In one of their emails, Jean Dousset Jewelers tells the story of their company. It's always fascinating to discover the purpose behind a company.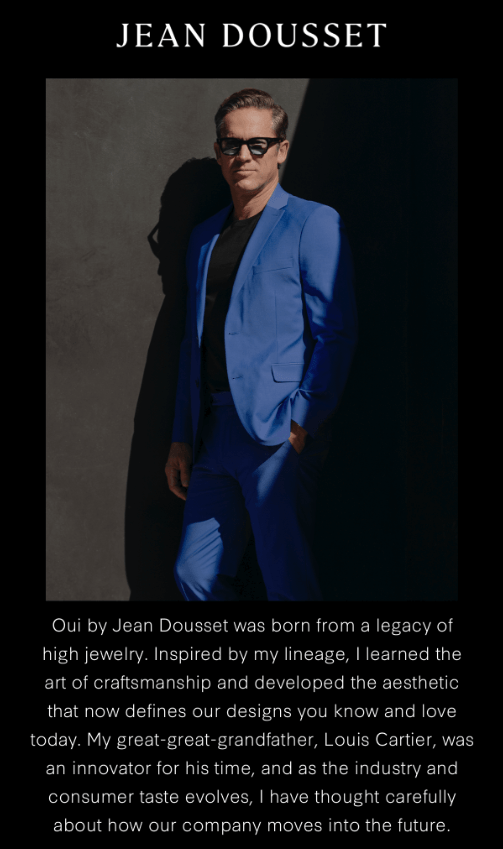 26. Share statistics about your industry
Sharing industry statistics in your newsletter allows you to enhance your credibility, inform and educate your subscribers, highlight your value proposition, anticipate customer needs, and differentiate yourself from the competition. It helps position your company as an expert in its field.
In the following newsletter example, AngelList shares various data on the world of employment and work.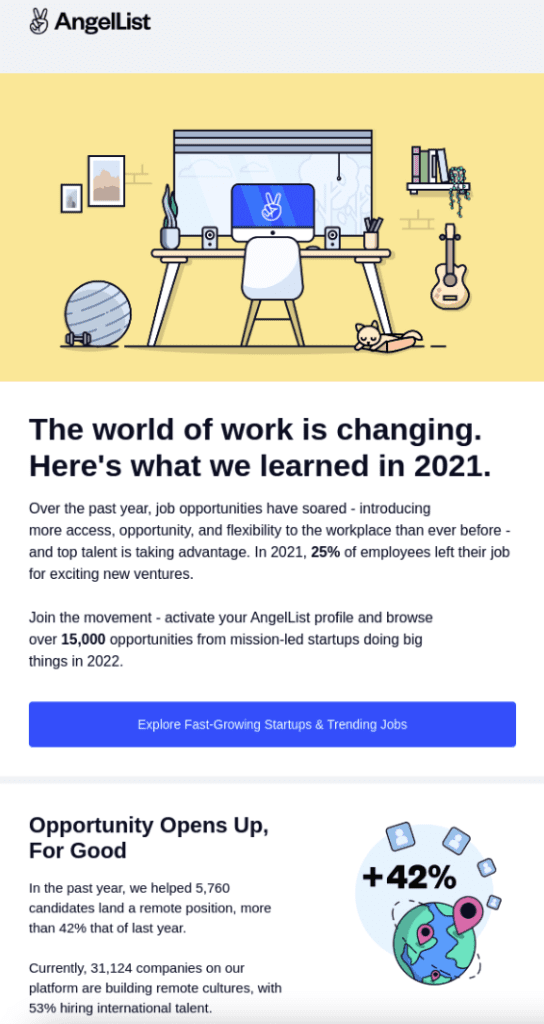 27. Introduce your team
By introducing the members of your team, you showcase the individuals who work hard behind the scenes for your company. This humanizes your business in the eyes of the readers. Additionally, it can enhance the credibility of your brand by showcasing the diverse expertise of your employees.
In their newsletter, Orangewood highlights one of their employees as a guitar expert and encourages customers to consult with him.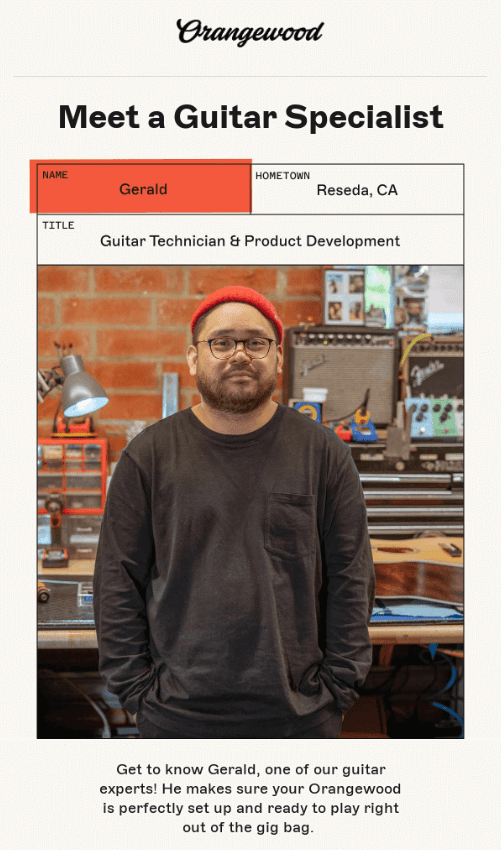 28. Talking about your loyalty program
Including your loyalty program in your newsletter is an effective way to remind your subscribers of its existence and highlight its benefits. It can encourage those who haven't joined yet to sign up for the program. For current members, it incentivizes repeat purchases to accumulate rewards. Ultimately, loyalty programs can be perceived as exclusive, creating a sense of importance among your customers.
In the following example, GEM invites its customers to join the rewards program to enjoy various benefits.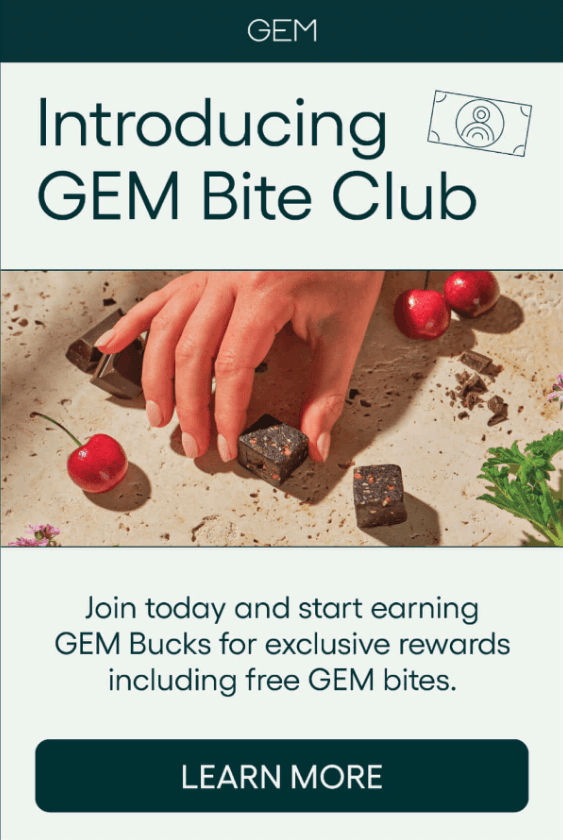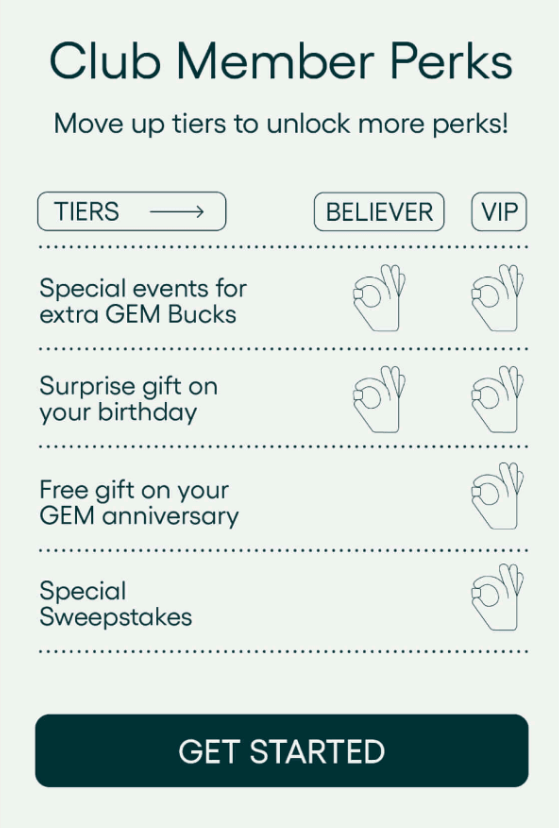 29. List of jobs opportunities
Do you have multiple positions to fill within your team? Sharing job opportunities in your newsletter can be an excellent strategy to find the ideal candidates. By broadcasting these openings to your subscribers, you attract qualified, motivated individuals who align with your company culture – essential elements for fostering growth and success.
Here's an email template showcasing the current job opportunities available at Litmus.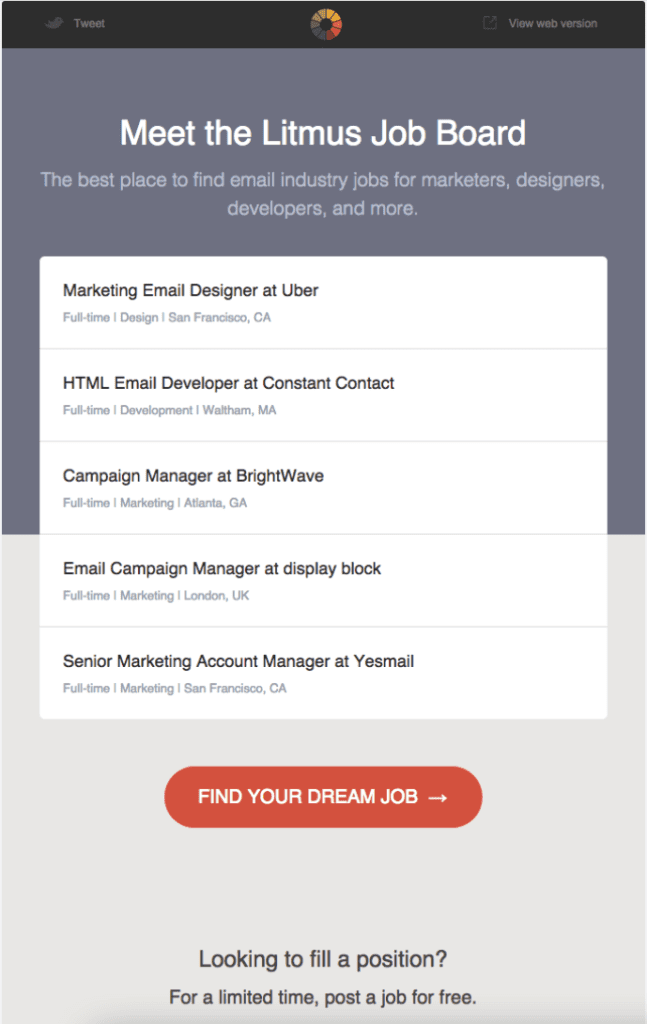 30. Organize a giveaway
Sharing a contest through a newsletter has several advantages. Firstly, it is a way to thank your subscribers, introduce them to new products or services, generate traffic to your online store or social media channels, and create a sense of excitement. By including a participation form, it also allows you to gather more information about your customers.
Fun fact: contest emails have the highest average open rate, reaching 45%, compared to other email campaigns. – Source
The newsletter below highlights a contest organized by Snif, where readers are invited to participate by adding an emoji to the company's latest Instagram post. This strategy promotes engagement from subscribers without requiring significant effort from them.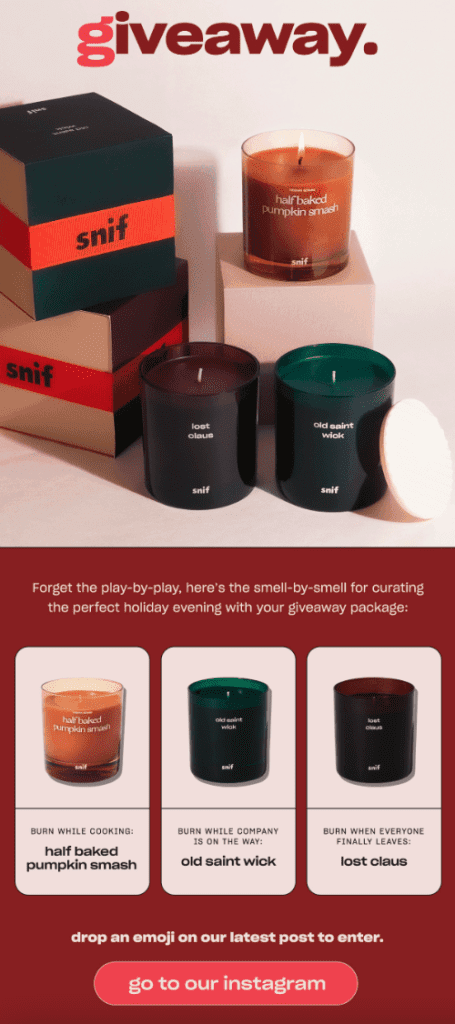 Use these newsletter examples and ideas to optimize your email marketing campaigns
Now that you understand the importance and best practices of a newsletter to achieve a high open rate, it's time to get started! If you're lacking inspiration, here's a reminder of some easy-to-create newsletter ideas that work for all industries.
To wrap up, remember that Cyberimpact offers several email templates under different themes, such as welcome emails, birthday emails, etc. You simply need to customize the colors to match your brand image and insert your logo. This will save you valuable time!