Email marketing is increasingly used by businesses, since it allows them to reach consumers, even at home. However, this also means that the competition is there and it becomes difficult to stand out when a prospect receives several emails in the same day.
How to send the right message, at the right time, to the right person? The update profile form allows your contacts to manage their preferences on several aspects.
Fun fact: In 2021, more than 319.6 billion emails are sent and received every day. That number is expected to grow to 376.4 billion daily emails by 2025.

– Statista
Update profile form: a must-have tool for better targeted emails
---
What is an update profile form?
An update profile form, also known as a preference center, allows your subscribers to choose what type of message they want to receive from you. You can also use it to let them pick the topics they wish to read, the email frequency they prefer or to give them the option to unsubscribe. This way, your contacts can decide to remove themselves from a communication list rather than unsubscribe completely.
An update profile form is a separate web page that can only be shared from your communications. The form's link is unique and personalized for each contact. You can insert the link in the footer of your email, in a button, on an image or on text. It's up to you to find the best place for it.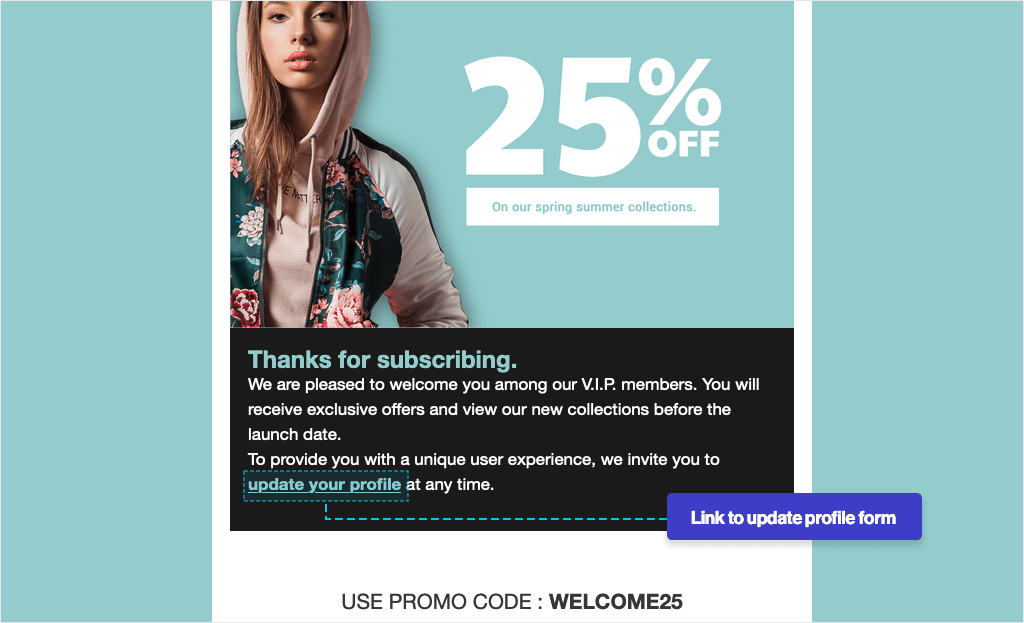 ---
Use cases
Update profile forms can serve multiple purposes. For example, you could use them to:
Update your contact information:

Last name
First name
Email address

Know their preferences:

Frequency of communication
Topics of interest
The time (day of the week, time of day, etc.)

Get more information:

Gender
Location
Area of interest
etc.
The "get more information" use case allows you to ask questions that might be useful to send better targeted emails to your contacts. For example, if you are a car dealership, you could ask your contacts:
If they are thinking of buying a car in the next year
Gas, electric or hybrid car?
If they are more of a sedan, SUV or truck type?
This will allow you to send personalized communications to each of your subscribers who have responded to your update profile form.
---
Benefits of using an update profile form
Reduce the number of unsubscriptions
One of the main advantages of having an update profile form is that it helps decrease the unsubscribe rate to your newsletter. Indeed, if your contacts are not satisfied with the type of message they can receive and the only choice they have is to unsubscribe from any communication, there is a good chance that they will take action. However, if you give your audience the option to select their communication preferences, they are less likely to unsubscribe from all your mailing lists.
It is important to know the reasons why your contacts unsubscribe from your emails. There are different reasons, but generally the most common are:
Too many emails
Content is not relevant
Leaving for a competitor
Change of situation
Don't remember signing up to your newsletter
People who unsubscribe because they receive too many emails may actually be complaining about receiving too many irrelevant emails. This is why it's important to send personalized content to your audience.
Fun fact: According to a study, the number one reason why 26% of people unsubscribe from corporate email lists is because they receive too many emails.
---
Highlight your email offers
An update profile form allows you to showcase what your company has to offer and clarify the relationship with your subscribers and prospects. They may decide to subscribe to your list to learn about what's new, your events or your new features. Maybe they will even have the choice to subscribe to new topics since they signed up for your newsletter.
By showing that your contacts have several choices of email topics, it gives them one more reason to stay rather than unsubscribe completely.
---
Know your customers better
By inviting your subscribers to fill in their profile, you will be able to collect quality personal information and it will be up to you to make good use of this data later on. It will also be easier to analyze the performance of your marketing campaigns according to your audience types and to adapt your strategies in consequence.

Fun fact: Marketers who use segmented campaigns see an increase in revenue of up to 760%.
---
Provide a unique user experience for subscribers
With the update profile form, you give your contacts the option to choose their preferences for the content they want to subscribe to. Use this information to fuel your segmentation and personalization strategies. They'll have access to content that really interests them and your audiences will be more likely to engage with your brand.
For example, let's say you are a bakery. The information collected in the form allows you to know which contacts prefer bread versus those who prefer pastries. You could then decide to send personalized coupons according to these groups.
Fun fact: 76% of consumers are comfortable sharing their data to have a more personalized experience.
---
Comply with privacy laws
From one continent to another, there are laws to protect people's personal data and privacy. In Canada, the anti-spam legislation (CASL) protects consumers and businesses from the misuse of digital technology, including spam and other electronic threats. This means that the recipient must give permission to the company to send promotional emails. The update profile form allows for compliance with this law since the contact chooses whether to update their information and because they have already given prior consent to be subscribed to your newsletter.
In addition, Google had announced the end of support for third-party cookies in 2022 to be pushed back to 2023. Third-party cookies allow us to track users as they move through different websites, and therefore target their interests. Gathering data about your customers and prospects will become increasingly complex and the update profile form may be a good option. Indeed, as mentioned above, it allows you to collect authentic, accurate and voluntary information from your subscribers.
---
Create an update profile form with Cyberimpact
An update profile form is a powerful tool that allows your subscribers to decide what kind of message they want to receive from you. You can personalize your subscribers' experience if you ask them the right questions. Learn how to create an update profile form with Cyberimpact by clicking here.