The vast majority of NPOs aim to inform and raise awareness among the population, to recruit volunteers for events and finally obtain donations. Email marketing is an effective strategy to achieve all of these goals. In fact, even today, emailing remains the method that generates the best return for each dollar invested in marketing.
Are you a non-profit organization and not sure where to start with your email marketing strategy?
Here are 5 must-have strategies for building awareness among your subscribers and reaching out to new donors.
1. Invite people to subscribe to your newsletter
Start by inviting your community to subscribe to your newsletter in order to create long-term engagement and get more email addresses to your list. This will allow you to send regular email communications to keep in touch with your subscribers.
There are several communication channels on which you can share your newsletter sign-up form. You can share the form on your social networks, such as Facebook, LinkedIn, Twitter, Instagram, etc., or on your own website. We recommend that you share your newsletter signup form on all platforms your organization is present in order to reach the largest number of prospects.
2. Welcome your subscribers
Send a welcome email automatically every time someone subscribes to your newsletter. This step is essential to increase your chances of developing a long-term relationship with your contacts and is also a way to thank them for taking the time to subscribe. Moreover, if they have subscribed to your communications, it's because they are interested in your cause and want to receive more information.
With Cyberimpact, you can create scenarios and automatically send one or more emails after an action is triggered, such as signing up for your newsletter. Marketing automation will save you a lot of valuable time!
3. Inform your contacts about your action plan
Develop a schedule for how often you send out emails. Communicating with your subscribers on a regular basis is important not only to raise awareness of your cause, but also to inspire them to tell their friends and co-workers about you.
The only reason someone agrees to give money to a cause is because they believe in it and know that the money will have a real impact on society. Here are some ideas for your email marketing campaigns you could send to your subscribers:
Show who benefits from your donations (interview, testimonial, etc.)
Talk about upcoming events
Thank your subscribers and volunteers
Talk about your cause
Give tips on how people can help the cause
Give a summary of highlights throughout the current year
4. Generate emotion in your emails
You will have a better chance of reaching your donors and the media if you can make them feel emotion through your communications. The best way to do this is to include an image or video in your email that relates to a testimonial or connection experienced by one of your recipients. After all, it is not for nothing that they say a picture is worth a thousand words!
Here is an example of a Chan Zuckerberg Initiative newsletter that includes images and a testimonial video: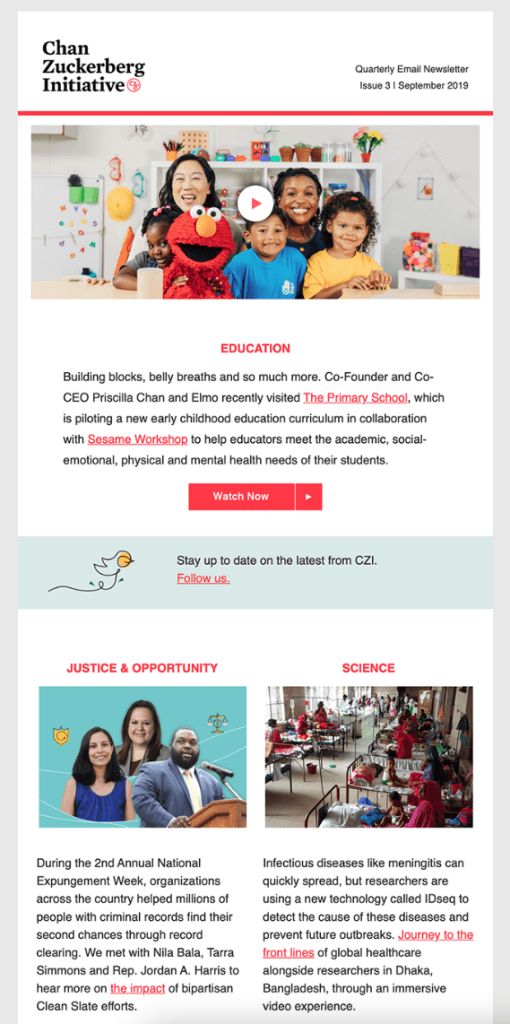 5. Share your fundraising events
The events allow you to meet your community in person and create an even stronger level of engagement. It is also an opportunity to organize fundraising activities such as information workshops, a sports challenge, a networking evening, etc.
To make it easier, we recommend that you include a link to your event registration form in your email or a link to a volunteer recruitment form. This way, you will easily know the number of attendees in your event as well as their contact information.
---
Get a 10% discount for NPOs
Cyberimpact, an email marketing software, offers a 10% discount on all paid plans for non-profit organizations. Whether it's for your newsletters, thank-you emails, invitations to your charity events and more, Cyberimpact can save you time and help you maximize the benefits of your emailing campaigns.