Marketers and companies sometimes overlook Father's Day. Although this holiday may not be as popular as Valentine's Day, Easter, or Black Friday, it could be beneficial for your business to send a newsletter for Father's Day.
In 2022, approximately 76% of Americans planned to celebrate Father's Day and spend an average of $171.79 on a gift. This amount is significant, especially considering that the allocated budget seems to increase year after year. In comparison, in 2017, the average expenditure was around $134.75.
Based on these statistics, Father's Day could be a great opportunity for your business to run an email marketing campaign. Sending email newsletters is a good way to remind your subscribers that Father's Day is just around the corner and to show your appreciation.
Generally, Father's Day falls on a Sunday around the second or third week of June. Therefore, I advise you to start a few days in advance to prepare your newsletter.
10 Creative Newsletter Examples for Father's Day
Not sure where to start? You're in luck because we've gathered several newsletter examples that you can draw inspiration from.
1. The father's Day gift guide
In this newsletter example, Google offers a specially curated gift ideas guide for Father's Day to inspire you. Additionally, the product categories have been classified based on dads' personalities, helping consumers determine which product will be the best fit.
​​Additionally, there is a call-to-action button (CTA) in each of the section blocks, which increases the chances of readers visiting the company's website.
Subject : Shop Father's Day gifts loaded with character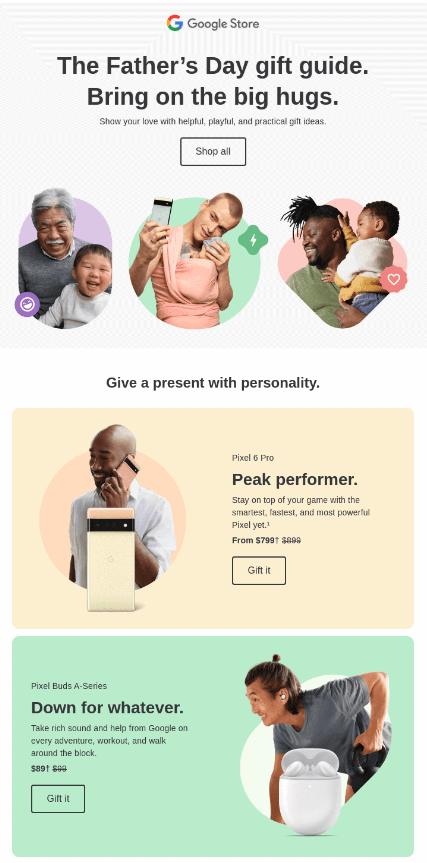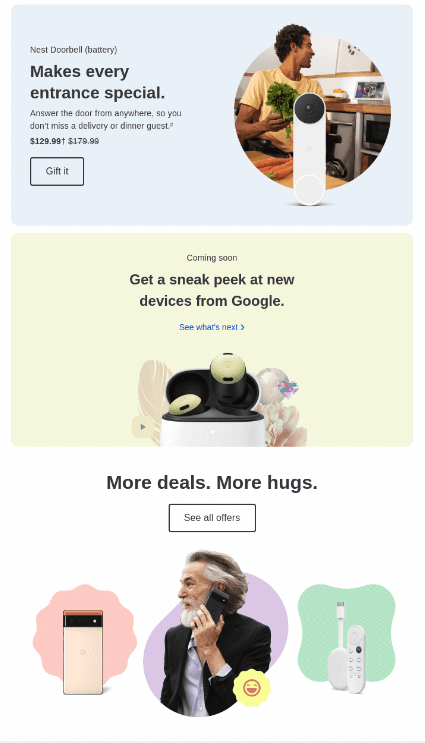 2. Give the gift of memories
Fracture has chosen to feature a blog article in its newsletter that suggests a Father's Day gift idea: recreating memorable photos. In the same vein, the company shares its Facebook contest, inviting people to share a nostalgic photo with their fathers for a chance to win a $2500 Visa gift card. Lastly, Fracture offers a 15% promotional code for glossy paper prints.
Subject : Dad is sure to love this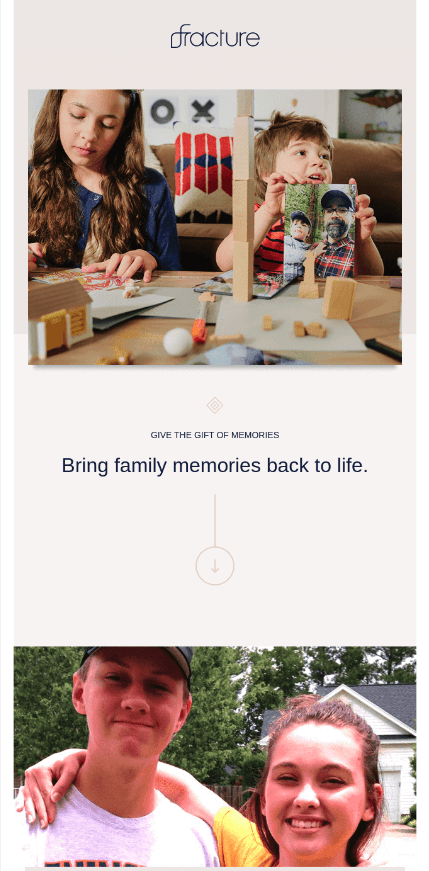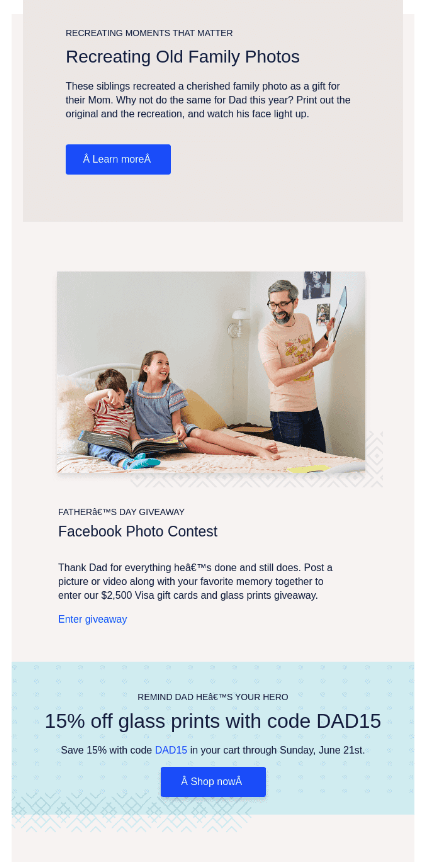 3. 20% off sitewide
Onsen opted for simplicity in its Father's Day newsletter by highlighting a 20% discount on their entire website using the promo code DAD20. The message, the promotion, and the deadline to take advantage of the promotion are clearly communicated.
Subject : 20% off 👉 sitewide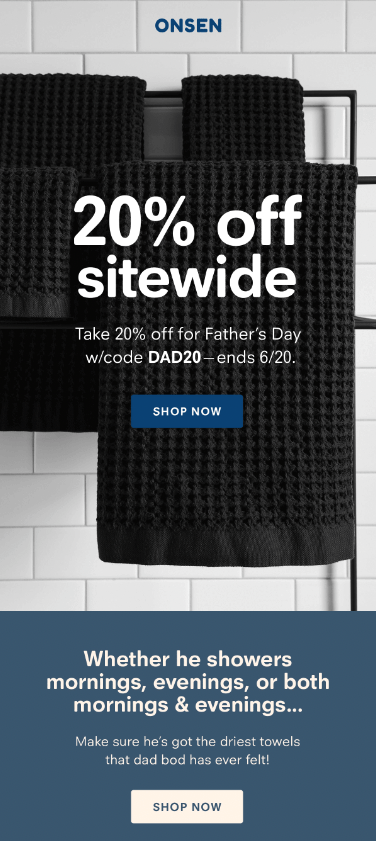 4. Here's to dads
Brooks, an online shoe store, has chosen to feature several of their employees who are fathers in their Father's Day newsletter. A wonderful way to pay tribute to them on this special day. It goes to show that offering a discount is not necessary on this day.
Subject : Dads, we salute you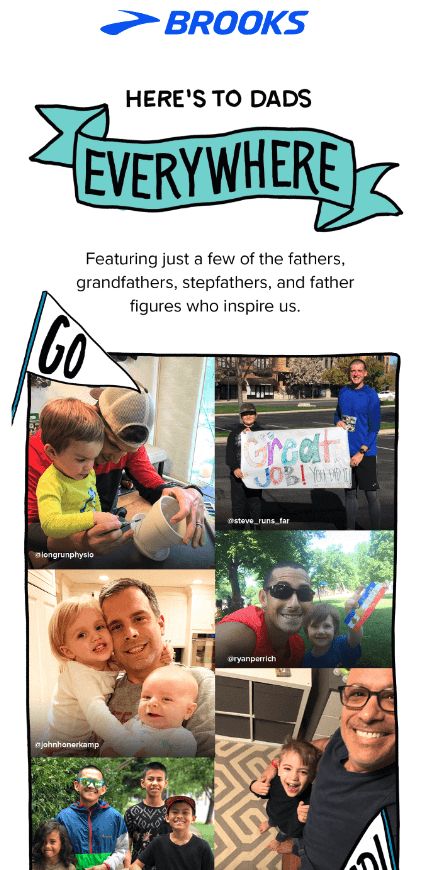 5. Last minute gift
Dollar Shave Club has decided to target last-minute shoppers looking for a Father's Day gift. The company offers the option to purchase a gift card of any desired amount, which can be delivered on the date specified by the consumer. While the gift itself is simple, the purchasing process is personalized for the consumer. Additionally, the CTAs are prominently displayed on an orange background with uppercase lettering.
Subject : You know it's almost Father's Day, right?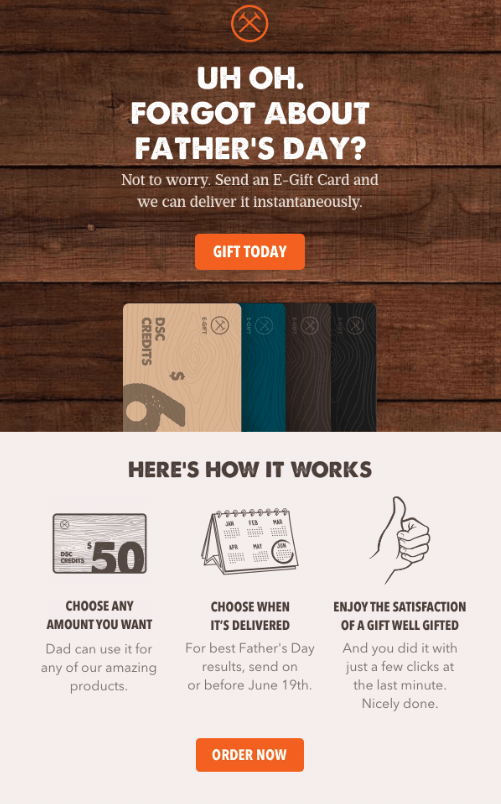 6. Don't miss
In its newsletter, Feather Boutique employs the FOMO (fear of missing out) strategy by prominently stating that readers have until midnight to take advantage of the promotional code that allows them to save $300 on select items. This marketing tactic also enables the company to clear out inventory to make room for a new collection.
Subject : There's still time to get $300 off Feather furniture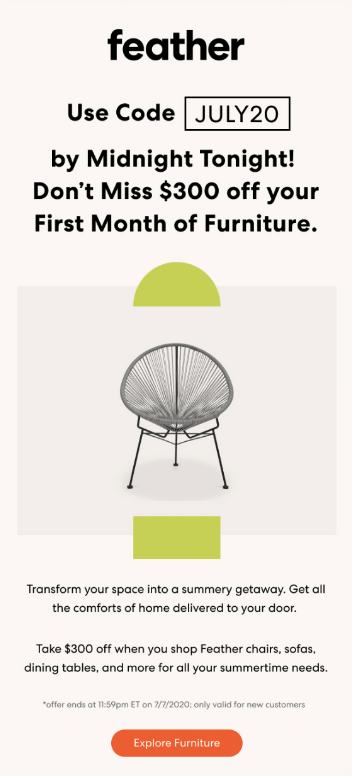 7. Big giveaway
Bridge & Burn has chosen to run a contest for Father's Day instead of offering a discount. Additionally, the company has partnered with other brands to provide an even bigger reward for the winner. This move aims to attract more participants and engage their subscribers.
Subject : Win Over $2,500 in Giveaways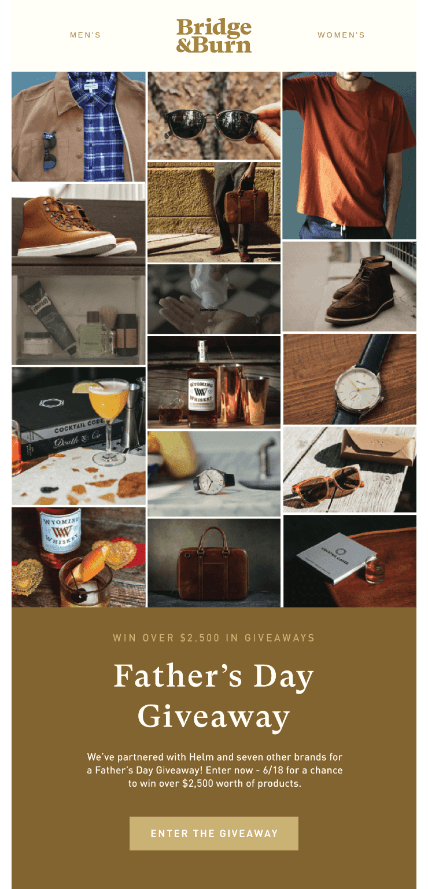 8. Ideas to celebrate Dad
In its Father's Day newsletter, Yelp offers some activity ideas to celebrate your dad. Additionally, the subject line is intriguing and intriguing and you want to open the email.
Subject : Dad—don't open this email, you'll ruin the surprise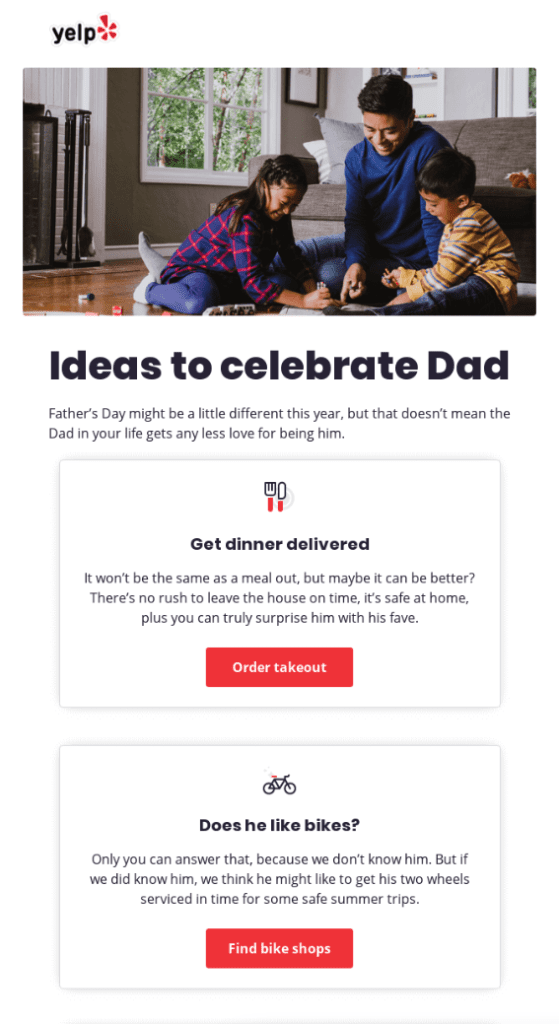 9. Dad jokes and GIF
Opening Ceremony has decided to use an animated GIF in its newsletter featuring funny sweaters and dad jokes for the occasion. Including interactive content (such as videos or GIFs) in your emails can help increase click-through rates by up to 300%.
Subject : Father knows best

10. Celebrating the feeling of fatherhood
LovelySkin has instead focused on a newsletter that thanks all their subscribers who are dads by sharing personal notes that celebrate the best moments as a dad. It is a beautiful example that highlights the natural and emotional side of Father's Day.
Objet : Thank you to all the dads out there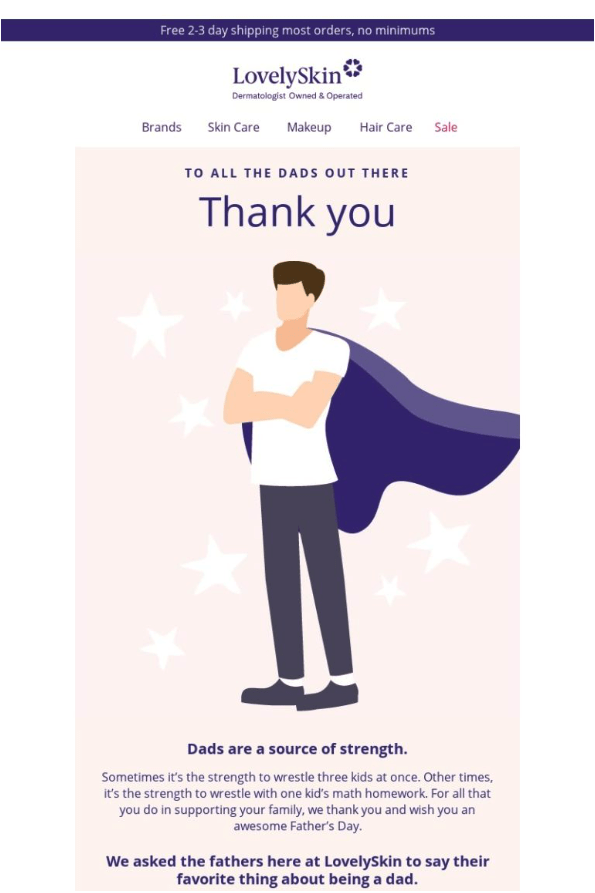 Discover Cyberimpact's email templates
Lacking inspiration or simply short on time to create your Father's Day newsletter? Don't worry, Cyberimpact offers several email templates for the occasion. You can even add your logo and customize the colors to match your company's branding.
Create your first newsletter!
Each of the previously showcased examples demonstrates how a well-crafted newsletter can captivate readers' attention and inspire them to celebrate this special occasion.
Whether you choose to share gift ideas, recipes, promotions, or testimonials, the key is to personalize your message and engage your audience. Remember to use compelling calls to action (CTAs) and tailor your design to your brand.
You are now ready to create a memorable Father's Day newsletter and make this day even more special for your subscribers.