Black Friday and Cyber Monday are probably some of the busiest times of the year for stores, e-businesses and even software vendors. So you need to make sure you have an effective email marketing strategy and to help you out, we've got the best Black Friday email examples to ensure your success.
Although competition is very high during Black Friday, consumers expect to receive offers. Your goal is to find ways to stand out in your clients' inboxes from competitors.
Fun fact: In 2021, 43% of Canadian consumers planned to take advantage of Black Friday deals. An increase of 2% compared to the previous year. —Source: Statista
So here are the 13 best email examples and templates for Black Friday:
1) Countdown
The Prettylittlethings example uses a countdown timer as well as several urgency words, such as "Don't miss out," to prompt the customer to take action. The sense of urgency may refer to the psychological concept of FOMO (fear of missing out).
Adding a sense of urgency to your campaigns makes your products more competitive, as it tells shoppers that other customers are actively buying and that your inventory is limited. Don't forget to communicate the date your Black Friday sale ends.
Fun fact: 60% of millennial consumers reported making an impulse purchase after experiencing FOMO, most often within 24 hours. – Optinmonster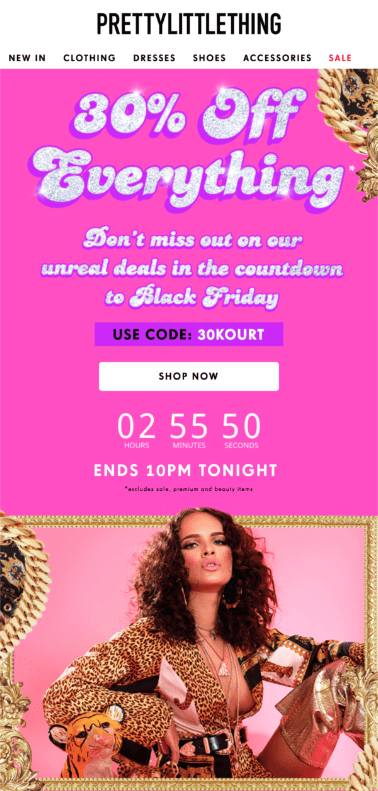 2) Generate excitement with a flash sale
The Aéropostale clothing chain opted for a flash sale that lasts only one day on Black Friday. This creates a sense of excitement and your subscribers may wonder if there will be more surprise sales in the future.
The promotion offered is really put forward with its giant size writing. It's impossible to miss this offer. Furthermore, using a call-to-action (CTA) button for each segment is very convenient for shoppers since it encourages them to log on to the site and purchase an item or two from the store.
Fun fact: 56% of companies get a higher click-to-open rate for flash sales emails compared to their annual rate. —Popupsmart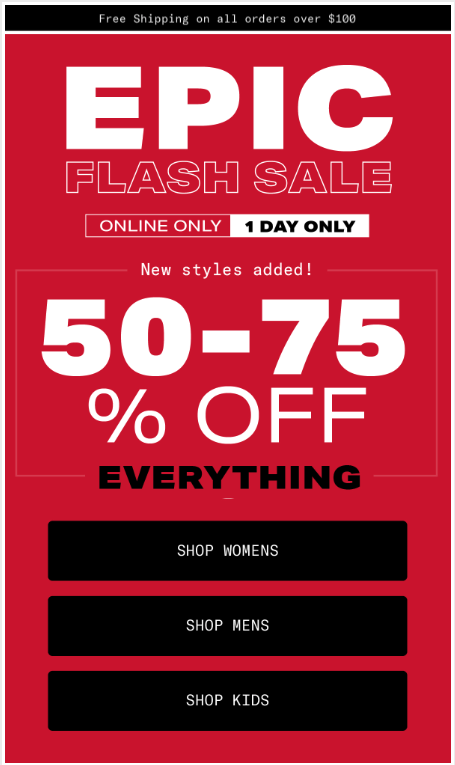 3) Offer early access to your best customers
The jewelry company Baublebar chose to capitalize on its existing customers by offering VIP access to the Black Friday deals. This technique allows you to develop a trusting relationship with your most loyal clients and give them a form of recognition. After all, they have already shown an interest in your brand and they are more likely to make another purchase if they have been satisfied in the past.
Also, offering an early promotion to your VIP customers is a great way to generate additional revenue before Black Friday. It can help you manage your demand and better distribute your inventory throughout the event.
4) Minimalist designs with a clear message
In the following example, Hudson stays true to its brand and offers a minimalist email with Black Friday colors. Subscribers know exactly what to expect because the message is short and clear. Plus, a minimalist design can effectively direct your readers to the essential element of any email, the "CTA."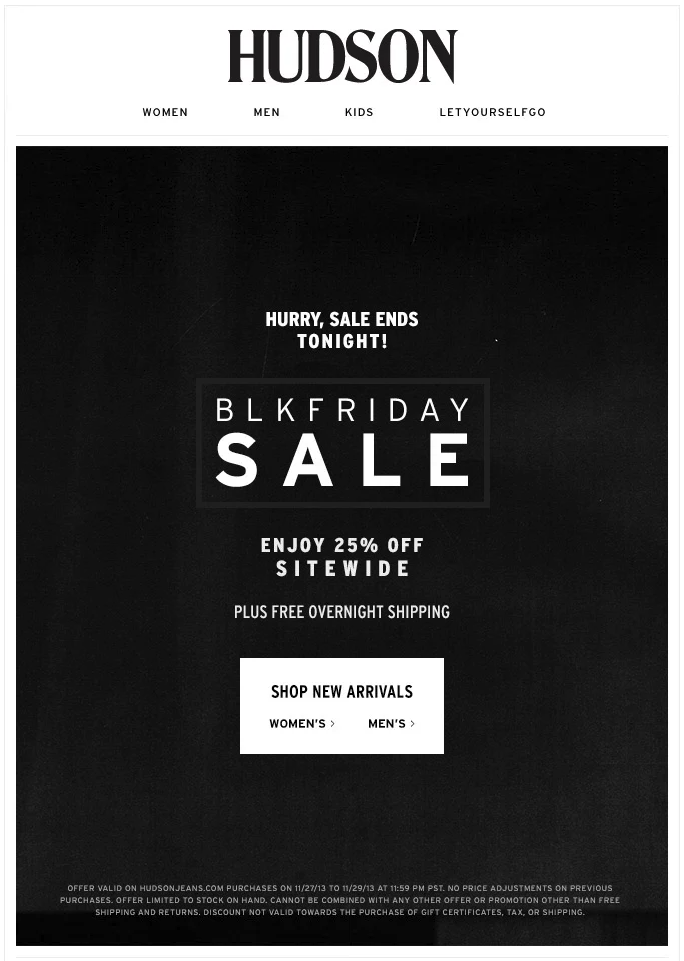 5) Email with a promotional code
In the following example, Petplan incorporated a promotional code into their Black Friday campaign. When used correctly, e-coupons can lead to larger and faster purchases. Furthermore, the recipient could easily share the promotion with friends or family or even reuse it to make other purchases.
Do not forget to set an end date for the use of your promotional code and to indicate that information clearly in your mailing.
Fun fact: 28% of subscribers say they would like to receive promotional offers two or even three times a week. – Constant Contact 2022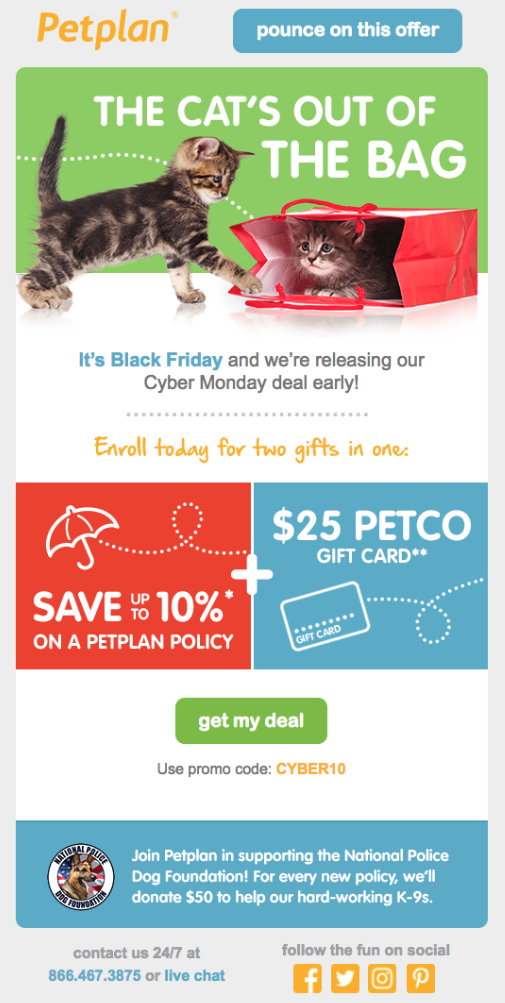 6) Create excitement by showing a preview of your promotions
Sending out a preview of the items that will be on sale on Black Friday lets your subscribers know that a big sale is coming and creates a sense of excitement, especially if the subscriber finds out that the Google smartphone they've been coveting for several weeks may be on sale soon.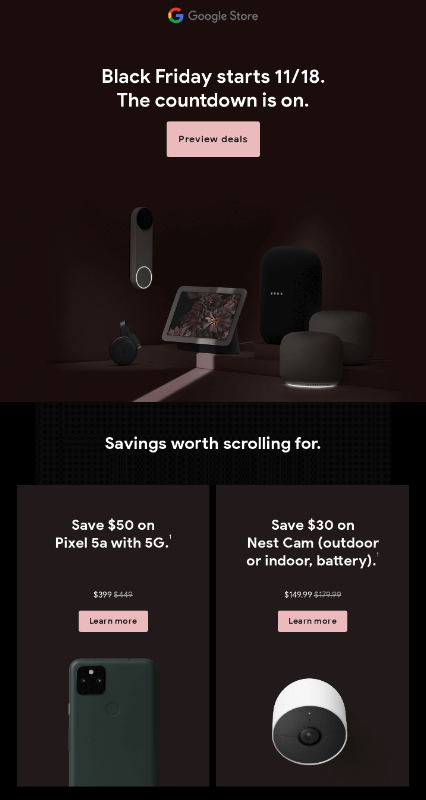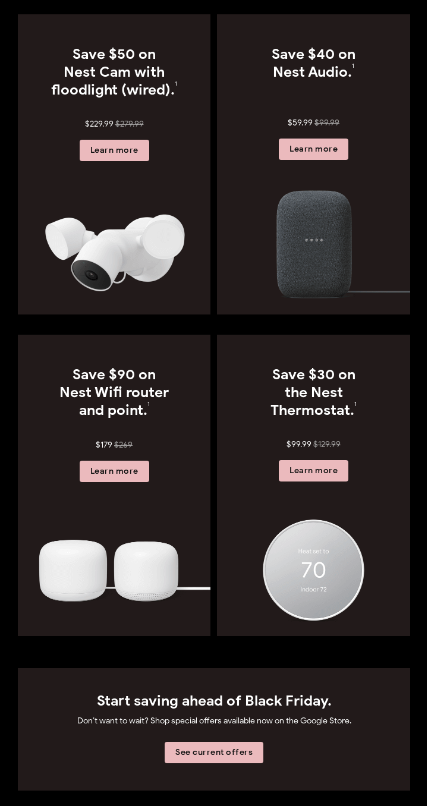 7) Offer a gift guide idea
Black Friday and Cyber Monday are about a month before Christmas and many stores are taking advantage of this opportunity to give gift ideas. Walmart, for example, offers a gift guide as part of their Black Friday promotion which can help inspire shoppers on Christmas purchases that they wouldn't have considered giving to a loved one.
Fun fact: 23% of U.S. shoppers spend 90% of their budget on gifts on Black Friday. – Pymnts, 2019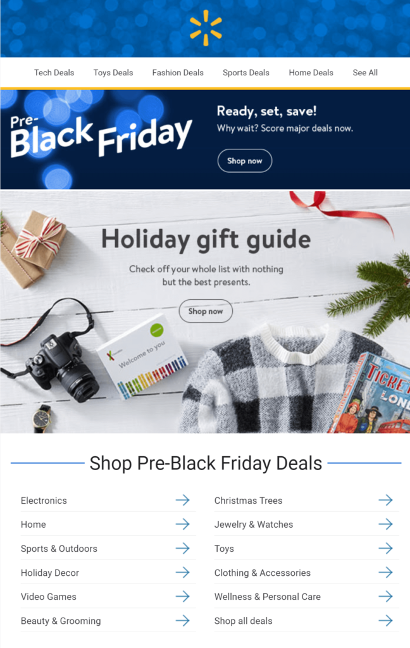 8) Bundle offers to increase your average basket
Herschel, a manufacturer of backpacks, bags, and accessories, preferred to offer bundled deals to its subscribers. Bundling products can increase profits and sales of individual items. With this technique, you can also entice your customers to buy more than one product in a single purchase, increasing the average order value.
Consumers may feel they're getting more for their money when multiple items are combined together for one price. It's all about perception.
Sometimes, for companies, it's also a way to create product bundles with items they want to sell or get rid of.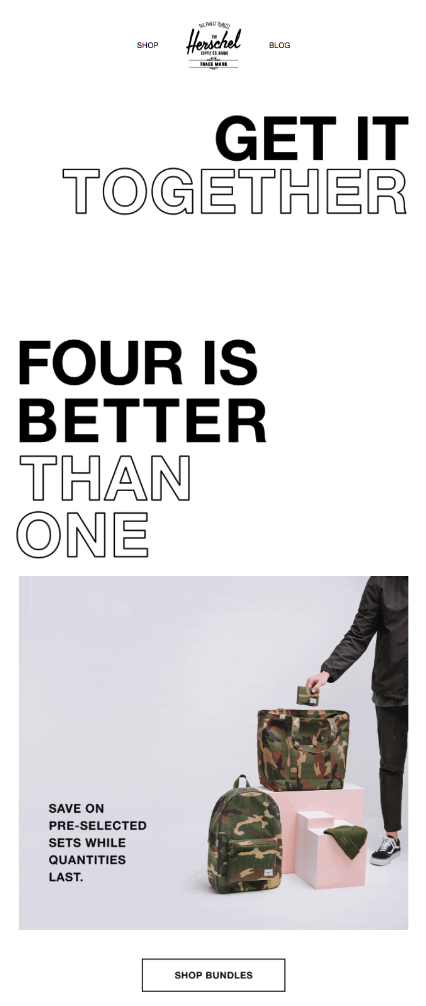 9) Click on a button to get a surprise discount
In its Black Friday promotional email, Bose asks subscribers to scratch to find out the value of the discount, an email inspired by lottery tickets where you have to scratch boxes to find out if the ticket is a winner or not.
This technique increases the engagement rate of the email since readers will automatically be directed to the company's website to find out the value of their discount.

10) Build a list of contacts before the start of Black Friday
In this email example, Brewbike invites subscribers to sign up for a new list that will give them privileged access to Black Friday deals. This list allows the company to know which consumers intend to make purchases soon in exchange for a discount.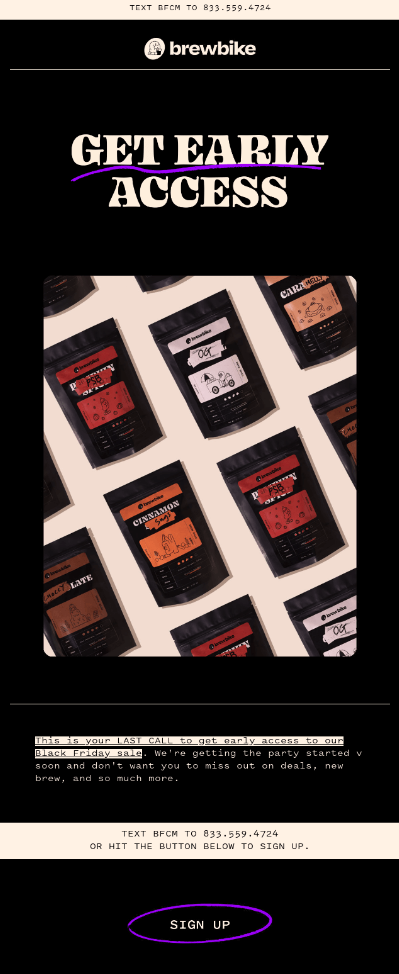 11) Personalized email based on purchasing behavior
For the Black Friday weekend, Columbia decided to send a personalized email to their subscribers based on their online shopping behavior. In the following example, the reader showed interest in a long-sleeve shirt, but didn't move on to purchase.
To entice the subscriber to act, Columbia offers a new lower price. It's hard to resist this offer, especially when it's an item the consumer has already shown great interest in.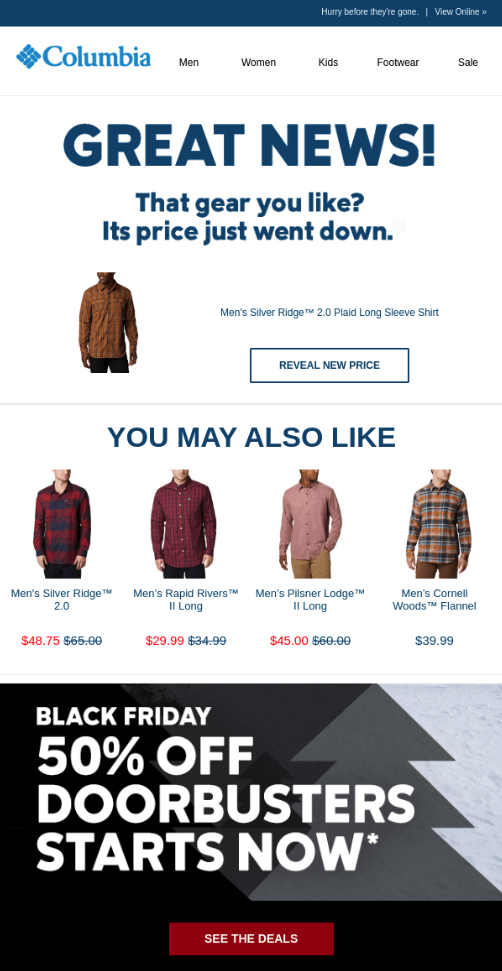 12) Upgrade a subscription
For software-as-a-service (SaaS) companies, it's hard to constantly offer new features, since it takes a long time to develop a product. Lifesum, a wellness application, offers to their subscribers a 30% discount to encourage them to upgrade to a higher plan.
This strategy gives customers the opportunity to try more advanced features at a lower cost and to upgrade to the next plan if they're satisfied.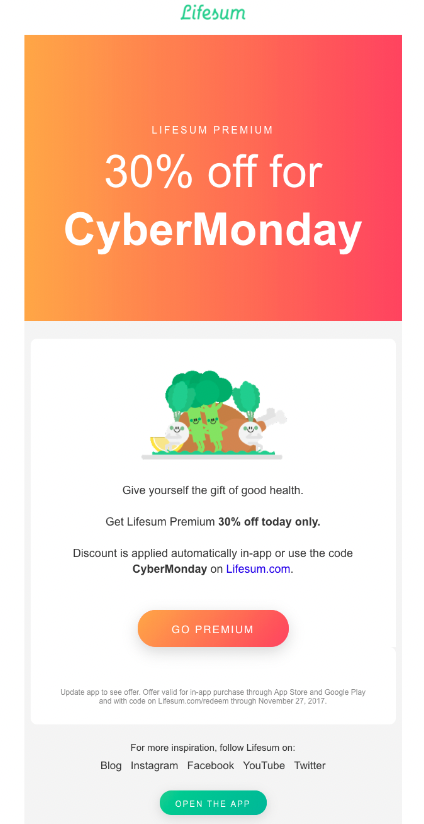 13) Interactive campaign
In the following example, Forever21 opted to use animated GIFs in their Black Friday campaign to add dynamism to their email.
The use of GIFs allows the reader's attention to be drawn to the message that the company hopes to put forward. In this case, it's to announce the beginning of Black Friday and the deals offered.
Fun fact: Including interactive content (like videos or GIFs) in your emails can help increase your click-through rates by up to 300%. —Hustler Marketing, 2021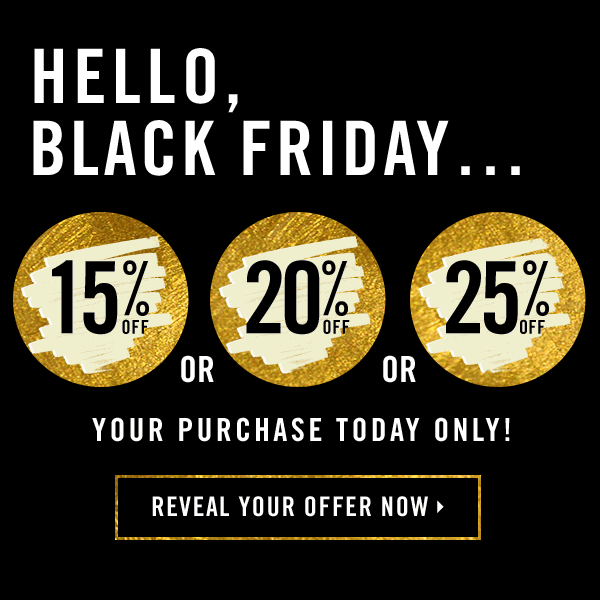 ---
Final advice
The examples presented are just a few of many. However, we hope that they have allowed you to discover all the possibilities that are open to you in terms of email marketing campaigns that you can carry out on Black Friday or Cyber Monday.
Finally, here are some important tips to remember:
Make sure your email template is responsive and easily readable for your subscribers.
Be clear and concise in the message you want to put forward.
Introduce your offer and insert a "CTA" to direct your readers to your website.
Stay true to your brand image. While a Black Friday email campaign should stand out, subscribers should easily recognize it as your brand so as not to create confusion.
Send multiple emails for your Black Friday campaign to keep subscribers attentive and encourage them to make a purchase.
Create your Black Friday email marketing campaign with Cyberimpact
Cyberimpact offers several pre-designed email templates for Black Friday and Cyber Monday. Create an account or login to the application, if you are already a customer, to discover them!