Last June, Apple made an announcement that shook the digital world and the email marketing industry in particular!
Starting this fall, Apple plans to offer a new feature to its native mail application (Mail) users on iPhone, iPad and Mac. A screen will appear asking whether or not they would like to "protect their email activity."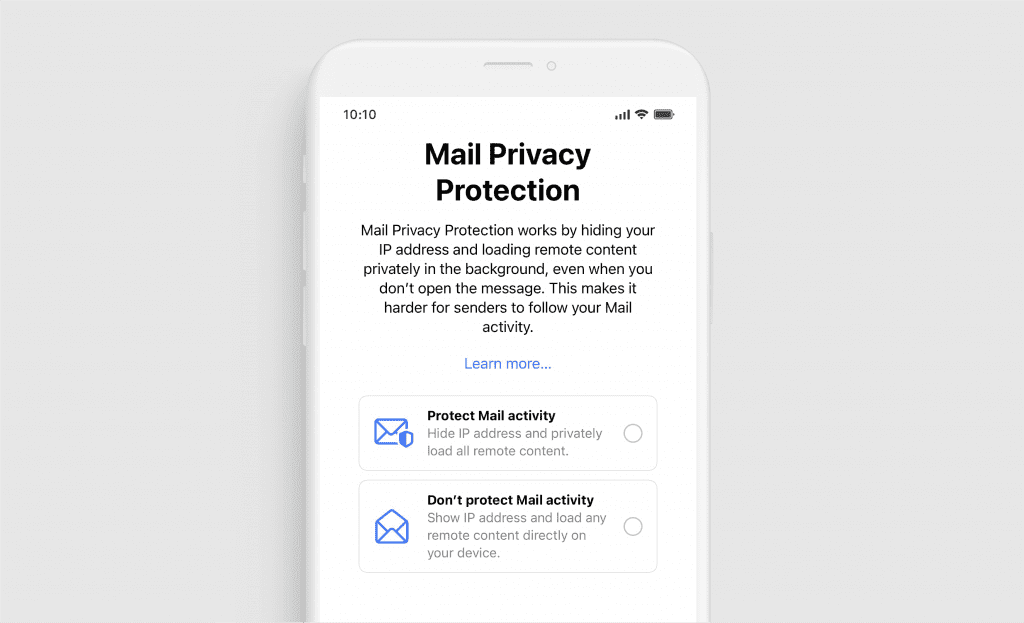 Presented this way, experts predict the adoption rate to be quite high, close to 100%. Who doesn't want to be "protected"? It's obviously difficult to know which of your subscribers use Apple's Mail application and this number will probably vary from industry to industry; however, you can expect that about 40% of your subscribers will be impacted by this new measure!
Any email sent to your subscribers will be automatically opened in the background by Apple, even if the recipient never opens it to read it. As you guessed it, the open rate will be skewed (upwards) when this practice is in effect. Geolocation and the time of opening information will also be distorted and therefore no longer reliable.
What will change for you, the sender of emails and newsletters? What do you need to do in order to adjust? That's what we'll discuss in the following article.
---
Measure the success of your mailings
Starting this fall (exact date unknown), the open rate of your mailings will be misrepresented upwards. In fact, it will be close to 100% for subscribers who use Apple Mail. Therefore, you won't be able to compare the open rate of emails sent after the implementation of the new security measures with the open rate of previously sent emails.
Although, you'll still be able to compare the open rate of your future mailings with each other. The opening statistics of the mailings will all be distorted in the same way. So even if the statistics are wrong, you can still try to improve your open rate.
In any case, it's time to go beyond the simple open statistics when analyzing the success of our campaigns! Most of the time, having the emails opened isn't the real objective. Often, our goal is to get people to click on a link and take action (like making a purchase or filling out a form). If you're able to measure the impact of your emails on your sales (with Google Analytics or with exclusive coupons for example), we encourage you to do so. If not, the click-through rate should take over the open rate as the flagship measure of the success of your mailings.
We agree that some mailings don't contain a link and don't have a call to action. This could be the case for newsletters containing information or a complete article. If this is your case, is your strategy worth rethinking? Instead of including all the content in the mailing, you can include an excerpt and a link to read the rest on your website? Perhaps you can include a link to a satisfaction or preference survey? Then you'll have reliable click-through data for performance analysis and also tidy up your list.
Adjust your scenarios
An email opening or not is often used as a trigger in automated marketing scenarios. For example, imagine sending an email to announce a promotion and an automated email is then sent, a few days later, to those who didn't open your first one. Following Apple's update, this scenario wouldn't work any longer since users of Apple's native apps will never receive the follow-up email.
To be simply put, starting in the fall, using opened or unopened email tactics are to be avoided at all costs. Most can be adjusted to the use of clicking (or not) a link instead. In the example above, an automated follow-up email could be sent to anyone who didn't click on the website link and take advantage of the promotion in question. Of course, any mention such as "we noticed you opened our previous email" would have to be replaced.
Warning: Cyberimpact could eventually decide to remove the opening trigger entirely. Don't wait and go adjust your scripts!
A warning about the time and date of openings
As mentioned at the beginning of this article, this Mail Privacy Protection from Apple will also prevent reliable data collection regarding geolocation, as well as the time and date when an email is opened.
As for geolocation, at Cyberimpact, we don't use this information; therefore, there isn't an issue in that department. On the other hand, as far as dates and times are concerned, we just launched some counting blocks that may be impacted, so we will keep you posted on our tests.
Keeping your list "clean"
In our opinion, not being able to rely on email opens to measure your subscribers' engagement, reiterates the importance of using double opt-in. This way, you ensure that only legitimate addresses, which belong to interested people, are added to your list.
---
It's now up to you
Now you know what this is all about. How it will affect you and what you can do to prepare for this significant change. One thing is certain, despite these changes, emails remain one of the most effective marketing tactics!
Apple's Mail Privacy Protection is part of a major trend in the digital world for the protection of personal data. It wouldn't be surprising if Google reacted in the coming months. We'll keep an eye on it and we'll know how to adjust. Do the same!