Really?!
When my team asked me to write about this and spread the word about Cyberimpact's new enhancements, I asked myself… How will I write about this?
Do the words custom fields really mean anything to Cyberimpact's loyal customers?
And most importantly, why are these improvements so extraordinary?
Well, here it is! This new update will allow you to: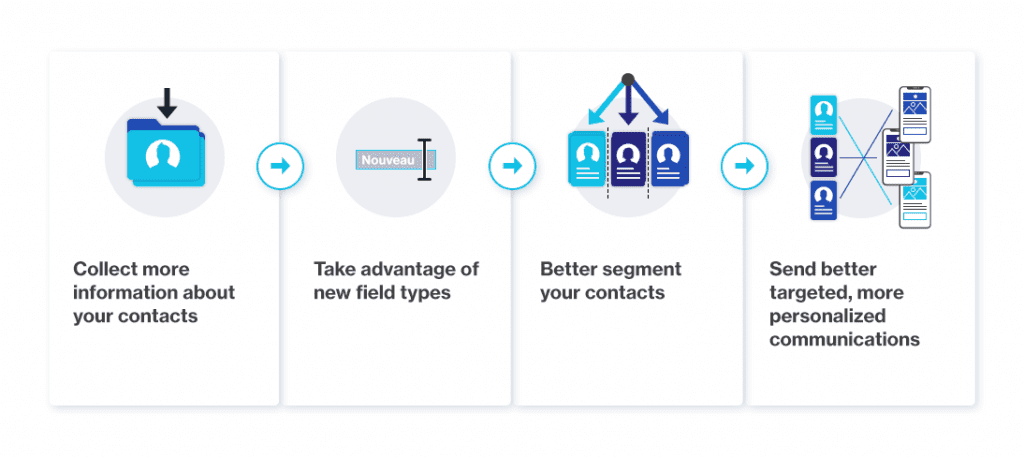 Custom fields offer an infinite number of possibilities!
Interested? Keep reading!
Get more information about your contacts
Offering more customizable fields allows users to add and collect more data. Depending on your pricing plan, you'll be able to add between 5 and 30 custom fields.
Once the data has been collected, the segmentation and research tools will help you better categorize your groups and contacts. Creating powerful rules resulting in better targeted scenarios that are more effective is now possible with Cyberimpact.
This addition is fantastic since it impacts advanced search, dynamic groups, subscription forms, marketing automation scenarios and even our API!
New field formats
I'd also like to emphasize the fact that our team of developers has made importing and categorizing data easier by adding new field types, particularly when it comes to using dates.
The following field types are now available: text, date, decimal or whole number.
Since each field type has its own filters built-in, this update has a direct impact on the segments that you can create in Cyberimpact, thus expanding your segmentation capabilities.
For example, you can create a VIP list of your top customers and invite them to an exclusive presale event by targeting those who have made a purchase in the last six months, have ordered a certain number of items, or have spent more than a certain amount.
Powerful, isn't it?
Better segment your contacts
Searching contacts is now easier with new search filters. You can build your dynamic groups using the following rules:
Text field
Is equal to
Is not equal to
Starts with
Ends with
Contains
Is defined
Is not defined
Whole number or decimal
Equal to
Not equal to
Greater than
Greater than or equal to
Less than
Less than or equal to
Between one number and another number
Date field
The exact date
Another date than
From the date
Before the date
Between a date and another date
Defined
Not defined
These options are useful for creating groups of contacts when their data includes a custom field containing a specific value.
Now, let's explore date field types: contract end date, date of last visit, etc. This upgrade makes using this data to target contacts from a specific period possible.
This update also offers greater flexibility when using complementary systems such as POS, CRM and others. Don't hesitate to consult the information about our API to connect your system with Cyberimpact!
Our online help centre provides additional information on custom fields.
Customize your communications precisely
Thanks to our new custom fields, you can collect more information than ever before. In addition to the already existing text field, Cyberimpact now offers various new field types, such as numeric fields (whole and decimal) and date fields.
These improvements will help Cyberimpact users better segment their contacts and allow them to send better targeted, more personalized communications. You can use custom fields in advanced contact searches, among other things, such as adding custom text in the body of your email content, subject lines, and preview text.
Go ahead, get to know your contacts better!
In conclusion, Cyberimpact can bring your data collection to a whole new level, offering more fields, more field types, more variables and more filters.
The Cyberimpact team is very excited to announce the arrival of our new custom fields!