When you hear the term email marketing, you may feel like you're back in 4th grade, sitting at the back of the classroom, learning multiplications for the first time, and it's all a little foggy. You want to ask the teacher to clarify, but your peers seem to understand, and you're worried everyone would laugh at you. The term makes your palms sweaty, and your heart starts to race… It's normal to feel that way when you're not a marketing professional.
Most marketing blogs, and articles are written by marketing professionals, for marketing professionals. When you read those articles you may be left with more questions than answers. It doesn't give small business owners much of a chance to understand the world of marketing, giving them the sensation that they are constantly just trying to keep their head above water. Where do small business owners fit into this complex world of marketing?
At Cyberimpact, our focus is small business owners, providing them with a simple, effective and cost-efficient solution. Being a small business owner doesn't mean you are or have to be a marketing professional. Although that would make life a lot easier, unfortunately it's not realistic. As a business owner your time and money are invested elsewhere, and that's how it should be.
Here's where I come in. With this article, my goal is to demystify email marketing for you, the marketing apprentice. Let me provide you with some answers to your questions and a few basic steps to get started with email marketing.
What does Email Marketing actually mean?
A problem understood is a problem half solved. The simplest and most complete definition I've come across is on wikipedia.org. Below is an excerpt:
"Email marketing is sending a commercial message, typically to a group of people, using email. In its broadest sense, every email sent to a potential or current customer could be considered email marketing. It usually involves using email to send advertisements, request business, or solicit sales or donations, and is meant to build loyalty, trust, or brand awareness."
So in layman's terms it means that every email sent with the intention of promoting your business is considered to be email marketing. Most of the time the goal is to generate business by creating brand loyalty, generating sales and acquiring new clients. The mailing lists are built from contacts who have agreed to receive email correspondence from you. (A few very important rules from the Canadian anti-spam legislation are included further.)
Why choose email marketing?
Simply put, email marketing is a fantastic way to generate revenue. Statistics show that email marketing is more efficient and has better success rates than social media platforms, keywords on Google, and let's not forget, good Ol' fashioned print marketing. Here are a few important statistics that will blow your mind:
Still not convinced? Keep reading…
Which platforms are available?
To get started with email marketing you first have to choose an email marketing platform. I know you're thinking: "Why can't I just send emails from my regular email address (Gmail or Outlook)?"
There are many answers to that question. A platform designed specifically for email marketing is crucial to saving time, monitoring your efforts, sending professional emails, and last but not least respecting the famous Canadian Anti-Spam Legislation (CASL).
A good marketing platform will allow you to:
Manage your contacts and segregate them by mailing list
Allow your contacts to unsubscribe in one click, if they choose to (an important aspect of the anti-spam law)
Create and send easily emails that reflect your branding
Implement tools to grow your contact list
Send automated emails anytime, even while you're asleep
Monitor your success with statistics
Although there are a number of email marketing platforms available around the world, there is only ONE platform designed specifically to address the needs of small businesses in Canada. Cyberimpact! We know small businesses, because we are one. The best part is that you can start using it now for free!
There is no time like the present! Create your FREE account now.
Now that you understand a little more what the term "email marketing" means, and you've seen the benefits of using an email marketing platform, you are free to spread your wings and send your first email! But before you leave the nest, you'll need to create your free account.
1. Create your account
It's as simple as 1,2,3. Click here
2. Import your first contacts
Choose which group of people you'd like to send your first email to. It can be either be directed to your active clients, your past clients or leads. It's completely up to you. Create a group, and import the specific contacts that belong to the group. You have the right to add contacts to your list, but you need to make sure you are following the anti-spam legislation. If you need a refresher, below is a guide to help you: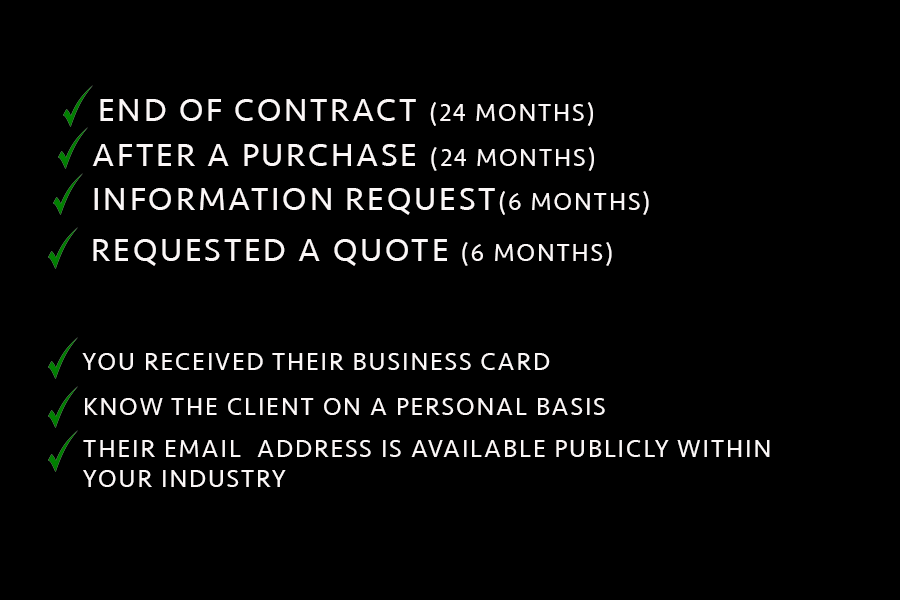 When it comes to your active clients, you have a 24 month period after the end of the contract to send them emails without their explicit consent. For the leads, you have a period of 6 months after they've requested information, or quote to send them emails without their approval.
Import your contacts in your first group according to the time frames provided in the image.
3. Create your first email
Cyberimpact presents you with a generous number of templates that you can adapt with your business logo and colours.
Now that you are ready to spread your wings and fly …what to write? If you are suffering from writer's block, a good place to start is asking yourself what you want to achieve with this email. Do you want to promote a new service or product? Do you have any seasonal sales?
It's important to maintain a balance between informative content, and promotional content. For example, you could start your email with an interesting article about tips and tricks, or how-tos, followed by your promotion. Keep it straight to the point and engaging.
By the way, if you're interested in this topic, we wrote an ebook that contains a lot of valuable advice, especially regarding the content of your mailings. Download it!
4. Press send
Congratulations! You're now doing email marketing and you have a newsletter!
5. Monitor your efforts
It's all fine and dandy to send emails, but tracking your efforts is imperative to your success. Here are some of the metrics you can easily track with Cyberimpact
Emails delivered
Emails opened
Number of clicks (your website or article for instance)
Number of emails opened by platform
Number of people who unsubscribed to your emails
Some people might also simply respond to your email (which is always a good sign)
Good luck!