The holiday season represents a huge revenue opportunity for all online retailers, regardless of industry or size. In 2021 alone, Canadian households spent an average of more than $970 on holiday gifts.
The festive season is also a good opportunity to wish your customers happy holidays and best wishes for the coming year.
While there are many methods to promote your business or thank your customers, the newsletter is still a simple, inexpensive and effective method.
Here are 15 best holiday email examples:
1) Use a festive design
During the holiday season, people are in a festive spirit and expect to receive communications with the same theme.
The important thing is to stay true to your brand image and address your customers while adding festive elements.
In the following example, Adobe used photographs in Christmas colours for their newsletter. Knowing that Adobe is known for editing images and photos, readers can easily connect the brand and what is presented in the email.
Did you know that?

Cyberimpact offers several holiday email templates that you can customize to your company's colours. Discover the festive templates.

2) Share some gifts guide ideas
A great way to increase your online sales is to create a gift idea guide based on your target audience. It allows you to showcase your products in different price ranges and inspire shoppers based on various suggested audiences (men, women, parents, children, activities, etc.).
For its holiday campaign, MeUndies is offering clothing categorized by different personality types or groups of people. So you can find gifts for everyone on your Christmas list. It's very practical when you're short on time and juggling the organization of your holiday menu or seasonal activities.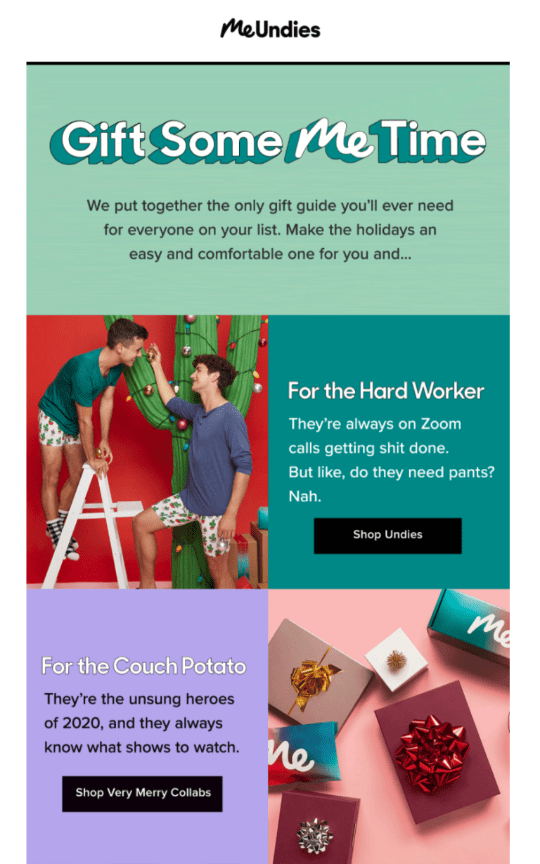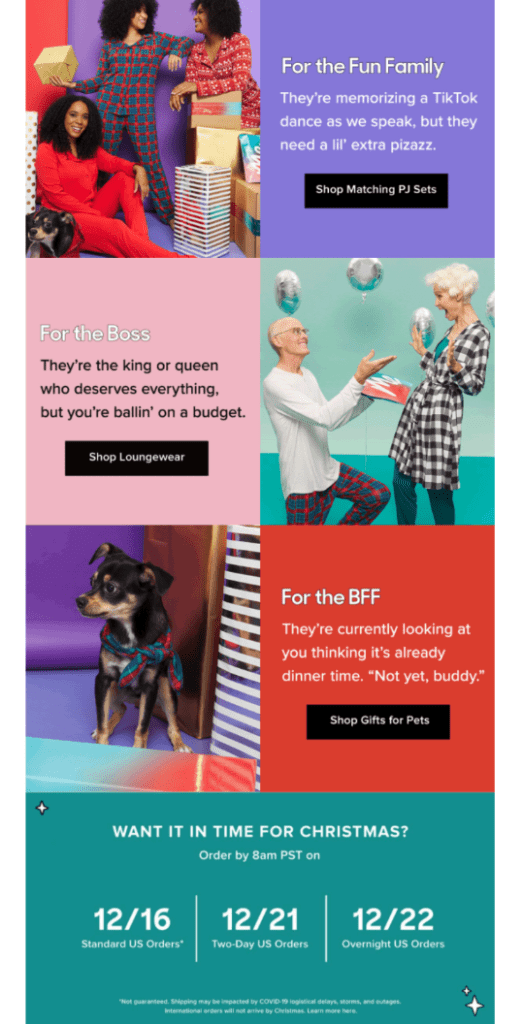 3) Offer last-minute deals
When people are faced with a lack of time, they're usually more likely to make a decision quickly. How many times have you bought last-minute Christmas gifts because you forgot someone on your list or simply because you didn't have time?
The corporate gift company &Open relied on the strategy of last-minute offers in its festive newsletter. With a reminder that the deadline to buy gifts is coming up, customers have to make a decision and act.

4) Include a countdown timer
By creating a sense of urgency or highlighting the importance of buying now, it encourages your subscribers to take action.
To give your readers this impression, you can reference a date, time, season or limited time offer.
In the following example, Aerie uses a countdown, lasting only 24 hours, to offer 50% off any purchase. Since this limited promotion's end nears as the countdown is going down, it helps create a sense of urgency for subscribers to act.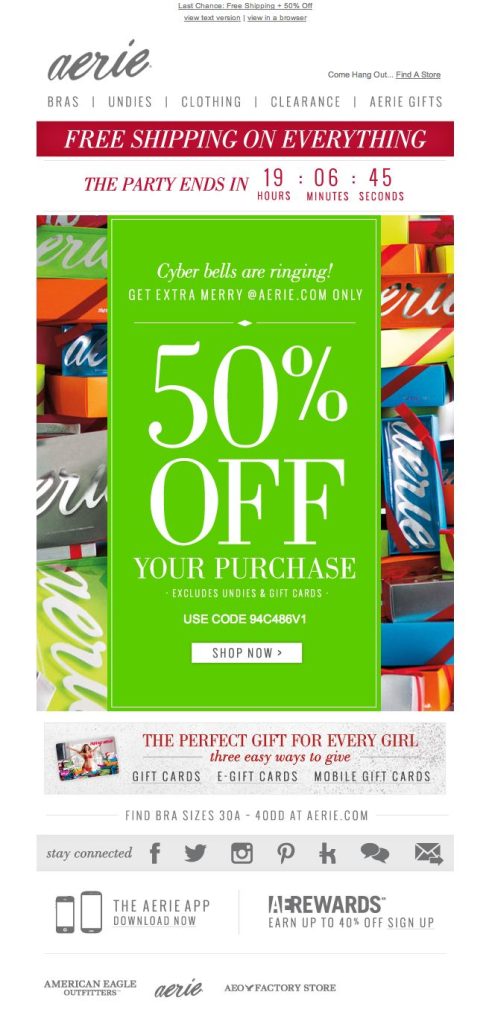 5) Create a giveaway
The holiday season is often considered the season to be generous and donate, so why not take the opportunity to hold an online giveaway?
Offering a giveaway during this time has several advantages:
A great way to build brand recognition
Encourage future purchases
Improve engagement on your social networks
Give a gift to someone else
Minor Figures is offering its subscribers the opportunity to purchase an oatmeal carton in-store or online and send in a photo of the receipt to be eligible for the giveaway. The grand prize winner will receive oat milk for the next 12 months.
*When organizing a giveaway, make sure you respect the laws in your region. In Quebec, you can refer to the Act respecting lotteries, publicity contests and amusement machines.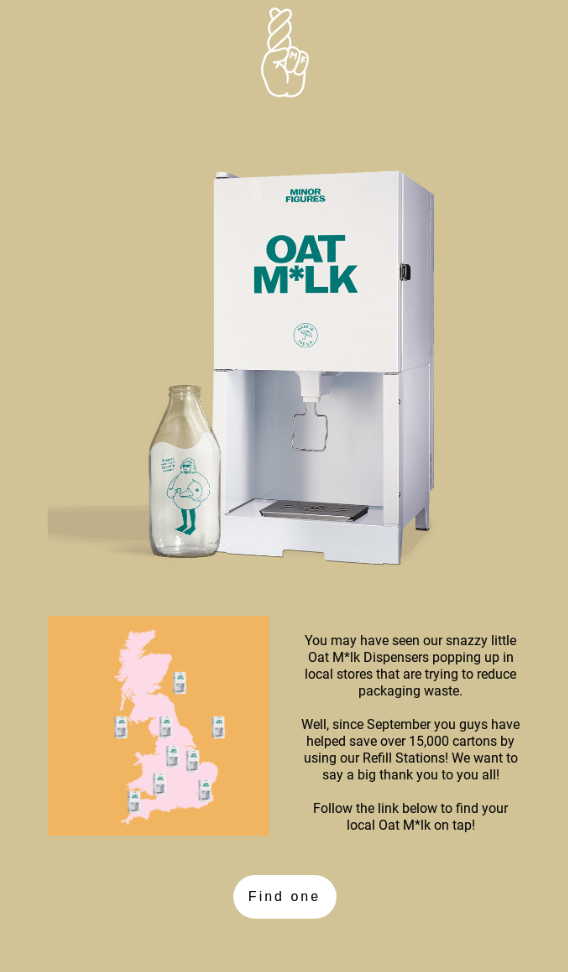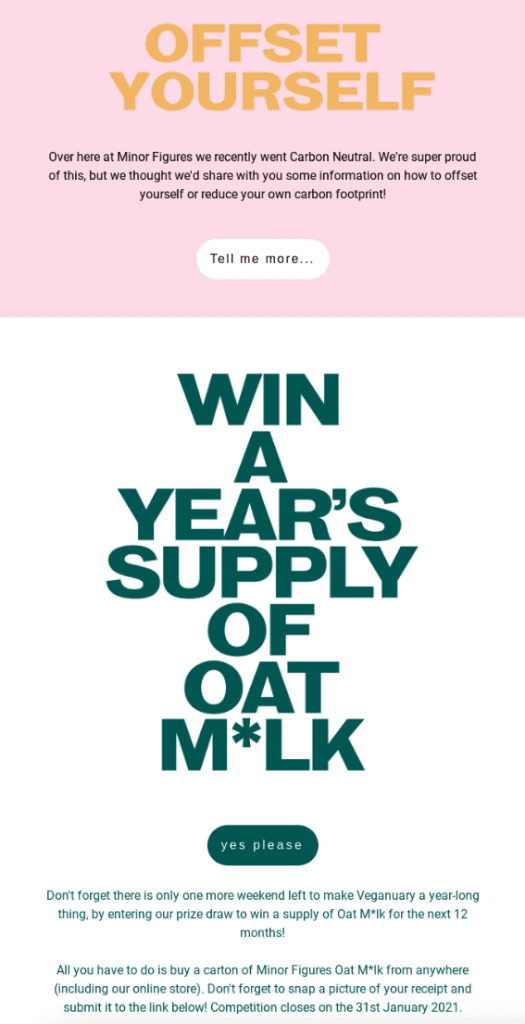 6) Show your appreciation
Generally, people like it when they get more for their money. Plus, receiving a gift can boost morale and improve brand appreciation.
Finn offers a little gift when people buy a product. This is a very good strategy, because the customer can discover a new product that they would not normally try, love it then buy it again.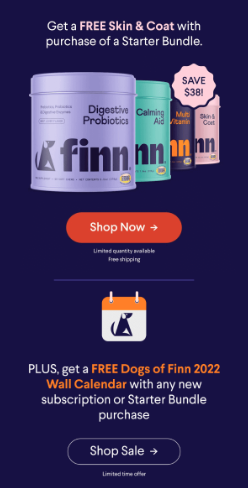 7) Send holiday greetings
Even if you don't have an online store, you can send a thank you card to your customers and wish them happy holidays. It's a simple gesture that shows your interest in your customers, like in the following example from Curate Labs.

8) Suggest creating a wish list
A wish list allows shoppers to register products they wish to purchase or consult in the future. They indicate a customer's interest in a product with no immediate intention of purchasing. This data is very useful, as it allows you to know your customers' tastes and manage your inventory accordingly.
In its holiday newsletter, the American boutique J.Crew explains to its subscribers how to build a wish list that will allow them to easily share their gift ideas with their friends. This strategy will increase traffic to the company's website and therefore, increase sales, especially if the customer has put several items on their wish list.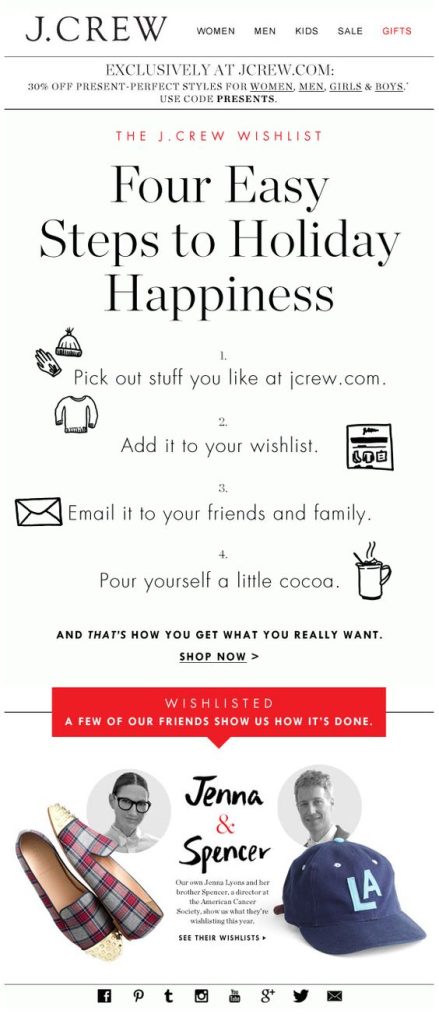 9) Create an interactive email
The use of animated GIFs helps draw the reader's attention to the message the company wants to put forward. In the following example from Koio, the idea is to show gift ideas for each day of December in an advent calendar.
Fun fact: Including interactive content (like videos or GIFs) in your emails can help increase your click-through rates by up to 300%. – Hustler Marketing, 2021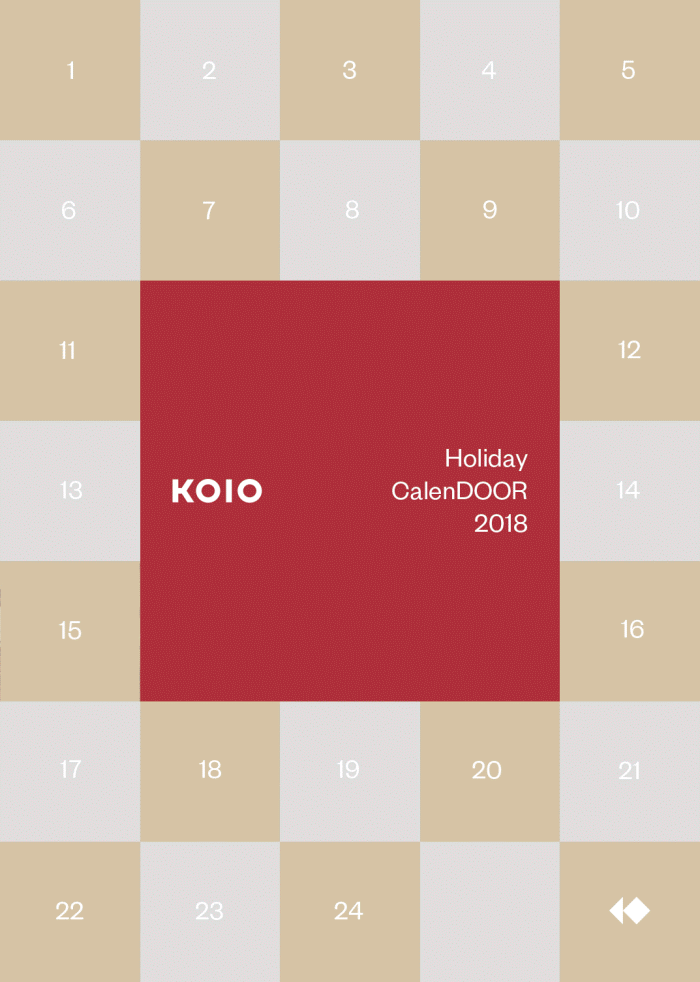 10) Do a year in review
Doing a year in review is probably not the type of email marketing campaign that will bring you sales. However, it is a great way to showcase your brand and your company's accomplishments to your customers. Having a more humane approach is usually appreciated with customers, as it allows them to get to know you better and discover you in a more personal way.
ActionRocket sent its customers a year in review newsletter that featured the company's accomplishments and employee photos.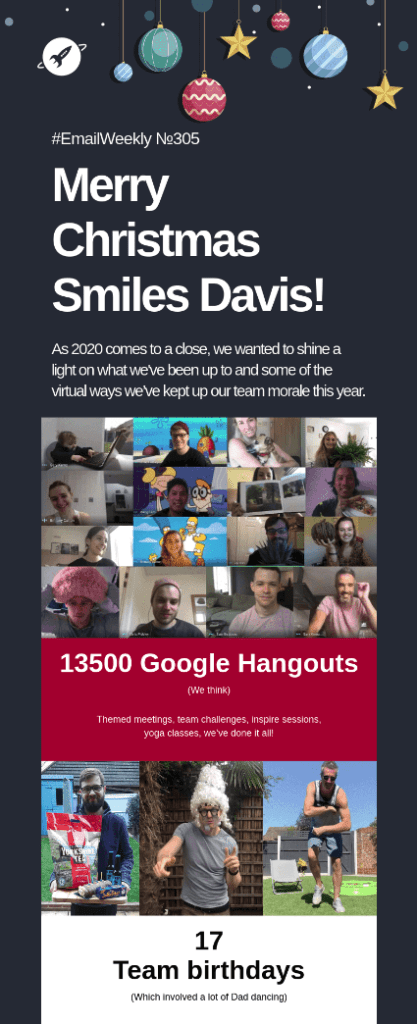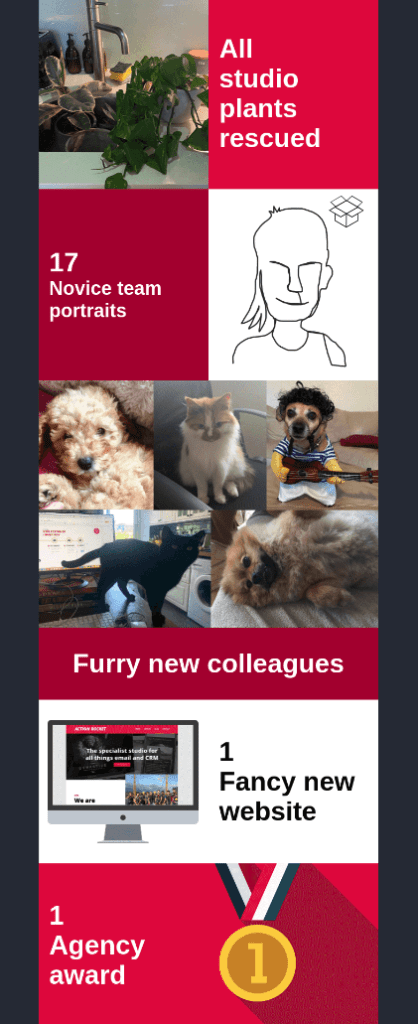 11) Publish an advent calendar
The advent calendar allows your company to promote products or services each day of December as the holidays approach. By launching your campaign, your brand will be able to capitalize on this tradition and stay in the minds of consumers.
Wonderbly offers a daily discount on personalized children's books to its subscribers. Besides driving traffic to the company's website, this increases the engagement rate of your subscribers since they have no choice but to click on your CTA to find out about the day's promotion.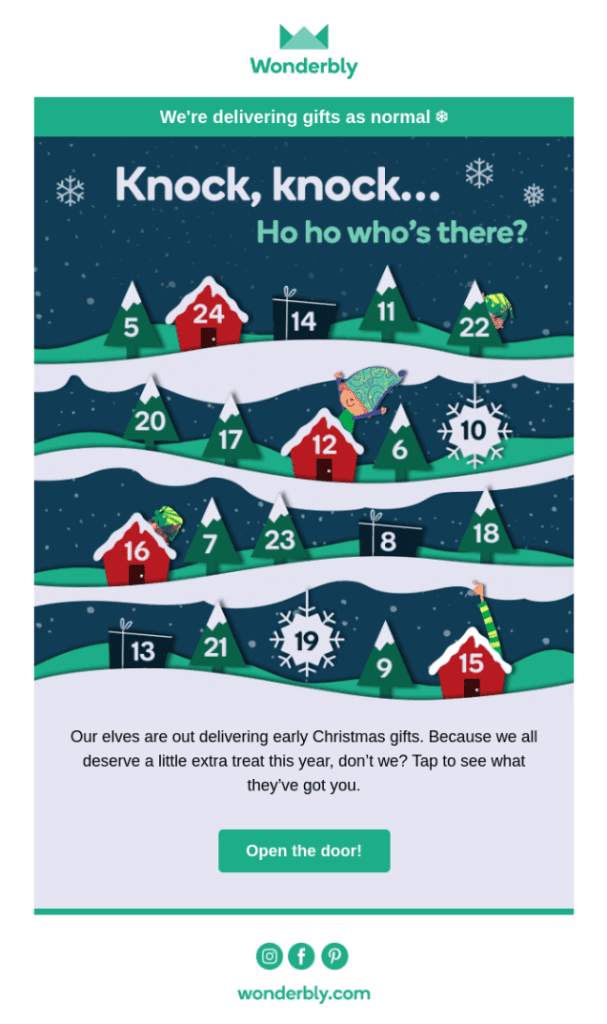 12) Remind people of delivery times
One of the main concerns for companies is to provide an exceptional user experience. If you're having problems with your supply chain and delivery times are longer than usual, it's best to prepare accordingly.
One strategy you can implement is to inform your customers about delivery times or the last date they need to order to receive their Christmas gifts on time, as the company Moment did in the following example.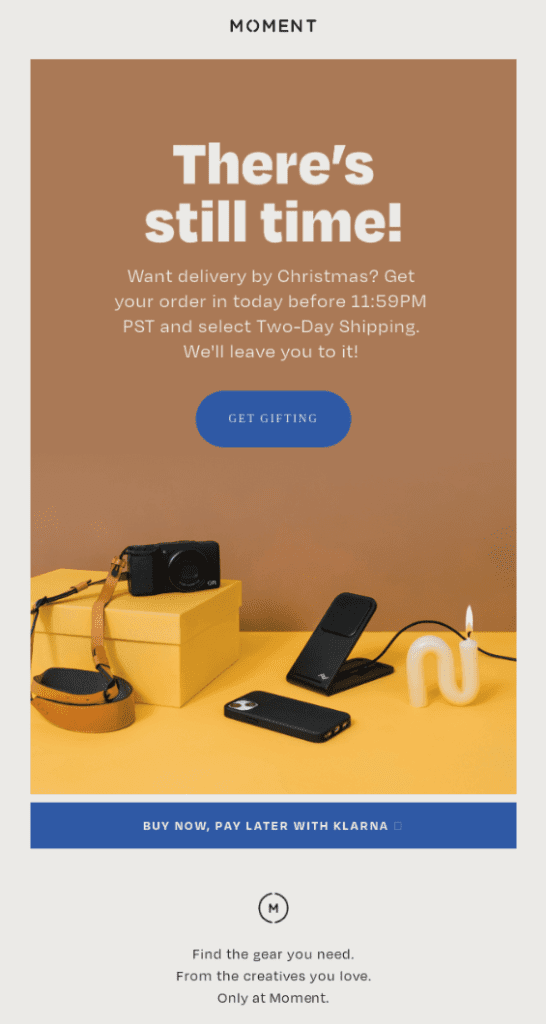 13) Give a gift card
To encourage their customers to purchase gift cards this holiday season, Taco Bell is offering a $5 gift card for every $15 digital card purchased. For the buyer, this is a nice surprise, as they can decide to use the card themselves or add it to the gift. In addition, giving a gift card allows the customer to choose their own items or discover new ones.
Fun fact: The value of the gift card market is expected to grow from US$ 5.745.8 million to US$ 7.896.2 million by 2024. – GIFT CARD POPULARITY IS ON THE RISE, 2021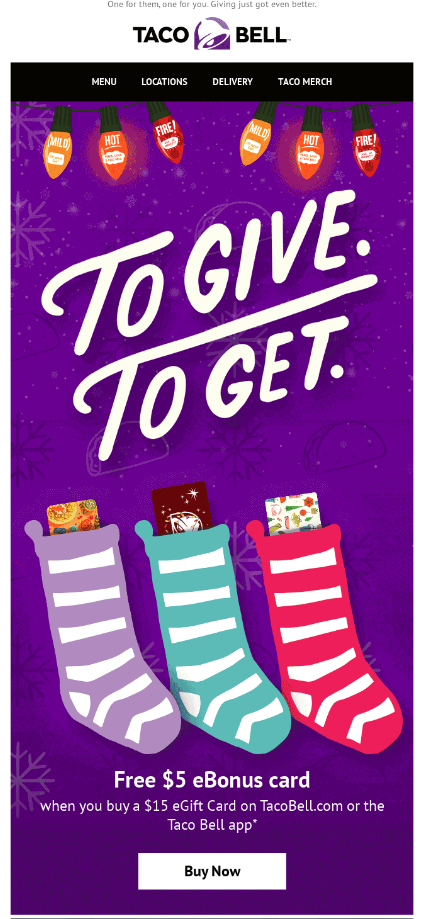 14) Integrate a game (gamification)
By adding a game to your festive email, it creates engagement and interaction among your subscribers. As a result, they may pay closer attention to your email the next time they open a message from you.
In the following holiday email example, Two UK invites their subscribers to decorate a Christmas tree.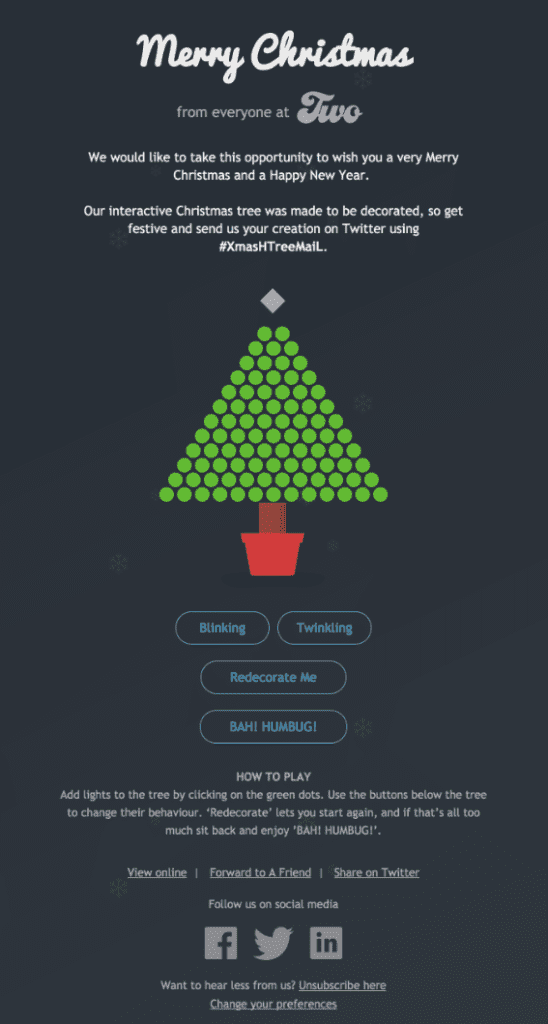 15) Start early
Start your holiday email campaign early. That way, you'll have time to fine-tune all the details of your campaign to your customers' interests. Plus, you'll attract the attention of those who like to get a head start on their holiday shopping.
Cox & Cox, furniture and home decor store, is taking the opportunity to inform its subscribers that Christmas is only 50 days away. It's time to start thinking about your holiday decor.

---
Conclusion
We hope our holiday email examples can inspire you for your marketing campaigns. Remember to be authentic, clear, original and true to your brand image.
If you've set up a holiday email campaign, it's never too late to make changes. Standing out from the competition is how you'll get better results!
Ready to start your holiday email marketing campaign?